Sat. July 22, 2006
London -> Hungerford
HOT HOT HOT
Up at 700 for the Stylotel Full English Breakfast Buffet. Gotta love a day that starts out with plenty of grease, meat and beans. Packed up and then went down to sit in the lobby and buy an hour of wireless internet access for £2.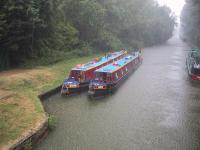 No crises anywhere. Found mail from Margery telling us not to worry about the check not having cleared yet, it can be slow, and they'd see us at 12:30 at Hungerford Rail.
Checked out out without any problems and slogged the bags back to Paddington to catch the 11:18 to Bedwyn. Had time to hit Boots for talcum powder and facial cleansing wipes (2 for 1 sale on the wipes so bought one in Refreshing Cucumber and one Unscented). Boots was out of baby powder so ran to Sainsburys and found some there. Also popped into the Monsoon store and found a blue shoulder bag on sale 50% off that looked like it would be perfect to carry stuff out and about when we were touring the countryside. We'd forgotten to pack one this time.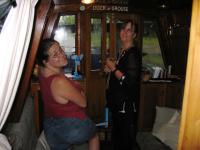 Boarded our train around 11:15ish. Found seats with a table, but it was in the non-air conditioned coach. Typical. There was something happening at Newbury Racecourse so by the time we hit Reading the car was packed like a sardine tin. Some of the guys standing were able to open the connecting doors between cars so we were able to get a little air thru. Nearly everyone departed at Newbury so we moved to another car for the last few stops. Wasn't great but at least we'd arrive looking a bit less travelworn.
Two more stops and 2 things happened.
1) We reached Hungerford. 2) The sky opened up and it came down in buckets. It actually felt pretty good after all the hot weather. Before we'd even had a chance to turn around 2 of the Dawn and Dusk crew (Jonathan and Shaun) had spotted us and ran with umbrellas to help us to the boats. They swooped up the luggage and shot off with us in tow. We scooted over the bridge at the station and there, moored below, were the Dawn & Dusk canal boats, and our first view of the Kennet & Avon Canal..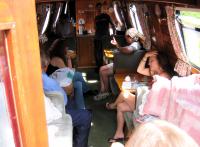 Margery was waiting to greet us on the butty. She explained the dining room wasn't quite ready for us (they had allowed us to come much earlier than normal since we only had 4 days) and would a cold meat platter at 14:00 work for us? We said that was fine, and she gave us the quick tour and helped us get sorted into our cabins. We pretty well filled the Dusk with Carissa in the first single, Matt & Adri in the 2 rear singles, and Len and Kel in the twin at the back. Rain continued, mostly unabated. We had lunch about 2pm and then got underway. We were sort of trapped inside until the rain petered out, just sticking out noses and cameras when we could.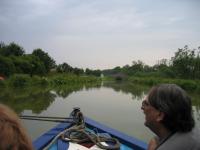 Once the rain stopped we sat outside on the bow of Dusk and watched the boys (Shaun & Jonathan) work the locks while our skipper, Bill, drove. The two boats were tied side-by-side mostly, but in a few of the narrow spots we'd "single out".
At 16:00 we had tea with cake.
Since it was still raining on and off we tried for a nap but it was still too hot. Stopped for the night and moored up outside Froxfield and had cocktails right before a great dinner - Chicken in ginger sauce with veg and a raspberry trifle for dessert, all with a good wine to wash it down.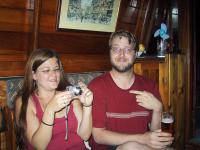 Had a glass of beer/cider after dinner and laughed and caroused until about 22:30. At that point we were ready to hit the hay. Despite the rain it was a great day.