Thu. August 3rd, 2006
London to SFO and Home.
Weather overcast but pleasant
The only thing on our to do list today was to get home. Woke up at 6and stuff the P.J's into any cranny we could find in the bags, showered and went for breakfast when they opened at 07:00. I was worried we get down there before they'd had a chance to set up, but we weren't the first ones there by a long shot.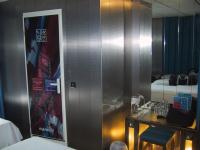 We'd planned to check out around 07:30, walk down to Paddington and catch the 07:45 or 08:00 Heathrow Express to LHR. And if the lines weren't too bad we hoped to be all checked in by 08:30.
Heathrow Express was a bit confusing. In the past we'd always just gotten on the first non-first-class carriage we'd cone to. But this time they had Heathrow Express people directing us to specific areas. Unfortunately it appears that Terminal 3 is the last 2 cars, so it was a long walk down platform 6.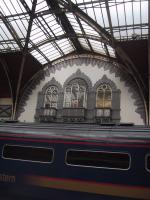 Once we got to the Virgin Atlantic ticket counter we were surprised to find the lines weren't too bad. That was also partly due to the fact in 2004 we were going home around the British Air walkouts. They weighed our bags (Carissa won with 19k's) and out carry on as well. First time we'd had that. Mine was a little over, but she asked if there was a laptop in in, and reminded me I'd need to remove it at security to get it scanned separately. They popped little tags on the carry ons that said we needed to be at the gate 30 mins before the flight left or we'd be outta luck.
Our gate wasn't listed yet since it was so early, but the ticket agent said to just keep an eye on the monitor as it should be up soon. We took the elevator up the the departures level and figured we should clear security before it got thronged. The only problem with clearing security was that the bins for putting the loose stuff were only a foot from the scanner, so it was tricky to get the laptop out, juggle it and my coat and my bag and my shoes without holding up everyone behind me.
All the carry-ons and people cleared easily and for once we were early and had time to hit duty free. Yay. They were giving out samples in the booze area (the Cranberry Absolute was pretty good actually). Most of the alcohol prices, [once translated into U.S. dollars] were about the same as BevMo prices, and in some cases a few dollars higher. So we elected to not get anything we could get at home and save the space. They did have Absinthe however, and since I can't get that in the states it was a bargain. The Harrods bears were only about £3 less than in Harrods, but you miss out on the store itself, which is what makes it fun. And they didn't have a lot of the other cool stuff we found in Knightsbridge.
There was a smoking area behind O'Neills in duty free. Wonder how much longer that will last.
We got bored in duty free after 30-45 mins and our gate still wasn't listed. Both the agent and our boarding passes said boarding would start at 09:45 and by 09:30 there still was no gate. We had no idea if we'd be at the 10 mins or 20 min walk gates (last time was 20) so we figured something was up. Len popped into a shop to get some bottled water and Carissa picked up a magazine (We are SO luckily we didn't stay another week this time), and found places to sit. 09:45, and still no gate.
Just a few minutes before 10 they listed the gate info, luckily it was the 10 min one. We were just heading off to find the toilets when it came up, so figured we'd wait til we were closer to the gate (bad idea). We found the gate, and across the way from gate 24 were the toilets. Except they were remodeling the area and had closed those. We had to go down to gate 33 (one of the 20 mins walk gates, and where we departed from last time. Nicer gates down there, frankly). There are no toilets once you're inside the gates.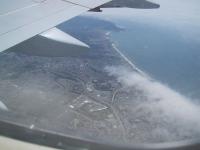 By the time we got back there was quite a line to get into the "fishbowl" boarding area. They check your tix and passport as you enter the first door, then there's a hallway with glass windows looking over the actual boarding area. (The area in front of the windows is where they do the random search, so you have quite an audience of bored people with nothing to do waiting to board the plane watching them yank your frilly undies out of the bag). Glad it wasn't me.
They also had the sniffer dogs going thru the room. They're getting smarter and instead of using the big mean looking shepherds and dobermans they had these furry, black, glossy spaniels. Everyone was wanting to pet and make a fuss over the doggies (ok, I admit it, even *I* was tempted) that they let them off the leads for a bit. They were the big hit of the boarding area. I thought this was a brilliant move since I usually tense up and back away when we go by the vicious looking dogs. Just bitten too often as kids.
We sat for 45 mins to an hour in the fishtank before they finally started boarding. Since it was now 11:00 and our flight was due to leave at 11:10 I figured we weren't getting out on time. There no way you're going to get 400 people onto a jet in 10 mins.
They finally got everyone on and getting settled when the pilot came on to announce they'd gotten the plane back from maintenance a bit late, and then had to do extra checks on it before they'd let anyone board, so thats why were were delayed, but we should be leaving shortly. We pulled back from the gate at 12:15, and hoped we could make it up in flight.
The flight itself was pretty mundane. We were in seats in front of the emergency exit, Row 48 (HJK), and they worked well for us. A place to stand out of the way when letting inner seat people out, the galley close when we needed water (and we were frequently served in the first bunch) and a nice little walk to the lavatories so we weren't having to deal with the traffic or the odor.
They tried to get us to pull down the window shades mid-flight (I can't figure this out. We're in daylight the whole way, and we're not crossing any dates. I HATE the fact they've started this since I can't sleep anyway, and it makes the flight seem much longer, and the jetlag worse. They never did this in 1998 or 2000, or 2003 with Tokyo) but we left ours with about an inch gap open and since we were next to the galley I guess they decided not to insist.
There was something wrong with the audio on my entertainment so the dialogue on the movies was mushy sounding and I couldn't understand any of it. Not having a movie to kill a few hours was annoying. I could listen to tunes since who really needs the lyrics anyway.
Since we'd changed our meal preference in London they were just ordinarily bad, not extremely bad. Only one meal coming home. Instead of the second meal we had a "hot snack" and then later "tea". The snack was choice of mozzerella panini or turkey panini. I went mozzerella and should gone turkey. Too much eggplant in the cheese one. Shortly before landing we had "tea" which was a "cream cheese and rocket sandwich" (Rocket being the UK term for arugula lettuce). The thing was a buttered roll with about a one inch thick layer of squirted "cream cheese" and a limp wilted bit of green leafy something that was about 1/2 inch by 2 inches and lost in the cheese.
Len got to eat two of them.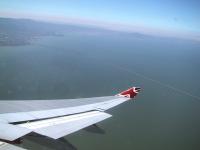 We landed about 14:10, so made up much of the time in the air at least. We had to go all the way around the airport to reach our gate. Since we'd checked in so early our bags were first in, last out. I started to wonder if they were ever going to come out. We cleared Customs and Immigration a hair after 3, hopped to BART, scrabbled for US change (I know I had some somewhere when we left this place, why can I only find $50s?), and got our tix squared away. We boarded the Dublin train at 15:32 and transferred at Balboa Park. The Pittsburg/Bay Point train had one of the "club" seat (four facing) which is easier when there's 3 of us plus bags at rush hour.
Sharon, Carissas mom met us at bart at 5:15 and dropped us at the house on her way to take Carissa home. Said brief goodbyes to Cris, who like us was looking forward to dropping bags, a hot shower and a chance to unwind without needn't to catch a train/plane/boat/taxi.
Duncan was waiting for us with a kitty in arms, a clean house, and a pile of mail. He did an excellent job of keeping up the house while we were gone, specially when you consider the unexpected two plus weeks of triple digits and 117+ degree weather that they'd had here.
Showered, dumped the camera pics to the computers, played with our kitties and consumed real green salad until a little after 8pm when we finally allowed ourselves to collapse into bed. I took a 3mgs of melatonin and for once didn't wake up every 2 hours during the night.
Things I should try to remember for next time: bring more UK power adapters. One per family is not enough for cell phones, computers, camera chargers etc when there's 5 of us. Probably not even if there's 2 of us. If its going to be warm bring plenty of talcum power to try and slow down the heat rash. I peeled from the blisters under my watchband for another week.