Weds. August 2nd, 2006
Truro-> London
Warm for England, perfect for us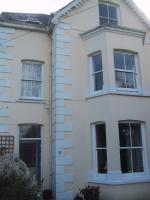 Up about as usual to get cleaned up and dressed before breakfast. Mike came by the breakfast room on his way out to say goodbye and wish us a good trip home.
Since the other couple had left the day before, they'd changed the seating order which almost got us, but we figured it out when we noticed there were only two places set at our previous table, and three set at the larger one.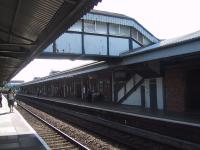 We did a last packing check, and started to move on down the stairs to the front to meet the taxi Mike had ordered for us. Averil saw us on our way and into the taxi and we were whisked off to the station. The driver was nice enough to ask which side of the station we wanted to be dropped at, but we just looked like deer in headlights. Didn't know there were two sides. So he asked where we were going and figured it out from there. Luckily he knew which side was Penzance and which the London bound side, and dropped us in back on the London side. This was really great since it meant we didn't have to carry the (heavily laden with junk) baggage up and over the stairs to the platform. We were able to hop out of the taxi and wheel our stuff right down to where the train would soon be arriving.
As the rail station is so close we even were able to make the train we didn't think we'd be able to catch - the 09:45. I was sure we'd just miss that since we didn't ask the taxi to arrive until 09:30, and be stuck until the 10:45. This is what happens we you set taxi times before you check the rail schedule.
Fairly dull ride to Paddington and we got in a bit after 15:30. They were doing work on the tracks so it took a bit longer to get back. What a difference a few degrees makes. London was quite pleasant and the Stylotel was bearable. We again had to go thru the whole Amex refusal routine, even though I explained I really wanted to use the Amex, and they had said they accepted it when I made the reservation. After 10 mins we gave in and pulled out a Visa. This time we were on the 2rd floor, so that helped with the temps as well.
Got cleaned up from the train trip and then Carissa went out to do her last chance shopping while we tried for a nap. That was a waste of time, so we gave in and went out shopping as well. We needed to either burn or exchange our last pound notes, and at the rate of something like £1.74, we'd rather use it for stuff.
We beat Carissa back to the room, so turned on the telly to catch the news. Nothing good happening and it was too depressing to watch for long.
Once Cris returned we set out to find a spot for dinner. We headed off to try the Fettler and Firkin since it had reasonable reviews. With the weather being a bit cooler and clouding over we thought it might be less crowded this time.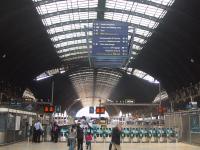 We got about a block away and the clouds got quite dark suddenly and a few drops started to fall. We hadn't brought our brollys, so hastily revised our plans while standing at the crossing light and unanimously opted to leap out of the impending storm and into the first place we spotted. So we ducked into the Pride of Paddington. I'd read mixed reviews of it, but it was fine.
There are many long tables to seat 8-10 set up, so we grabbed the end of one that had a two guys sitting at the opposite end. We didn't want to seem pushy since our accents tended to brand us right off. (As it worked out we were really lucky and 99.9% of the time ran into people who actually had relatives or friends in the States, or at least liked Americans well enough). We didn't talk to them much, as a Danish couple ended up sitting between us, but One offered to help Len carry the pints back from the bar, and after the Danish couple left they chatted for a bit. They were from Newcastle, and I get the feeling they like hanging out next to Paddington Station since you meet so many different people from so many places there.
The food menu had a good selection of stuff. The lamb shank with the rosemary and hint of mint sauce was really good, and not very minty at all. They also had a chalkboard with the sticky toffee pudding advertised, so Carissa and I agreed to save enough room to split it for afters. We ended up splitting it 3 ways since there was plenty to go around. Carissa was quite happy when I said that Heinz makes one you microwave, and she could likely find it in the British food section at her Longs.
We lingered there over an after-dinner pint since no one was in a big rush to spend the last few hours of our holiday in a hot stuffy little room. But we had the big "final packing" to get to so eventually we headed back to try and get everything in and protected so it wouldn't break in the cargo hold. We'd been smart this time and packed a large empty canvas duffel to check going home. We've done this enough we know how much space a Harrods bear can consume. And woe be to the hapless TSA guard that has to inspect the one holding nothing but dirty laundry and smelly socks. We figure since we're allowed 2 checked bags we might as well use it for the homeward end. I took pity on the inspectors however and tossed my little black cloth mary-jane shoes in the trash at the hotel. They had become weapons of mass destruction by the end of the trip, and no amount of odor-eaters was ever going to make them wearable again.
The other bonus of being on a lower floor was that the wireless internet access point was able to get signal to the room and we didn't need to go down to the lounge. We ran down to the lobby and bought another hour so we could do our online check-in. Luckily Virgin didn't require a printout of our check-in confirmation, but I saved it as a pdf to the desktop just to be safe.
So, all packed and checked in, it was time to grab what little sleep we could as it was likely to be the last for awhile.