Sun. Jul 30th, 2006
London -> Truro
Warm but clouding over
Len got up early to check laundry.. still damp. Hung it up on cabinet doors and door handles and started the last load. It was the last laundry we'd get until we were home. Went back to bed and got up again at 7:00 to make coffee.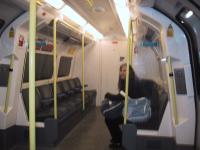 Popped down to the Barclays Hole In The Wall (ATM) and pulled out £100. ATMs still have the best exchange rate. We noticed very little difference between Heathrows and Paddingtons Bureau du Change rates, both being close to equal, and much higher than the bank ATM rate, even with whatever surcharge they add. It was around $1.96 to £1 at LHR and about $1.87 to £1 from the atm. We ran out of coffee after the first pot, so also cruised by Starbucks. They don't open until 8:30 on Sunday.
Did more packing until 8:30 and ran back to 'Bucks for Kel and I as no one else heeded the call. Played with laundry and playing luggage tetris and once we were all finally set the five of us brought all the bags back down to the lobby and checked out. Adri and Matt asked to leave their bags at Scala until they checked into The Landmark Hotel at 14:00. This was where we all split up and had to say our goodbyes. Adri and Matt were soon heading off to Venice and Rome, while Len, Carissa and Kel went to play in Cornwall.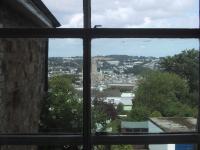 Adri and Matt were going back to the British Museum and we got on the tube to catch a train out of Paddington. We'll have to wait for the Fricks travelogue to find out what adventures they had over in Italy. But you can stay tuned to hear about our adventures in Cornwall.
The 3 of us got to Paddington and caught the 11:05 to Penzance, stopping at various spots, including Truro. The ride was nice, even if a bit longer than some of the other train trips as it takes about 4.5 hours. Part of the train journey was back along our canal route, so we got to see a big chunk of it from the train. Only took about 10 mins, so if we'd blinked we'd have missed almost a days worth. We got into Truro about 15:30.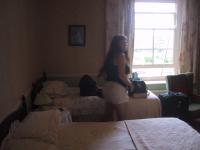 We ended up at the end of the taxi queue, and managed to snag one about 16:00. The fare to The Fieldings was only £2.40. Driver almost missed it as he said he'd been looking for the sign, which wasn't up that day. Must have been sent out for cleaning. While unloading from the taxi Lens clip-on sunshades fell out of his pocket and weren't discovered until much later. Unfortunately by then they'd been stepped on and would no longer fit the glasses they'd been designed to attach to.
We got in and met Averil and Mike Inglefield, who showed us up to our room and we settled on breakfast times and other such things. Mike offered to take us for an orientation trip around town once we'd had a chance to clean up and settle in, and show us some possible places for dinner. A great bonus as we thought since our touring wasn't starting until the next morning, we'd be fending for ourselves that night.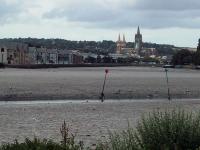 Our room was really quite large, and had a view of the cathedral as well. Also had a shower and sink, and a shared bathroom just a few feet away.
Mike took us all around the Truro area, showing us a little church off the beaten track called Kea, founded by a monk who "floated up the River Fal on a stone" therivers the Kenwyn and the Allen,that converge to form The Truro River , which were all at low tide, and some other little interesting spots off the beaten track. He also suggested a possible spot for dinner, The Heron Inn, which had a lovely view, but alas, they weren't serving food that night.
We went back to town and drove around, but it being Sunday many places were closed, and a few had signs saying they weren't serving food. We settled on a place that had just opened the week before, Try Dower, a Wetherspoons, which is something of the Applebees of England. This one was very family sports bar style, unlike the one we'd been to in Southampton years ago. We noted they had a sign out front saying they were out of a few things, and there were some delays in service, but how bad could it be?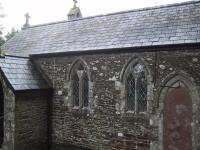 We soon found out. It took 3 tries to order, since by the time we made a second choice they'd run out. They were pushing the Fish & Chips pretty hard, so Kel finally gave in and got the Fish & Chips, Carissa the Cod fingers and Len the mixed grill. And not a moment too soon either.
Long before our food arrived the menus had been pulled from all the tables and a Xerox copy of what was left put there instead. It had about 3 items on it, and none of them were mixed grill or cod fingers.
It took a bit over an hour to get the food after we'd ordered it, Carissa finally went up to the bar to ask since we'd seen everyone else who had ordered the same time get their food. They said they'd send over a manager, and 5 mins later our food arrived, but Lens mixed grill was a bit the worse for wear. The fish seemed fine, if bland. Not what you'd call a memorable meal, aside from the absurdity of the whole exercise. (In the end, it was a memorable meal, as it was the only one that wasn't great).
Since it was close we'd decided to just walk back to the B&B, rather than make Mike come all the way out and fetch us. Turns out Truro has hills much like San Francisco. At least we burned off dinner, but we were ready for bed once it was dark out.
Moral of the story: Eat at Burger King on a Sunday in Truro.