Tues. July 25, 2006
Trowbridge and Devizes flight
Effing Hot.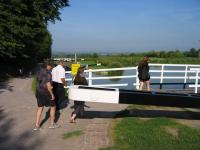 The plan, since the Devizes flight was closed for the day was to visit Bath, then take the flight first thing Weds. morning if we could, and hope to make it as far as Bradford On Avon.
Got up for coffee at 07:00 and then breakfast at 8:00. Just cereal and toast as it looked to be HOT and Bath is always hotter. Alas, we were out of the "Ludicrously Delicious" Honey Nut somethings. We ordered a taxi for 9:00 to take us to Trowbridge rail station , and once there bought Cheap Day return, 4 at the group two-for-one rate and one return. The total was only £15 for the 5 of us. The next train was due at 9:43.
But.....
At 9:35, as we were double checking the timetables, Kels phone went off. It was Marge. Turned out BWW had decided to open the flight and let us down after all, on account of us being so cool. If we wanted we could come back and we'd be off. Or we could keep on to Bath and go tomorrow, our choice. So we ran in and got the tickets refunded in a rush. Marge had said to see if there was a taxi at the station, if not, let her know and she'd get one from Devizes to come. The one that dropped us off was already 3/4's of the way home, she'd checked already. (I tell ya, she thinks of everything). There was a taxi company just across from the station so we dashed in there, and luck was with us. There was a driver with a van to hold all 5 of us, and he was willing to even give up his break to take us back.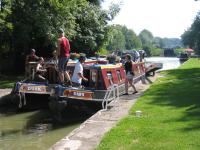 Got back after 10:00 and dashed in to change into suitable attire. It's a good thing we didn't linger as we found out going thru the second lock they'd changed their minds and closed them again. They had been discussing it when we left, but Marge knows all the lock keepers and they at least delayed until the people from the states who had come all this way were safely started down. Once you start you can't stop until you reach the bottom so we were safe for that part at least. We each grabbed a windlass (winch handle) and prepared to break the speed record for getting down on one lock of water. Took a bit for us newbies to get the timing worked out but we eventually started to get the hang of it. We teamed up with two on each lock and as one opened the next was filling so that by the time the boat made it there, the theory was we'd have it open and ready to go. We couldn't go more than one lock ahead as we needed to save water and filling more than one would drain too much out.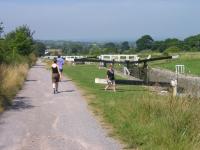 The first 16 are one right after the other. Walk to lock, open upstream paddles to fill the lock. Open upstream doors. As boats come in next team goes down to the next lock and starts. Team one closes upstream gates and paddles and opens downstream paddle. Boats sink to the lower water level, open gates and let them out. Close gates and paddles and move down past the one that the boats should now be entering.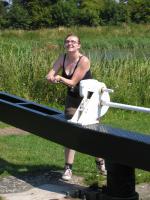 We ended up being the tourist attraction of the day, with plenty of people watching and or wanting to get their picture taken "helping". Since the locks had reclosed it was just us going down, and two other single boats coming up, so there wasn't a lot to see aside from us. There were two small children who were fascinated so I let them help, though I was worried about the little girls pretty party dress. We found her a clean spot to push against.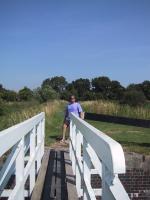 Downed tons of water but it was still brutally hot in the sun, and not much shade after the first few locks. We started at lock 44 around 10:30 and hit 28 around 1hr and 55 mins later. Alas, no speed record for us, but it was apparently a respectable time, so we were happy. We made it to lock 17 about 1 or 2.
Since everyone had heard the locks were closed we were asked several times about where we'd come from. Marge and Bill handled it, in one case with a wink and a "It's not what you know but WHO you know" to another hotel boat. We certainly felt like royalty that whole trip down. Waited for nasty comments about special treatment, but luckily none came.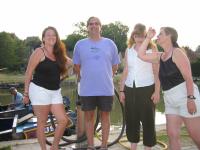 Lunch was Pasta Carbonera. The rest of the afternoon was spent cruising to Bradford on Avon. We were racing the clock since they had locked up more locks, but knew we were coming and would open for us if we made it before they were off duty. One lock master was due to be off at 3:30, but after the boats stuck in a lock and needed another 15 mins to free them we looked as if we wouldn't make. Marge phoned ahead and asked if he could stay a bit later. As an inducement she said she'd give him a big hug. That didn't sound like it was making the impression she was hoping for, so we tried offering hugs from the 2 girls from California. Pimping out Adri and Carissa seems to have gotten the correct response and we were given another half hour to make the final series. Just made it too, but the girls were so busy working the locks they never had a chance to pay their forfeit.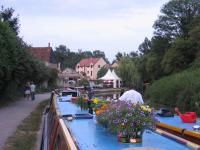 Stopped for water at Bradford on Avon at last, not long before sunset. We were all looking like boiled lobsters at that point, and feeling a bit like one as well. We had cocktail hour while the tanks were filling. The boys used the chance to grab a shower, and since we had one on our boat that wasn't being used, Jonathan claimed that one. He nearly had a bad slip when hopping from one to another in only a towel. It was close but both the towel and his dignity narrowly survived the ordeal intact.
Once the tanks were filled and we'd had our G&T's we moved down a little further thru the last lock and found a place to moor up just the other side of town. Very pretty spot near a park. The area was a bit crowded but the crew asked another boater if they could scootch up a little and he was nice enough to make room for us. Bill brought over a bottle of wine as a thank you a little later.
Dinner was pork cutlets in mustard sauce, cabbage, leeks and carrots for veg. Bread pudding and liqueur for afters. Shaun dashed thru to say bye on his way out, but we were all so beat we barely thanked him for all his help. We crawled limply into bed about 23:00, aside from Carissa who stayed up a little longer to finish a cider.