Thu/Fri. Jul 20/21, 2006
Concord, CA. to London Paddington
Disgustingly hot in Ca./Disgustingly sticky in London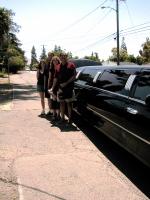 We got up at about 6:30 Thurs. morning and did our normal Saturday routine. Coffee, puter, etc. Worried about last minute stuff. At 11ish Len went over to the kid's house and picked them up.
They were pretty much ready to go. Got them back to the house and they checked in for the flight online (which we'd already done). At 12:30 on the dot our limo driver from Diplomat Limousine arrived. A BIG black one. Our driver was great and got the AC going full blast right away as it was so warm. Since there were 5 of us we figured that a limo split 5 ways is about the same as one of the door to door shuttles and a little nicer way to start than using bart. It only ran $160 including tip, so about $32 per person!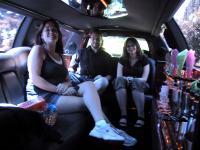 The car had beer (Bud Lite) and soda, but we'd brought our own bottle of champagne to celebrate the start of our trip (Thanks Lori!). We were on our way at last, after over 8 months of planning.
Got to SFO in 1 hour exactly. Checked in our bags at the Virgin Atlantic DIY check-in counter, only took about 10 mins. Then had lunch at the Burger Joint outside the security area. Nothing special, usual food at airport prices.
Security line was down a bit from when we'd first looked before lunch and only took about 10 mins to get thru, so we had time for a drink at one of the places near our gate (A8). Our plane was parked outside the window and we could see it was a new one "Mustang Sally November 2003".
Boarding was slow, they only had one jet way open and the loading area was overfull. Once we were in and seated it was Matt at the window, Carissa, Len on the aisle, Kel and then Adri. Notes on the flight: the kosher meal sucked, barely edible. This plane had the movies on demand which is really great. Watched V for Vendetta and King Kong. The goodie bag was small, no socks, no postcard. Just earplugs, mask, pen, toothbrush and mini toothpaste. They now hand out the headphones, and collect them at the end. They were terrible so we used our own. That gave us a bit of a shock since when you first plug in the audio is BLASTING. Kel tried the Virgin headsets later in the flight and discovered that you had to have the volume waaay up to hear anything from those headsets. So bringing your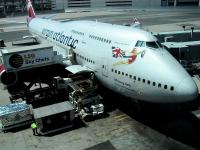 own is much better. The radio stations had gone down to one, instead of 7 or 8. The TV selection was quite large, but the audio jukebox seemed smaller. None of the artists Kel was hoping for again were on there, but they had Corrine Bailey Rae, Green Day, new Pet Shop Boys and the Racontours. Otherwise the usual interminably long boring flight where you can't get any sleep. Seemed worse sleepwise than last time, even with the melatonin.
Arrived at 10:30 (on time) at LHR - now Jul 21st - and for the first time went right to the gate without having to be bussed in the back door. Carissa must have been our good luck charm. But her bag was the very last one off the plane, so we spent a bit waiting at the baggage carousel. At least that meant the line for Customs and Immigration was short.
Headed for the Heathrow Express, validated our rail passes (this time we were mailed actual tube tickets and not just vouchers), boarded a train and off to Paddington. We'd planned a bit better since we were moving around so much this trip and specifically got a hotel walking distance to Paddington since that was not only where the Heathrow Express stops, but also where we were picking up our train to Hungerford the next morning.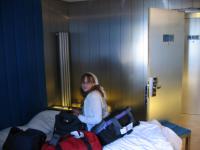 The walk to the Stylotel was only about 3 blocks, but between the jetlag and the incredible heat and humidity felt like 3 miles. We actually made it to Stylotel by 12:30, which is the earliest we've made it off the plane.
Check in was fairly easy, but there was a gotcha with Stylotel. They *SAY* they take Amex, but when you actually attempt to use it they wont take it, and insist on a Visa or Mastercard. Amex charges them more so they might take it if it were all you had, but certainly make a fuss about not wanting it.
The kids were in a triple room in 206 and we were in a double on the top floor 506. There was a lift to the 4th floor and then from there it's the stairs. The lift talks too much there anyway.
The rooms are something of a "Changing Rooms Modern". Very Oliver. Chrome, brushed aluminum, diamond plate and blue padding. No AC or fans and since the room was small, no air circulation. We propped our door open with a shoe and that helped get a little air moving thru. We were just dying from the temps.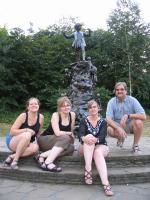 Dropped off stuff, changed and cleaned up a bit and then went out in search of postcards and a pub. The Sussex Arms across the street was pretty crowded so we just went a few doors down to the Sawyers Arms. Hung out there for an hour or 2 getting our bearings and trying to stay awake. Ordered an early dinner but after that we were so tired it was an effort just to walk back to the hotel.
At around 5pm we gave in and took a 90 min nap. What a difference it made. Even though it was so hot and sweaty we didn't get much sleep. But now we felt better able to handle being alive so we showered and went out again. Walked over to Hyde Park and strolled around taking pics. Paused for a sit at the Serpentine Bridge, and then wandered over to the Princess Di Memorial Fountain. They had lifeguards of a sort that made certain no one was walking in the fountain, but they had no problems with the hundreds of people soaking their feet. The water was icy and helped with the flight/heat swollen feet. At least we were able to get our shoes on comfortably afterwards.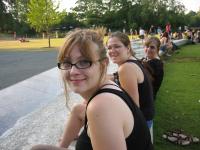 They started shooing everyone out for closing about 8pm, but since it was still light out we walked back towards Lancaster Gate along the other side of the river. Made our way back to Sussex Gardens and bought a vodaphone SIM card with £5 of prepaid time on it (Good thing we remembered to ask T-Mobile to unlock 2 of the phones before we left, that local card came in handy). Stopped off at Stylotel to drop off our purchases but it was still too sticky to go to bed yet. Adri had noticed a wine bar offering a wine and cheese plate during our wandering so we went the one street over for a snack. One sign said Davys, but the storefront said Gyngleboys. The man running the place was very helpful, and made an excellent suggestion for a white wine that was refreshing in the heat. We split 2 cheese plates between the 5 of us, and probably could have split it between 6 of us. The outside tables were full up so we were stuck inside away from the door since that was the only table big enough for all of us. The heat combined with the lag probably didn't help our appetites any.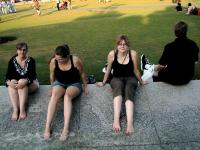 Headed back to the rooms around 22:00. The nap sure made a difference in staying up until dark. And Kel took 3mgs of Melatonin and didn't wake up until about 06:00. Seems to have helped the every hour wakeups. Probably would have slept later but the rock solid mattress, heat and rain got to us.