Sat. July 29th,2006
London Transport Museum Depot Tour
A little cooler, 79% Humidty still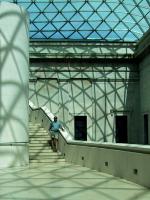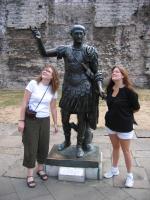 This morning the kids went off to do the Tower of London tour. Len wanted to go back to the British Museum and see the domed courtyard which we'd had to skip in our earlier visit, and I was hoping to get to the cartoon museum around the corner from there.
We set off a little later, after laundry and coffee, and walked over. Much better in less heat. We also ran into another souvenir shop across the street and loaded up on the last of the pins and fridge magnets to bring back for everyone.
The Cartoon Museum is just around the corner in Little Russell St. We only had a little over an hour to spare and I could have spent longer, as we only managed most of the first floor.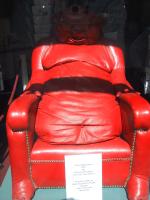 We'd arranged to meet the kids at 12:45 so we had to scoot to get back in time. Hit Boots on the way back to pick up shoe cushioned inserts (mine were apparently cardboard and didn't make it thru the wash well) and a quick bite for lunch.
We left later than planned and dashed to Goodge. Since the usual Convent Garden Museum is being redone The Depot is holding the collection, and its in Acton Town, in Zone 3. This meant buying tube tickets since ours were only good for zones 1&2. Four tix ran £12 and the machine couldn't actually read any of our credit cards so we had to scramble for change. We were nearly late and the tube is crowded in the beginning, but emptied out as we got away from downtown. They were watching for us to come up the drive since the security gate opened as we walked up to it. We were only about 3 mins late, so not too bad. The tour starts with slides while people arrive and a safety lecture once everyone is in place. The group is then split into 2 groups, each with a guide, and they start at opposite ends and meet in the middle.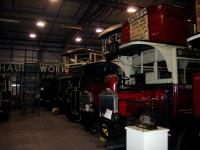 Our group started in the poster prints and originals rooms, and since Len had finally gotten that big splinter out of his foot and could walk without pain, it figures that would be the ankle to wasp would sting just as the tour was starting. The tour was interesting enough that he made it thru anyway.
After the artwork rooms we went into the big depot warehouse. One of the tour guests apparently not only had an uncle who worked for London Transport for a billion years, she'd also worked next door to every station mentioned, and every building noted as being of interested to the Transport history. And wanted to be sure all of us knew all about it, since she seemed to think she knew as much, (or more) than our guide.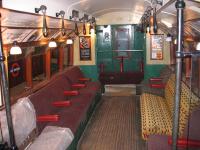 Since these tours have to be booked in advance, are limited to 15 people and only happen about once a month with little fan fare she asked Len how he'd happened to hear about it. Being Len he snapped off "From my wife". She turned, looked at me, and I was about to tell her how we'd found out about it when she abruptly turn back and walked on ahead. We all had a pretty good laugh over it. (For those who might be wondering what the answer would have been, we'd been wanting to see the Covent Garden one every time we'd been over, since we love the Underground, but never seemed to be able to squeeze it into our mad dashing. Since both Len and Matt are fans of that sort of thing I made certain to find a spot for it, only to discover it was closed for remodeling. I felt they had to have something as a substitute, and hunted around until I found the museum website, and from there discovered we were lucky enough to be in London during the monthly Depot tour weekend, so booked tickets via email. Just made it too, since we had tickets 10-14. Yes Virginia, there is more than pr0n on the internet.)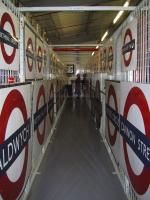 We got to look at, and in some cases go into, trams, buses and early train cars. There was an electric trolley that amused us, as even though it was an electric trolley, it still was leaking oil all over the floor.
There were engines, parts, things that had been rescued and not yet restored, signs and some 3D models of trains and stations. The entire tour lasted about 90 mins and we were back on our way home with plenty of pics to remind us in future.
Once back at the flat we all agreed we should hit the Indian place we'd enjoyed last time we were at Scala, Lal Qila. Not certain if it was because I just wasn't very hungry or what, but it didn't seem quite as good this time around. They had the same special price deal, but we ordered a few different things this time. I had forgotten that it was off a different menu, but adri had kept the cards from last time and noted down what we'd all had. Gotta remember next time that it sometimes doesn't sit well in my tummy however.
Back at the flat about 21:30 and we watched the Colbert Law & Order episode Adri had brought along that she'd been talking about before crawling into bed while the laundry went on. And it was still really damp in the morning.