Weds. July 26, 2006
Bradford->Bath-> London
HOT ~88 +70% humidity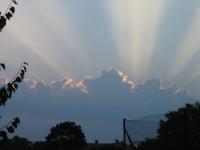 We were up at the crack of dawn to have coffee and get started. We elected to save breakfast for Bath, 5 hours down the line, which we hoped to make about 10:30. We mostly spent the cruising time showering, packing and napping.
We paused at Dundas Aqueduct to get some pics and stretch, and Jonathan
(who I think was more lobster like than any of us) offered to get pics of all 5 of us with the boat cruising over the aqueduct behind us. They came out well, and it was nice since we have so few pics of the entire group at once. Then we went back to single file and more packing and napping.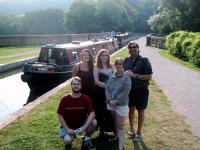 We actually made it into Bath about 10:30, even with the short break at Dundas. For once nothing to slow us down.
Once all was moored up we trooped over for our final breakfast and loaded up on eggs bacon and sausage. Bill and Marge said it was fine to leave our things on the boat while we went exploring as they'd be there doing boat things for a few hours. Bill had to head back to Devizes to get the car moved over to Bath, but someone would be around, and if he was back before we left (we had a 15:30 train to catch), he'd be happy to give us a lift to the station.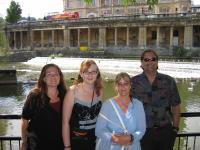 All of us set off into town, taking the long way so we could come up by the weir and Pultney Bridge. Len and I went in search of a quiet shady spot to sit a bit while the kids went off to see the baths and abbey. It was just too hot, and we were too burned to be able to take a 3rd time thru. Cris had never seen them, and Matt and Adri only once briefly, so they headed that direction.
Since we both had UK cell phones now we figured we'd ring and find a meeting spot around 2ish, since we wanted to make it back to the boat around 2:30. That would give us plenty of time to haul all of our stuff to the station in case Bill wasn't able to make it back.
Adri called a bit before two to say she'd just seen Richard, our tour guide from many of our London Walks our last trip over. We wandered over that way, but he was talking to a few people from his group and we didn't want to interrupt. Found the kids and got some fudge, ice cream and or water (depending on who you ask), hit a souvenir shop for Carissa to get a shot glass for her collection, and started back to the boat.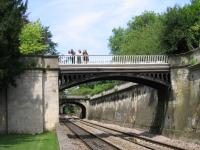 We thought we'd be smart going back and instead of going up around the weir, we'd head right thru to and get directly on to the path we'd taken half way in. It would have been a great idea aside from the fact we missed a turn somewhere and came out way above where we'd moored. After that there was much criss-crossing of bridges as the rail bridges look just like the canal bridges, and nowhere could we seem to find a way down to the towpath. Eventually we found the way down where the Bath canal boat hire was, and from there finding Dawn & Dusk was easy. And we made it back right at 2:30.
Marge rang Bill to see if he was close, and we lucked out as he had just pulled into the area. So off came all our bags, and poor Phil and Jonathan lugged them all the way up the towpath and to the street, and even loaded them into the van for us. From there it was big hugs goodbye, and many thanks for them having been so wonderful our four days with them and Dawn and Dusk.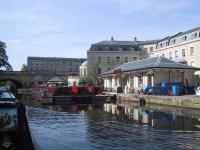 Bill popped us down to the rail station where we suddenly realized we hadn't cleared our bar tab yet. We did a quick calc and figured it was probably pretty close to about £60, and went running thru wallets to make change. Bill said not to worry, Marge would contact us and let us know what it was, and we could just handle it then.
We again thanked Bill for everything, and asked him to again pass on our thanks to Marge and the crew for all their effort in ensuring we had such a perfect time. I think we all had the best of times, and it will be one we'll remember for a long time.
Adri had electronic rail tix, so she popped over to the machine to collect the actual tix and then we tromped up to the platform. She had actual seat reservations for a specific train for the 3 of them, but we just had the open-ended BritRail passes. They were checking tickets at the entry to the platform and helped us find the right spot to get on the correct train car. Since there was another train 30 mins ahead of theirs, we elected to catch that one and go ahead to do the check-in and maybe hit Tescos for some munchies and beverages. That way they would be able to just come straight up and find things all ready to go. At least that was our theory.
Alas there were a few problems on the train, and a few on the track so we were 30 mins late getting into Paddington. (The trains just don't run the way they used to in 1998. We were amazed at how punctual and error free they were our first trip.)
We went Bakerloo to Central to Northern, and again there were slowdowns from the heat. Medical emergency on a another train held us up 10 mins, then it was so crowded we couldn't fit us and our bags into the train and had to catch the next one.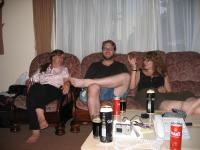 We arrived at Scala House, did the check-in, and as they were showing us up to the flat mentioned that while we'd asked for an upper floor, they'd put us on the 3rd floor since the upper floors were so hot as to be unbearable. For that they had our profuse thanks. These solid brick and cement buildings were designed to hold in the heat and with the current temps it was the last thing we needed. And it was the same basic flat we'd had last time, looking out towards the BT Tower, only 5 floors lower. Sure felt like home.
As it was we only beat the kids by 15 mins. But that at least gave me time to make certain there were clean glasses and a few ice cubes in the fridge so they had water once they made it. The boys pretty quickly hit Tescos to get sodas and snacks, while we tried to sort out the flat arrangements, and get the windows open and fan working.
We relaxed and cooled off a bit, eased the tired shoulders and thought about dinner plans. By the time we were ready to actually do something about dinner it was getting late and no one had much energy, so we just defaulted to The Rising Sun on Tottenham as we knew they served food at that hour. We just remember trying to find a place our first night last time and weren't in the mood for much tramping in the heat.
The Rising Suns menu looked remarkably similar to Sawyers Arms, but there were a few small differences. And we got a pitcher of Pimms and lemonade to share for our first round.
After food we wandered back to Scala and looked at the BT Tower to see what changes there were in the lighting patterns. They'd added white upward spots blinking on at points, but to be honest I didn't think they added anything to the display.
At that point, full of food, itching from heat rash, peeling from sunburn and feeling beat into the ground we called it a night. The tree outside sounded like rain falling, and since it was thunderstorm weather we fell asleep watching the lightning flash overhead.