Fri. July 28th, 2006
London
82, humidity a little lower.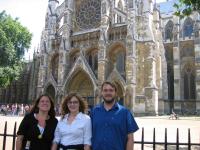 Today was a Slug Day, as far as we were concerned. The kids had a 10:30 Westminster walk planned, and a maybe desire to see the Tower of London, but we had nothing penciled in for the day. Lazed about the flat drinking coffee, reading email, writing postcards and updating travel diaries.
Once the kids took off we did more of the same, then took a nap. Kel woke first and put together a quick pic preview page for all of us to send back to the friends and family at home, showing what we'd been up to so far. Len perused the London Walks brochure and found an evening pub walk that sounded interesting, didn't sound like it would be too crowded and started close to Harrods.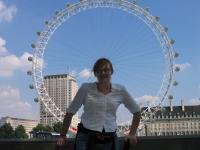 For lunch Len ran down the the Kebab place across the street where Adri lost, and found, her passport last trip - Gigs Fish & Kebab House. The kebabs (pronounced "Kee-Bab", not the the typical U.S. of "Ka-Bob") come as 4,3,2 or 1 (snack) sized "sticks", or skewers of meat in a pita. He ordered a 3 stick, but should have only gone for a 1 or two. It was enough to share, and quite good with the garlic mayo sauce. You also have choice of "salad" or "chips", which apparently isn't so much a side dish, as what you'd like on top. Next time perhaps the salad would be a better choice. But it was still really good.
The kids got back about 15:00 or so. Matt and Adri opted out of hitting Harrods beforehand and Len tried to do the same. So Carissa and us popped down there to do a little shopping and window shopping before the tour. Wandered around all over, and found a few surprises. Before there had been at least 2 types of Harrods shot glasses, but now there were none. The "Luxury Toilets" that used to cost £1 were now free, and not very luxurious. But we did get the yearly bear, as well as several other items for those at home. Got back on the tube to South Kensington, unknowingly on the same train as Matt and Adri but they were on the other end of the car and it was so tight we didn't spot each other until we all got off.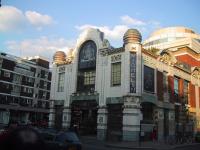 Met our guide upstairs, Fiona we think. She never gave her name, but Adri had seen her on an earlier tour during the day and when introduced couldn't quite hear but think it stated with an "F". There were only about 25 in the group for the Old Knightsbridge Village Pub Walk, and no piagas. Walked around the area looking at architecture and gardens. She mentioned that while mews had originally been stable areas, many had changed though one or two still had almost the same feel, while others had become really charming little communities.
Fairly dull walk, partly as one or two people had requested to take it slow, so we spent may long 20 mins pauses standing in one spot. A little hard on our worn out feet. The two pubs we stopped into were nice, and for once had fast service as we were able to enjoy something at each. It may have partly been the smaller group size. Skipped the 3rd and last one as it was almost 10:45 by the time the tour ended up there.
Since we knew finding dinner late was tricky, and sometimes the pub walks don't end until after 9:30 we'd planned ahead and laid in some microwave dinners for after we got back. Len made us all dinner, which we were nearly too tired to eat, and we all crashed for the night.