Mon. July 31st, 2006
Southwest Cornwall Coast
Cooling and showery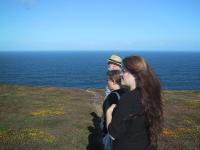 Checked email before getting dressed and going down for breakfast. Nice soft beds and a Full English at 8:00, yum. Four others in the B&B, all of UK origin. As it turns out they had no better luck with dinner in town the night before either. It sounded like just about everywhere was out of food and closed, not just the places we looked at.
Since we'd also booked two days of personalized touring with our hosts setting off was easy. Got in the car with Mike around 9:00. Today we were off to see Southwest Cornwall. Drove along many narrow, hedged, single lane country roads with 2-way traffic. Everyone inhale!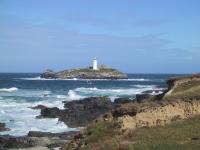 First stop was St. Agnes Head to see the ocean in all its glory. We could also see several of our upcoming other stops from here, Portreath Beach, a surfers dream and Godrevy Lighthouse, the basis for the Viginia Woolf story "To The Lighthouse". Breezy but sunny, and the ocean was terribly blue.
Mike told us about the coastal trails. He's a Rambler, folks who walk the public foot paths and trail to insure they remain open and public. Back in the car and off to Marazion to see St. Michaels Mount. Its the sister of, and was built by, the same group of Benedictine's who built Mont-Saint-Michel. It has a long history and since 1660 it has been in the possession of the St Aubyn family. The family still live there, though it has been a National Trust Property since the mid 1960's. Mike and Averil are National Trust members, so they have cards that get them into the National Trust properties for free, and can visit often.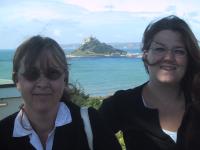 We took a 12 person ferry over since the tide was too high to us the causeway. The ferry runs £1.25 per person and the ride takes less than 5 mins. There are a bunch of them and they just go back and forth every few mins.
The hike up to the castle is a steep one, over very lumpy cobbles. About half way up you see the well were Jack trapped the giant Cormoran, and a little further up from that the stone that is what became of the giants heart.
The views are wonderful, though the clouds were starting to come in and the breeze was strengthening. Parts of the castle were closed are they were doing some restoration, and we found a few spot that could use a bit more.
We went thru the castle and then headed back down, stopping for a few at the gift shop before we headed to the end of the break water to catch the ferry back. The tide was going down, and there were a few people using the causeway, but it would have been nearly waist deep and I wasn't in the mood to try it.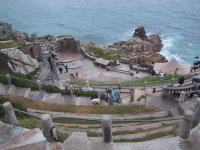 The rain began just as we stepped up to the car. From there we went to Penzance, and stopped for lunch at a cafe called CoCos. Len had the brie and sweet pepper sandwich, Carissa had the Chicken Club and I had a blue cheese and endive salad. We'd just gotten to the car when Len noticed his coat missing so we swung by on our way out to snag it back.
We headed out towards Lands End, stopping first to see the Minack Theatre. Its carved out of a cliff overlooking the see with the audience facing the stage, and behind that, the sea. During the day you can go in and just see the place for about £3. In the evenings they do performances there with a variety of local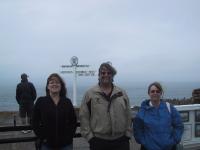 acting groups, and we'd even once watched Wind in the Willows in 5 min updates over their webcam. Its a very magical theatre, and I imagine it's impressive to see a performance here.
Lands End was really tacky looking at first glance. I was sitting in back so I wasn't sure what exactly was said at the entrance, but I think you can get in free if you're going to the hotel, otherwise you have to pay for parking.
Just as you enter it looks a bit like a traveling carnival. We went around by the hotel, which is where you can see the famous sign. It's fenced off, and there is a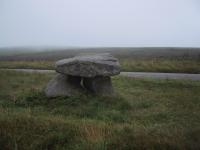 professional photographer who, for a fee, will put your city up on the sign and take pics. If you stand in front of the fence, and are willing to take what ever cities are up there, you can snap your own pics. Mike snapped one of the 3 of us together. Can you tell it was a bit breezy?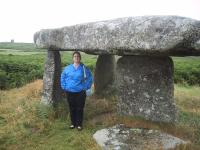 Went thru St. Ives, but it was too crowded and we were getting pretty tired and blurry by this point, so decided not to stop. Head back towards the B&B, but made a quick stop to see a few Dolmen, or Quoits on the way. One was quite small, the other, Lanyon Quoit, was big enough to stand under, for some of us anyway. Went by a very old very large graveyard as well.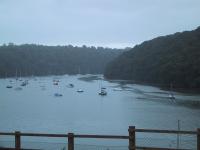 Once back at the room around 17:00, we freshened up with some tea and email before leaving for dinner. The Heron Inn was serving food tonight, so Mike ran us over there where we had a really nice dinner. Had it been a bit more warm and dry we'd have sat on the front deck overlooking the Truro and Tresillian rivers. We did see a few herons across the way as we were going in. Sat in a little nook area off to one side of the front area. The food was great and the service good. Len had the Steak & Ale pie, Carissa had fried shrimp, and Kel the lamb (of course). Very nummy. We were able to finish up and get back out front just before Mike came by to pick us up and return us to The Fieldings.
Arranged to leave a teeny bit earlier in the morning as we had further to travel and headed to our room to write up travel journals and postcards before bed.