Luxor/Valley of the Kings
Friday 10/24/08
Warm to HOT at the tombs
IMG_2930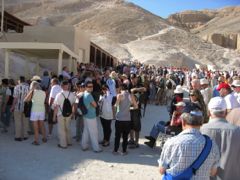 7:00am call and we were off to the Valley of the Kings (VOK), where the New Kingdom Pharaoh are buried. Really neat, but _full_ of sheeple.
You take electric trams up the hill after watching a 5 mins movie in the Visitors center. (While the guide runs off to get tix et al.) The 3D map inn there is actually much more interesting, as it shows not only how the tomb entrances are laid out in the valley, but also how they're laid out below ground as well. Should have taken more pictures of that.
Ash pushed the 5 of us to the very front of the line and onto the first arriving tram, much to the annoyance of some of the others in line. That is one of the perks of going thru a big travel company like Sakkara, I think, as opposed to making all the arrangements on our own. They know when and how to line-cut. And more importantly, how much baksheesh one needs to do it.
He told us about where we were heading, and what things to see as he handed over our tickets, which gave us entry to any 3 (open) tombs, aside from Tuts. Tut requires it's own separate ticket, which he'd give us later.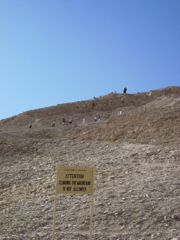 Along with the tombs, you'll also find a PortaCabin set up with the toilets, and theres a pretty good line to see them. Almost as long as some of the tombs. They also have a 2 story wooden structure with bench seating as a way to get out of the sun when it gets to be too much. You'll also find guys wandering around with pails of ice selling cold water and sodas. A lot of "No _______ Allowed" signs all over. Many seem to be ignored, like "No Climbing on the Mountain." It wasn't that anyone was sneaking, there were a large number of people jut above the sign, and a Tourist Police standing near the sign. The limestone hills are very flakey with mostly chips, making for what looks like rather loose and slippery slopes. Very brittle and crumbling.
His recommendation was to head for tombs Ramses IX, I and IV, so thats what we did. Timing is important since some of them had very long lines at times, but 10 mins later there would be hardly any wait at all. We seemed to pick the ones with the long lines, but they do move fairly quickly. There are people posted along the way inside to make certain things keep moving well. Since no guides or photos are allowed inside, things go quite smoothly.
The "no photos" is also done in order to preserve the art works, but you can buy postcard sets of the interiors for what works out to be about $3.00. What is so stunning is how bright and fresh the painting is. The colours are brighter than you expect, since you normally see the faded outdoor art, to the point of jaw dropping amazement. After seeing everything as stone coloured carvings, these bright colours nearly shout.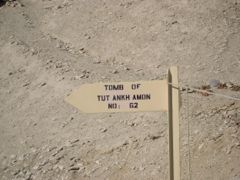 Its warm and sweaty in the tombs, and not for the severely claustrophobic, but veritable utilidors compared to Khafres pyramid, which we visited later.
Found Ashraf after the last of the Ramses tombs and he brought us over to Tuts tomb, the only one found intact. The theory is that as he died so young and unexpectedly his tomb was added quickly, and beneath another existing tomb, so robbers never located it.
King Tutanhkamens mummy is too fragile to move, so it lies in state, still in the tomb. The tomb seems incredibly tiny when you consider the huge treasure trove that came out of it. Since it is so famous it gets its own ticket.
There are 62 official tombs in the valley, and 3 additional that are being explored and confirmed currently, at least one quite near Tuts (KV63, KV64, KV65).
After VOK, we stopped at the obligatory "pay-the-rent" place, this time and Alabaster Factory. Since there were few toilets in VOK, and those had long lines, we weren't quite as disjointed about stopping here, as they had decent WC's. Bought some glow in the dark 'trinkles' (Mahas phrase) and scarabs here after watching the alabaster demonstrations in front.
From there we continued on to the Temple of Hot Chicken Soup, Hat - Cheap Suit, or Queen Hatshepsut, a temple built by, and dedicated to the (lady) King herself. It's huge, and we'd seen it so often on TV. It looks so modern in many ways, its hard to think how old it is.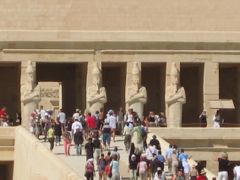 You take a tram up to this one as well, pulled by a tractor this time. There are great views across the Nile River and Valley, even to Karnak (smog permitting - we were told at Karnak you can see to Hatshepsut, but we couldn't make it out that day.) After the terrorist attack in 1997 the tourist police now have many small caves in the hills they keep filled with the elite sniper branch to prevent anything like that happening again. They also have a large number in riot gear stationed around in areas as well. I also heard they have a bunch posing as undercover tourists on top of it. These are not the white uniformed tourist police that ask for baksheesh and double as guides, but the dangerous looking black uniformed branch that mean business.
With no shade or cover here the heat started to get to us. Hatshepsut Quarry and her Temple were the only two places we really felt the heat. There are again more than enough tourists here, as far as we could see anyway. But the views from the top level are great, and worth threading thru the crowds to get all the way up.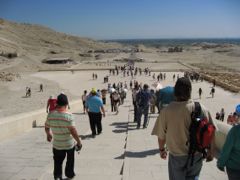 After free photo time we bullied Ash into letting us spend 10 mins in the "trinkle" area. Bought a necklace for Adri, and kaffiya for Len and a few small other things. Would have gotten more but each transaction takes a bit of time, and we had almost none to spend here. Haggling sometimes means I spend much less in total that I had planned, which isn't a bad thing for the wallet I suppose. Watched the guy tie it on Len so I have an idea how he can wear it without the black headbands. Most of the bedoiuns we saw wore it withour the headband anyway.
We'd added an additional tour, so headed too the Workers City and Tombs at Deir el-Medina. This was fantastic. We got to see how the rest of the people lived, and not just royalty. The houses were functional, and the tombs showed less ceremonial and more realist scenes. You'd see parents and children, depictions of daily life and careers as well as the various gods. Really glad we were able to get to see these.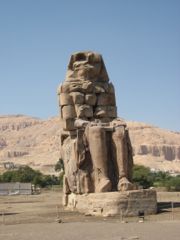 One last stop at the Colossi of Memnon. Two big seated statues that the Greek's thought were of Memnon, who was slain here by Achilles. They're actually Amenhotep III, and at one point they "sang" with the temperature rising. They're all thats left of another great temple that once stood here. There iis a parking lot built there, but otherwise they're just sitting in a field at the roadside surrounded by trash. The look a bit out of place. Shame they no longer sing and weep.
Back to the Monaco for lunch, and free time for the rest of the afternoon. We grabbed our suits and headed for the top deck to grab a dip in the pool and cool off. We were in for a surprise at how "cool" it was. I swear they dumped the ice in here at night. After sitting in 95 degree heat all day you'd think it would have been a bit warmer. Sat out in the sun for a bit to warm back up and then got postcards and stamps and cranked out a few more of those.
Finally! the teeny giftshop on board the ship had plenty of stamps. There are actually 2 shops on board. One sells postcards and jewelry, the other is film and galabaya costumes. I'd envied the beaded headresses some of the Frech were wearing so asked how much they were. SOLD! Talked him down, so bought 4 and got the whole lot for $14 US. I even was able to get my change in Euros so I now have a few of those for my collection. This is also where you buy the photos from the Galabaya Party, so we bought 2 of the 3. The 3rd wasn't very flattering so didn't want to pay for it, and he just threw it in for us since we were buying so much other stuff.
The other giftshop had one lonely shot glass and was going too snag it, but Len thought it would be better to wait for someplace witha better selection. That was the last shot glass we saw until we cleared security at CAI before flying to Jordan. Lesson to the wise - somethings aren't available everywhere. Grab a shot glass anywhere you see it in the Egypt.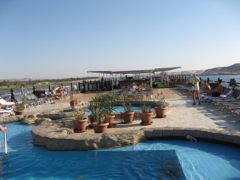 Met up with Ihab, the ship masseur and surprised him by scheduling a massage for a bit later in the afternoon. We each went for the back, neck and shoulder massage plus rose scented facial mask. Felt great. LE 100 each, plus $5 for the facial. Kels was free as she won the bet and remembered his name.
We eventually went back down and got dressed to go out exploring for a bit, and to find the Luxor Market Ash has mentioned, and an ATM which he assured were all over. The second we walked onto the side street towards the market this kid of about 18 or 20 fell into step with us, and asked if he could walk aways and practice his English. He asked where we were headed, and offered to lead us there. We were essentially hijacked into a shop he recommended, but since he got us thru a rather scary intersection, we were fairly happy about the arrangement. It was a sort of multi-story department store, and he introduced his "friend", who would be happy to help us out.
The sales guy on that floor had us browse and select anything we might be interested in, and it was placed on a small table in the center of the store interspersed with the joking offers of 'How many camels for the wife". He pushed the jewelry, and we pushed the ticky-tack keychains and such. 30 mins later we'd piled paperweights, necklaces, spices and shisha tobacco on the table, and then came the haggling. Things went off the able and back on again as pricing was discussed. There just one lump sum for the lot, not any single item. 15 mins later we settled on LE 800 for the pile of assorted trinkles and saffron, now sans much stuff we'd glanced at, but didn't want that had been added anyway. (One of which was a red coral necklace that he tossed back into play at the end for LE50, and kel went for after all. It was actually kinda pretty).
Then the kid hustles up to the next floor where the textiles are. Sales guy #2 pushes galabayas and stuff and we push tshirts and kaftans. In the end it was nearly $20 a shirt, but he threw in some scarves "Free - For Xmas gift". Ready to get the hell outta Dodge, but the kid was carrying our bags and offered to walk us back. Since it was starting to get dark, and there was that scary intersection to cross we gracefully accepted his assistance.
He led us most of the way back, until we could manage our own way home, and the asked for a little something for his trouble. We certainly felt he deserved something, but since he's going to get a "finders fee" for dragging us into the store didn't think it was worth a huge sum. Apparently thats where we differed, and when we handed him a $5US he got all insulted and began to argue loudly with us. Insisted on $20US. We snatched the money back and said if he didn't like it he could go without, and we left him there cursing us. Left a bad aura over what other wise wasn't a bad outing, even if we did spend a bit more than we should have. Headed down the Corniche, looking for an ATM, but had to give up when full dark hit and we were no closer to finding one anywhere. Hoped we had enough left for the bar bill and the tips to Ash and the staff in the morning.
The boat bill came to $104 (2 massages, LE130 for the bottle of Obelisk wine) LE300 for Ashraf, LE120 for the boat staff and a a few other expenses like laundry and our restaurant server. We managed to cobble together just enough.