Istanbul
10/18 Sat.
Chilly. Mid-low 60s and threatened rain.
Up at 6am with the Imams song. Breakfast buffet was heavy on the sweets and cheeses.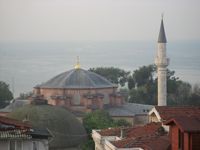 Really good. Very B&B. The juices are Orange and Cherry. At 8:45ish we met our guide, Kutay Birk, in the lobby. Great guy and he knows everyone.
A 2-5 min walk got us to the hippodrome. It was filled with large groups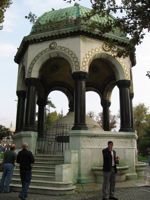 of tourists as thats where the tour buses park. We saw the Obelisk of Theodosius from Karnak (foreshadowing) and another that used to be covered in bronze plates the Column of Constantine Porphyrogenitus, the Serpentine column and the German Fountain.
Near one end of the hippodrome area is the Blue Mosque, and at the other is the Aya Sofia and Topkapi Palace. We hit the palace first. This is where all the sultans lived and did business. Huge and very nice. The buildings are all single story so as to always be lower than the mosques. There was an exhibit in the kitchens of China and pottery. Saw the jewel collection and the sultans collection of kaftans and uniforms.
The grounds were lovely and reminded us a little of the Tower of London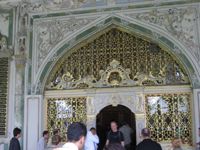 grounds, except instead of Ravens it was cats! Friendly, well fed and cute.
Had lunch with Kutay at Omars. Chicken & Rice and baklava.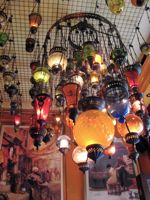 It was good, but not anything really different or special. He seemed surprised that we were familar with Baklavah already.
After we had our fill of the lunch we headed over to the Blue Mosque, so named for the tile inside. Our first mosque we've been in. They had shopping bags for us to carry our shoes in. Kel was wearing a scarf in case she needed to cover her head, but our guide said not to worry. Turkey is a secular country and there are so many tourists no one really cares now. It was really pretty inside. Not as much to see as a cathedral though.
After spending some time at the Mosque we went to the Aya Sofia or Hagia Sophia or St. Sophies. Interesting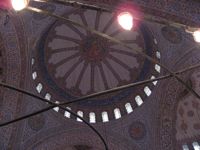 history as it started out as a church and was converted to a mosque. It's now a museum. They have recovered many of the icons that were covered by the Muslims, but its a tricky decision how much to restore, and to which point in history - Byzantine or Muslim? Got lots of pics of mosaics. We spent a good 2 hours there then walked to the Grand Bazaar.
Crowded. Everyone wanted to sell us carpets. Bought gifts for folks and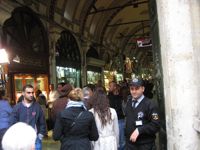 had apple tea while haggling. Refused more carpets. Kel was a bit short with one jewelry shopkeeper after they'd concluded their deals when he said "One more thing...", and interrupted him with "I do not want to buy a carpet!" He got a surprised look on his face and said "Madame! I do NOT sell _carpets_. I sell jewelry!" and went on in that vein for a bit. She apologized and said she was sorry. He replied back " However my FATHER! sells carpets....." and at this point we burst into laughter and left to get out and meet up with our guide.
Made it to the spot with 20 mins to spare.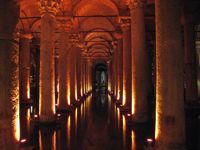 Did a bit more shopping out there (got hats for Mary and Matthew, got shorted 10 YTL from the guy *and* abandoned in a tile shop) and hung out until the appointed time. Our final stop of the tour was the Basilica/Underground Cistern. Wow. Just beautiful. It;s right under the street and all the people up there have NO IDEA!! it's there :-) (aside from that line 100 people deep) Said goodbye to Kutay and tipped him 50. Whew, we'd walked 7.44 miles.
Had dinner at the hotel again. And awesome open faced lamb kepbap and Kel had the fish of the day (which delighted our waiter). Bream. Our waiters are so cool. Took our tired tootsies up to bed around 10:30.