Istanbul
10/19 Sun.
Chilly and threatening to rain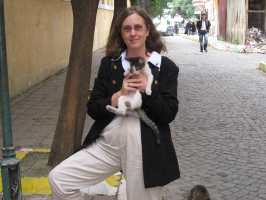 Checkout time was noon and our ride to the airport was at 7pm. Free Time! We ate, repacked, sent off email, then checked out. The hotel would hold our bags until we left for the airport. We'd be back to meet our ride later that evening. We had nothing scheduled today so we figured we should see about replacing our bag as part of our ventures. We remembered seeing several places on our way to the Grand Bazaar the day before so decided to head tha way first and see what we could come up with. Stopped to fluff kittens on the way, of course. Saw one that looked like it had sizes we could work with (A suitcase, not a kitten) and stopped there.
The bigger one was a bit expensive, so we worked with the carry on size instead. After looking at several we found one we liked and eventually haggled to a point we were willing to pay (if nothing else just to get it over with). I'm not certain what it is about turks and fire, but they do love the Bic lighters. In order to prove the item is genuine whatever, they try too set it on fire. We then asked if we could use a credit card as we were running low on cash. He said sure, and then led us on a merry chase all over that end od the road. To an ATM. At least this one had some keys with English so we could tell what we were doing. So we paid him in cash, which was a little tricky since it was morning and we weren't sure if our daily limit had rolled yet. Apparently it had.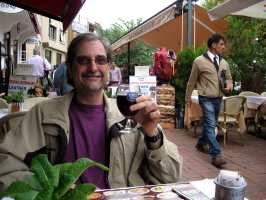 We then shoved everything we bought into the bag as we went along during the day. After that we headed out to find a post office and to see if the Spice Market was also closed on Sundays.
Failed on both accounts, but had a nice time wandering around that part of the city and did spot a post box anyway. Got down to the waterfront and took pics galore. Once our feet needed a break we hung out for a little on a bench in Sultanahmet Park between the Ayasofia and the mosque. Kel bought some shawls from a woman selling them to anyone who stopped long enough for her to approach. (She wasn't really interested in buying one, so quoted a price about 75% below what the woman started with, and she agreed. So Kel bought several for Xmas gifts.)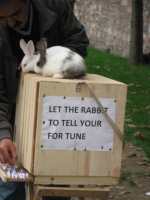 During our wanderings we passed someone who had a small box set up with some rabbits sitting on it. The sign claimed they told fortunes. Had to get a pic of that! After wandering back that way again later Kel could no longer resist and had to have her fortune told. It was more expensive since we thought the english fortune would probably be of more value than the Turkish. The white rabbit really had to think about it for quite some time, and had trouble deciding. The spotted bunny say his (her?) chance appear and made a break for it, leaping right off the box and trying to run into the middle of the VERY busy street. Kel jumped to action and manage to sb=nag the bunny in mid-air before any tragic calamity occured. (This also gave me a chance to snuggle a bunny instead of just kittens. And everyone asks so yes, I have the fortune. It reads:
09.you are elegant,economical, and so systematical person..
you dont care other peoples ideas they cant stop your targets...
you are patient,responsible,Intelligent,understanding and serious.. )
Once the feet were ready again we wandered thru the line of cafes along Divan Yolu Cd. Stopped at Sultans Roof where a barker steered us to a table on the sidewalk. It would have been perfect if it hadn't been chilly and dampish. The guy was great fun to watch as he ran up and down trying to convince people to sit and have some food. He loves everyone! I had something that was pretty good. Not certain what, since we ordered it from the photo placemat menus on the tables.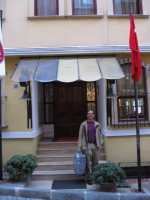 We lingered to kill time be it eventually got chilly so we moved along. Went down to Omars and got an inside table. Had good baklavah and wine until it was time to head back around 5:30 and reclaim our bags.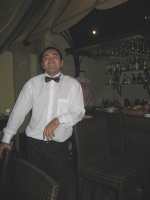 Unfortunately they were having the hotel photographed and we weren't allowed to sit in the lobby. Waited out in front for 20 mins and tried again. They were still doing photos but the waiter and manager saw us and asked if we'd prefer to sit in the garden bar for tea. Our waiters comped us a glass of wine, and the one behind the bar (Michael) asked us to sample a few he wasn't sure of. Said he wasn't good with wine and didn't want to sell anything bad. "Did we Like? Could he sell?" So we snarfed down several generous 'tastes" with him.
Our driver showed up and we were going to hurry to go when our waiter assured us there was no rush, they'd set him up with tea and he was fine. We didn't linger too long after that however, and said warm goodbyes to everyone there, collected our bags and off to Ataturk/IST we went.
Our Turkish Air flight was for nearly midnight, and we found our way thru security and to our gate with no problem. Got our carry-on bags tagged for cabin luggage, and killed time in the Greenport bar/cafe. IST is a nice airport, and not bad to wait in. Plus it has free Wifi in most areas. Had a burger and a beer.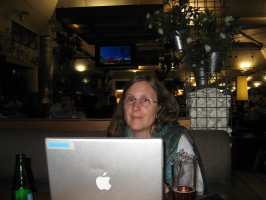 Flight to Cairo left on time. Tried to sleep with minimal success. Arrived about 1am, Cairo local time and were immediately met by our Sakkara rep, Ahmed, or as we call him, "The Wolf", our Cairo "fixer". He got us thru Customs & Immigration really fast, then out to the parking lot where he couldn't find our car and driver. Our car finally found us, and we were on our way.
Hyatt he pointed out some of the interesting buildings and gave us an ..amusing.. round up of how the government there works (Its a democracy), and a few examples of it in action. When he said Cairo is a city that never sleeps, he's not joking, the place looks like Concord just after rush hour in the early morning. Cairo was smoky, crowded and full of traffic, even at 2am. On the trip to the
The opening pleasantries accomplished we got the "Do's and Don'ts" list, so as to avoid the common travel complaint. No Water, No Ice, No green salads. Use bottled water for everything. Tip only for services, but was vague on the proper amounts.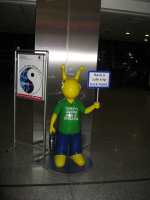 Explained the Tourism Police and all the security everywhere. Entering any building is akin to clearing airport security, and we were told this is for our protection. Many people were nervous after a few incidents in the country and the tourism dried up. So to assure people of their safety they go waaay overboard on the guards, police, scanners, dogs, and semi-automatic weaponry. (They don't understand that large numbers of machine-gun toting and/or riot police make some Americans just as nervous. Though Kels dad said he felt better about us being there knowing there was so much security.)
At the Grand Hyatt driveway we had to stop at the barricade and turn off the engine while the bomb dog sniffed our car and they went around with mirrors and sensors.
The front entrance was packed with folks coming and going and luggage scanners. (We noticed that most of our hotels had grand entrances at one point, but were now full of guard stations and x-ray machines.) We left our bags out front to be scanned and walked thru the airport style scanner, while our purses and hand baggage was scanned there. Ahmed sat us in the lobby while he took care of getting us all checked in.
We were given our key cards and told our room was on the 11th floor when security came in. There was a problem in the luggage outside and could we come out. Apparently something looked suspicious on the x-ray and could I identify it. Ahmed asked if we'd bought any ceremonial or decorative knives or swords or anything. We were not at our best at that hour and at first gave him that deer in headlights look. So he started naming other things we might have bought. Glad we had Ahmed to translate. We thought it might be the shisha pipe case we bought in Istanbul, and that took care of part of it, and the others looked like headphones and ipods or at least that seemed to be an explanation they accepted. No idea what set it off. I offered to open it so we could look, but they declined. We eventually scanned it another time or so, and they cleared it so it could be brought up.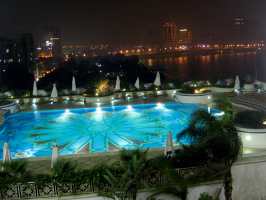 Finally got up to our room (1151). Fabu view of the pool and the Nile. Great room, but the Grand Floridian and Dland Paris hotels were actually nicer. Due to our late arrival and all, Ahmed said he'd see the tour was pushed back to 9 am instead of 8, so we'd be less rushed. He also gave us the run down for the next night. We'd need to go to the front desk before bed, and confirm our wakeup call for 1:00am, bags down and a breakfast box for 1:30am, and then Ahmed would arrive to pick us up at 2 for our 4am flight.
Got to bed about 2:30. Nice soft, fluffy beds, but hot hot hot duvet covers. Plus I swear something was munching on my legs and hip over night. But not my arms which were outside the covers all night... woke up with a line of itchy bumps