Edfu
Thurs. 10/23/08
Warm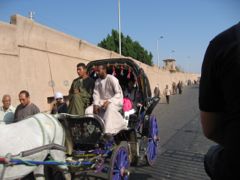 After a decent brekkie (omelet) we took a horse drawn carriage ride to Edfu's Temple of Horus (or Hoah-russ as Ash says). When we returned we bought the pics they took of us as we departed the dock area. A few of the caleche horses were pretty frisky and started racing down the street past us. Our driver was easy to spot in the crowds, as he was wearing a baseball cap.
Temple was cool, but temple fatigue was setting in and hard to remember specific details. We did see one of our first dogs there, a small black lab puppy who stood up where he could be seen, but out of reach.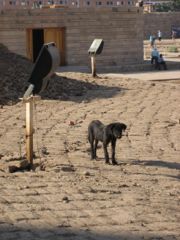 We then set sail and had the rest of the afternoon to veg and watch the scenery. During Lunch went thru the huge Esna Locks. Much bigger than English canal locks, but they cheat and use power to open and close them. There are an older set in the South section that don't appear to be used much, but those on the Northern end of the Nile can apparently get quite backed up at times with Nile shipping traffic.
At about 4pm we pulled into Luxor, and jumped ship immediately to head for Karnak Temple. This and Luxor Temple were supposed to be on the last cruise day but all of our flights were way early so these tours were moved up to today.
Karnak is HUGE. Gigantic. Great Obelisks but the highlight for us was the Hypostyle Hall, with its huge columns. Wow, and you can still see traces of the colours in some places, even after thousands of years of exposure. Avoided giving more baksheesh to guards, but just barely. Had to politely decline the tours thru the rear-most sections of the temples. If only we had more change, or smaller change it would have been nicer. We did go around the giant scarab for luck, 7 times to have all your wishes granted or some such. The five of us should all live very happy lives now. Ash was counting as we went around, and we got a laugh out of him when Kel started counting in Egyptian.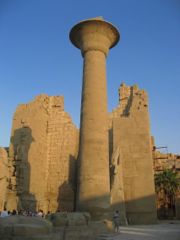 Karnak has many sets of pylon walls scattered about the site. It is so big you could put about 20 horus Temples in here and still have space. It was almost 20 mins just to stroll from one end to the other. (This even includes the time spent running from helpful Tourist Police "tour guides" to avoid being hit up for money.)
There is an avenue leading between Karnak and Luxor, lined with sphinxes, but a large part of the city gates in the way.. More of it is being uncovered and excavated almost daily. A chorus lion of sphinxes even. (Yes, pause for loud groan at Lens bad puns) On the Karnak end they're rams headed, and on the Luxor end they're people (Ramses?) headed. After some free time for photos, and a nice bit of sunset, we headed over to the Luxor Temple.
It was full dark by the time we got down there, but the temple is beautifully lit, as is that end of the Avenue of the Sphinxes. There is currently only one obelisk in front of the pylon wall, as the other is now in Paris.(which we finally were able to see in 2012)
The lighting adds a really nice sense of time and place to this temple. From the Ramses statutes near the front, to the lights shining out from the Mosque (Mosque of Abu el-Haggag from the 13th century) and the rows of papyrus blossom columns, you can feel a sense of great history.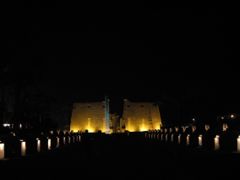 You can also feel a sense of claustrophobia, even in a place as large as this when pinned to a wall by the huge numbers of other visitors.
We made it back to the Monaco just in time to skip the 7:30pm Belly Dancing Show and catch our breath for a bit before heading to dinner at 8:30. This time we were able to catch the waiter and order a bottle of wine. Our waiter "adopted" Len and used him as the straight man for a variety of amusing jokes for our stay. His favorite was fooling around and trying to remove Lens just-filled plate. After dinner he got several of us to hand him our napkins and he folded them to create a small "baby" doll, and handed that to Len to rock. Collecting the remaining napkins he fashion a bra so Len could nurse his baby as well. He kept us all amused at each meal. Service was just fair, but we were certainly well entertained.
Finally escaped back to the cabin to try and get a few hours sleep on those cement slabs called "beds".