Aswan and The Nile Cruise
Weds. 10/22/08
Hot (97-99)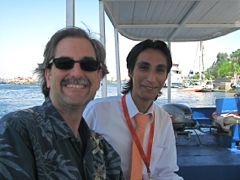 Up bright and early, all packed. Had a good breakfast buffet (incl. w/ room)
We had asked to have our bags brought down (across?) but no one showed up. So we called again, and still no one came. So after 30 mins we just grabbed the bags and dragged them over to the lobby. The porter caught us and grabbed the bags (and expected his tip) just as we walked into the outer lobby doors.
Waleed was waiting for us, (with a coffee nip candy) glad to see we hadn't forgotten what time. We explained it was only because it was written down.
Our room at the Movenpick was wonderful, but no hotels in Egypt seem to do hand lotion. Maybe someday we can come back there and stay longer.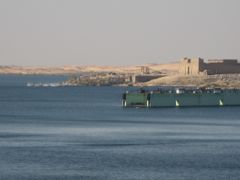 We got checked out and Waleed took us to into town and stopped so we could hit the ATM. We had to hit 2 since the first one wouldn't give me any cash. I wasn't sure if it was some odd hiccup, or if it was from the whole dateline/per day limit again. It wouldn't allow to pull 500, but it did finally let me have 200. It may just have been we were on the same business day back home.
There was a good laugh when he was talking of his car and taking his mother to the doctor in a small car, as she has a broken leg and is very large. The driver (who I suspect had a lot more English than he let on), exchanged some rapid Arabic and then with many giggles and gestures we got it that she was large in years, tiny in size. I think 90% of the time we spent with him was all of us laughing. I bet he'll end up as our fave fixer, though much of it may be from the uncanny resemblance to Our Shaun.
On the way he mentioned that English wasn't his better language, that he was more fluent in Italian and French. While his English was a bit broken he was so charming and expressive we all muddled thru, him teaching us Arabic phrases and us teaching him a few American specialties. Mashi Mashi was traded for okee dokee (which started to mutate to okee donkey for much laughter.) and Ana Fahkira (I am a poor woman) for Yo, 'sup?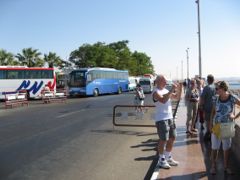 Then it was off to the Aswan High Dam.
When we got to the High Dam he turned us over to Ash, who would be our guide for the next few days. This is also where we met Barbara, Gary and Andy Grubb, fellow Travel In Stylers, who would become the other half of our tour group while we were on the Nile. We said our fond goodbyes to Waleed, who we'll miss, even after such a short time. Ash was fun and cool, but no Waleed.
The Aswan High Dam was built about 1969 with the help of the godless Rooskie commies, (they asked the U.S. first but we were too busy back in the 60's, killing viet cong) and there's a tribute there to them in the shape of Barad Dur. The dam created Lake Nasser, controls flooding, stores water and produces electricity for the whole country, and much of the surrounding region.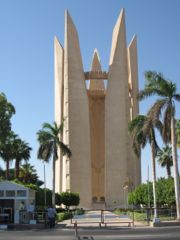 The rising water displaced the Nubian populace in the area, and submerged several historical sites. There is a great Nubian Museum in Aswan that has a lot of the artifacts and descriptions of the culture that was there. Abu Simbel was one they were able to move, (with the help of UNESCO who saved a lot of stuff in Egypt), Philae was another that was moved to higher ground.
You get to Philae via small motor boats. After traversing the usual and inevitable row of ticky-tacky stalls hawking the shirts and scarves you get to the landing and are guided onto the boat. They look VERY much like the Disney Jungle Cruise boats. A few young men hop on with you and spend the short trip across the water hoping to sell you jewelry. I finally got to use my stupid Arabic to bargain for something. Got two bracelets for Adri, and I think I paid ashara (LE10) for them. And was able to shoo away some other touts. And at one point had our picture taken both by and with.. I think it was Mohammed, but I think of his as Hamsa, since he hit us not only for a fiver for himself, but also for the guy who showed at the last second to take the group pic. I was ready for him, but was annoyed about his friend. We need more US ones and LE 5s.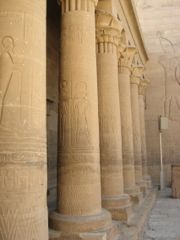 Ash got us to the central courtyard of the temple and explained the legend of the lovers hiding away on that spot by standing us up to play the parts. It was pretty funny. The temple was built in the Ptolemaic Era, and so has many Greek elements. The black stains on the walls and pillars show the depth of the water before they were able to move them to higher ground.
Then the Nubian museum across from the old cataract hotel and wandered thru that for an hour or so. There was a stop at the quarry for us to see the unfinished obelisk. they went ahead to the boat while we climbed in the quarry. First time the heat got to me was standing in the middle of all the reflecting, sunbaked granite in full sun as it beat down on me in the 90+ temps. We weren't there for all that long luckily. The Grubbs headed right for the boat.
We'd been upgraded from the Monaco to the N/S Mojito. we got to the boat and checked in. As soon as our bags were all here it was down for a late lunch and at last a chance to sit for a little bit.
Lunch was the typical cruise ship buffet, consisting of Egyptian and western cuisine. Mostly western. Our group of 5 was all seated at the same table, so we could spend a bit more time getting to know each other without craning our necks round the van seats.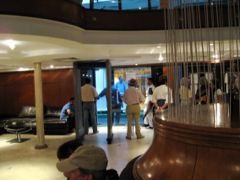 We were supposed to get 2 bottles of water a day, and a welcome fruit basket. The fruit there (in Egypt, not just the boat) looks a bit different, but tastes great. (Well, aside from the dates. Not a date fancier) Ash made a note to Marco, our long suffering purser, and the water and fruit were handled. The water showed up eventually at lunch and dinner, and the fruit basket just before bed.
The boat held about 200, and I think all were French aside from our group, and another few Americans at another table. The boat is built more like a ferry, or a mini cruise ship. 5 decks, 1 restaurant, 1 lounge and a top deck with pool and lounge area. The other passengers were mostly retirees from the look of it, and all wearing the latest French skimpy bikini fashions. Not exactly age-appropriate, if ya know what I mean. The pool deck could be scary if you fear cellulite and bottled tans. The pool is much smaller than it looks in the brochure pics.
After lunch we did some unpacking and set off to explore the ship... this killed almost 10 mins. We had "tea" on the top deck at 4, and the ships masseur came around and greeted everyone, introduced himself as Ehab, and explained his hours and that the rates and further info were posted in our rooms, if we were interested. He also joked around with us and said if Kel could remember his name the next day he'd throw in a free facial with rose mask as well.
At 5:30 the shipped docked at Kom Ombo and we got to tour the twin temple of horus and Sobek. The boats all raft up and you get a pass from your ship as you leave. The trick is to note the boat at the dock. We were 4th or 5th in line so had to cross thru a number of lobbies. While they're all different, they are all the same. There are differing colours, and maybe styles of furnishings, but they all have the same round center that goes up all 4 floors, and pretty much the same layouts. The end boat going out was the "Nile Sham" (we all got a giggle on that one as well)
We memorized it so we could remember which boat was the one to look for to get back. We hit the temple of Horus just about sunset, and ZOMG, was it a seething mess of humanity.
Though in our case it moved. It got dark fairly quickly and was packed to the gills.
Ash took us around and pointed out where the various interesting bits were, so that we could go back and see what we wanted during our free time. There was no way to see all since the lines were long and the crowds so thick.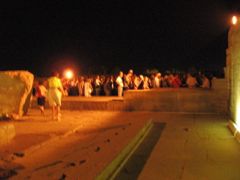 The line for the mummified crocs was about 45 mins long, we could hardly get within 20 feet of the calendar, and spent 20 mins waiting to see the medical and birthing murals, and didn't realize until we were half way there we'd cut into the line. there was a large Italian group behind us, and they wouldn't move forward unless the "park rangers" prodded them along. They'd left a 50 foot gap at the point we were trying to find the line in the darkened chaos, and by the time we figured it out it was too late to go back to the end.
Barely got into the room as it was so full of another large group. Ash had said he'd meet us at the cafe at the corner of the way back to the ship.
We arrived before the Grubbs, he and the other guide bought us a juice and shisha to pass the time.
Since we had to wait a few for the rest of the group we had a guava and Len and I shared another shisha. They showed up, but didn't want to hang, so went back to the ship to get ready for dinner. Much like the BVI this is a fairly laid back country (unless you're driving) so while I was worried we'd miss the boat Ash assured us all was fine, we had plenty of time. So that was pretty fun, even if I did get bit all over my ankles. We had a great time just sitting back, listening to the traveling musicians and relaxing for the first time in days.
I should just mention that all of the temples we visited had beautiful carvings and had great inscriptions and decor. It would be repetitive to say this every time, so I'll just note oddities or unusual or special items. Believe me, they're all breathtaking. Right, now thats handled...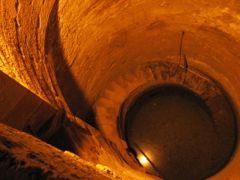 This one had our first nilometer, which was a deep well and was used to determine the tax rates for the year. Pretty cool looking.
Came back,got ready and dressed for dinner (dinner was at 8 and there was a galabeyah party at 9:30).
Back at the ship, dinner was OK. We'd been warned very strongly, by both Ahmed and Maha, to avoid green salad, ice, fruit we hadn't rinsed and peeled ourselves, any food not cooked very well and hot, and unboiled or non-bottle water, including anything made with this. Our Travel doc cringed when we said we were going on a cruise, as this boat are pretty notorious for being heaving pits of "mummy tummy' waiting to pounce. So we stuck to rice, bread and protein. Sorry Weight watchers.
We wanted to buy a bottle of wine that night, (Maha advised buy the bottle first night and then just having a glass with dinner and its cheaper than buying a single glass each night), but couldn't catch the attention of the waiters until later in the meal. They got better. Our waiter did made up for it by taking our napkins after dinner and with much showy folding and flourishing created a little baby doll out of several of them. Which got a round of applause. he then snagged he rest and created a bra for Len, and handed him the baby. We got a big laugh out of it, and a big hand to the waiter.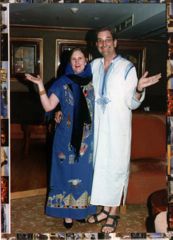 Apparently most people dress in the galabeyah for dinner as well. News to me. Ash popped by a bit later and dropped off galabeyah for all. Len and I were in matching blue, and GB,A in black white and gold. Mine and Barbaras has lots of glitter and sequins on the tut mask blazoned across the front. When we finished dinner they declined to party saying they were just going to go to bed, but that we should really go. We went up to don our outfits and headed on down to the party.
We only spent about 30 mins there, and it seemed more people were leaving after about 15 mins than staying.
It was in the lounge off the lobby, which was right beneath our room we discovered. It was VERY LOUD. Once inside it turned out to be about a dozen of the old French, gyrating, cavorting, and horsing about "Arabian Style" to loud Arabic disco. We had a glass of wine, and our pics taken and 15 mins later skedaddled back to our room.
Despite the noise below, and the slabs of cement they called beds, we got to sleep pretty fast. Amazing what exhaustion can do. Was worried I might be getting Pharaoh revenge, but I think it was just too much sun and rich food as it came to nothing. We slept fairly well. Until 4 Am morning prayers from Edfu woke us anyway.