SFO-Paris-Istanbul
10/16->10/17/2008 Thu/Fri
Warm to hot all over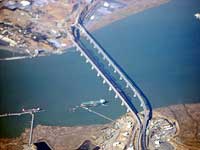 Took a cab to BART at 11am. Got to SFO at 12:45. Had a burger & milk shake at the Burger Joint right outside of security. TSA took 5 mins (thanks to the TSA website for letting us know what the usual wait that time is).
Had drinks at the far end of the international term at one of the Firewood Cafe spots. Flight left on time at 3:55. Air France is meh. Old 747 with crappy communal video and the most uncomfortable seats I have ever experienced. Reminded me of all the comforts of antique wooden church pews. Despite that I think I got an hour or two of sleep.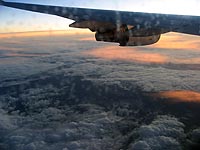 Kel was able to get a few hours after all. (Yay Xanax. I remember a few good bumps during the flight as well, but for once wasn't terrorized at it) The food was OK, but not great. Got a good tailwind and arrived early, 9.5 hours later in CDG Paris. Had to go thru security again, even though we supposedly stayed in the same terminal, which was a pain as we hadn't expected it. This was a taste of things to come for the next 2 weeks.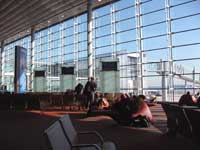 Flight to Istanbul left late but only 10-15 mins. The plane was OK this time, but probably wont make Air France a regular carrier. Arrived in IST at 4:55pm.
Got our bags and they had totaled our large black bag. It was not only torn, but bent so badly in three places we could NOT unbend it no matter what we tried. It was a bag with another smaller inside holding most of the things, so it doesn't look like we lost much, if anything. Once we had time to inspect it we noted someone had tried to put the loose items either in the smaller bag, or in in such a way they wouldn't fall out again. Never Air France.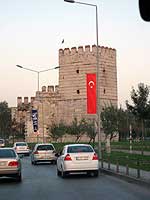 Got our visa first ($20 USD) Customs was no problem and we were met outside. Our Rep was in a huge rush to get us into the cab and away, with no allowance made for the fact we needed to change money and would have liked to file a claim for the damage to the luggage with Air France. Because we weren't able to file it before leaving IST, our bag insurance won't pay out for a replacement. (Foreshadowing: The loss of our only large bag would be a problem for the rest of the holiday.)
Len changed $300 US for 417 YTL (New Turkish Lira) while Kel was loaded up with all of the paper work and important info for our stay in Istanbul. Rep got our ride, a mini bus just for the two of us, who ended up discharging his fire extinguisher all over the broken bag, adding insult to it's poor injury.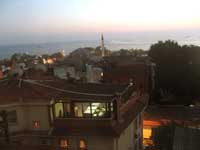 Rush hour traffic took about 30 mins to get to hotel. Driver had to keep stopping and asking passers-by for directions to get to the Arena Hotel. Check-In: They took our passports and copied them, then sat us down in front of the desk offered us hand refresher, and served us tea and a selection of cookies while we were going thru the check in process. We were sorta loopy so it was fun and the nicest way to check in, ever!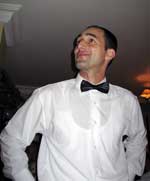 We had dinner at Delight, the hotels restaurant. Kel had meatballs and cheese and I had the lamb shishkabob. We shared a salad. ("In the middle" was the term we finally all used for "to share") Tried Raki and Turkish coffee. Our waiter was fantastic, and we should have written down his name as we've forgotten it, alas.
Headed to bed about 11pm, completely exhausted.