Cairo->Abu Simbel-> Aswan
10/21 Tues.
Warm to Hot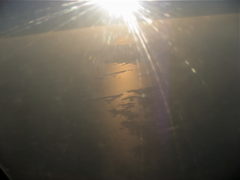 Awoke at midnight then laid there until wake up call at 1:00 am.We were already packed. "Luggage Down" was set for 1:30, and we set aside three to store at the Hyatt until we returned. Taking just the garment bags and the maroon roller. Couldn't have been easier. Hotel knew just what to do. We'd also asked for a "breakfast box" as we'd be leaving too early to eat. The front desk pointed out where we go to pick that up (it was the main restaurant area) and they had it all ready to go when we arrived there. (v. posh)
Ahmed met us right on time at 2:00am. We got into the car and headed to the airport.
Cairo was just as busy as the night before. At the airport we went thru security at the front door (you don't get a foot inside until you've cleared thru the security routine.)
Ahmed got our passes and saw that our luggage was checked thru, and pointed out the gates and where to go so we had no troubles.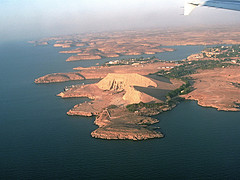 Everyone in the airport at that hour had breakfast boxes/bags from their hotels as well. Us Hyatt folks looked down at the mere Sheraton and Marriott po' folks. :-)
The flight was uneventful s'far as I can remember. There is more security, but little to no organization or queuing. There is a bus that drives you the 50 feet to the plane stairs and then runs back for the next load. You show your stub again as you mount the stairs into the plane. There was about a 3 or 4 to 1 ratio of male to female flight attendants on these flights.
Egypt Air starts off the flights with a prayer, and then the safety video. We were in 40A/B at the very back. The plane landed in Aswan about and hour later, at sunrise, and there was much confusion in one group of French travelers as their ticket said Aswan, but they were expecting to go on to Abu Simbel. It didn't seem like their guide was on the plane so they were confused and a manager looking guy and another groups guide had to come on and try and speak to them. It seems they were flying to Aswan, but taking the bus to Abu Simbel. (There are advantages and disadvantages to that method.)
Finally got it all sorted, and we went back up into the air. The flight from Aswan to Abu Simbel was about 35 mins, really quick, and followed the shoreline of Lake Nassar. Very pretty in the morning light, but still very hazy and smoggy. Made it hard to get decent pics.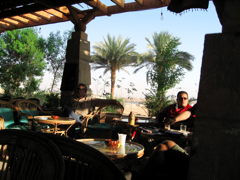 Abu Simbel has a very small, podunk airport. Reminded us of Beef Island, but not as fancy or big. The security scanners, a few seats, a fast food counter and a teeny shop selling DVDs and postcards. The DVD is playing on the wall, and its a nice one about the temple.
Our Guide, Ahmed Sallah (not the Cairo fixer) met us and we were off to the temples. We waited in a small garden cafe for about 20 mins while he took care of the tickets and all, and Kel ran for a pit stop, making sure to have some small change ready. AT this point we were lucky to have 1 USD or a LE 5, so shelled out rather a lot for toilet breaks. Luckily the facilities here were quite decent, and you actually got TP for your baksheesh. There have a guy standing at the door with his hand out, so if you have change ready its a simple process and a fairly smooth line.
We hiked around the back and over the hill (our guide seeming to have more trouble with the heat than us, oddly enough). Very picturesque and a neat story, but the UNESCO moving them was the more fascinating bit. It was surprisingly warm considering it was before 8am.
Inside the temples its quite airless and almost humid feeling, as well as VERY crowed. We were there the day before the big sunrise festival, so not sure if that made the crowds better or worse. After about an hour or so it was back to the airport. We *could* have come by car/bus from Aswan, but you have to drive in the caravan with the Tourism Police and they only go a few times a day. This means more time at the temples, but it can be a lot of wasted time on the road, and you may end up spending more time in Abu Simbel that could have been spent elsewhere. Its good and bad either way you go.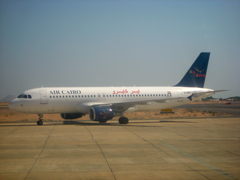 Flight back to Aswan was short, half empty and uneventful. We were even on the same plane, and in the same seats. The flight manager was checking stubs as we boarded the plane, and holding my discarded trashy V.C. Andrews novel too. I kept my head down, as while some women on the flight were reading and discussing the same author, I wasn't in a rush to be identified as the former owner of that one.
We were met by our Aswan fixer, Waleed. He was "Our Shauns" long lost Egyptian Quintuplet. Uncanny, and as of this writing, our Fave fixer. Goofy, funny, and great as a fixer. At least to our sleep deprived, hazy state.
We got to the Moevenpik quite a bit before check in (about 9:30) so our room wasn't ready yet. He suggested we look around the grounds while he took care of the front desk. We got back and they still weren't quite ready for us, but served us juice while we waited.
He pulled a few strings, sweet talked the desk staff, and sat with us (making fun of the big Australian tour group filling the lobby) until a room was ready. While waiting he went over the schedule for the next day, and additional options we could purchase while we were in Aswan. We so wanted to help him out by signing up for one, and we were so sleep deprived we didn't think we could stand upright. There was no way we could survive another minutes activity. He also had to the idea of writing down our schedule and timings so we wouldn't get confused. (Thank goodness!! We woke up the next morning and had completely forgotten what time we had to check out) Our room was finally ready, in the new section that hadn't full opened yet, so he'd call us in about 10 mins to be sure the room was acceptable before letting us have the rest of the day to ourselves.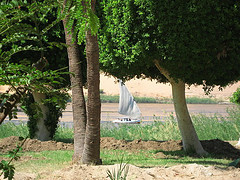 ZOMG, we ended up in a Two story suite. 2 baths, 2 working areas, huge living room area downstairs and the bedroom loft upstairs. And a 2 story wall of windows with a patio that looked over the Nile river. Good Job Waleed! Absolutely gorgeous, and the best hotel room we've ever had. Of course we were only here for one night, and we spent the entire afternoon asleep. Typical.
Woke up in time for tea, so got cleaned up and went up the tower to see how afternoon tea was. The tower is on the 13th floor of the hotel (theres nothing between 2 and 12, actually, its just a big tower.) 360 degree view of the Nile and Aswan. Little feluccas sailing up and down the river, and we watched the sun set from up here.
The dinner buffet in the hotel restaurant downstairs was pretty good, back to the room and bed directly after. There was no internet access in our room, but we think that was as it was new, and not officially open yet. I'm pretty certain it was working in the lobby, but we were too beat to go check.