Cairo
10/20, Mon.
Warm/Hot and Smokey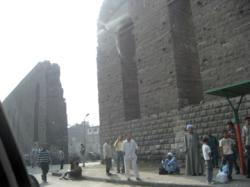 Up at 7:30 and enjoying a good buffet breakfast by 8. At 9 we met our guide, Maha to start the day touring Old Cairo. Away we went, first to the Coptic Museums and the Abu Sergha church, and the Hanging Church.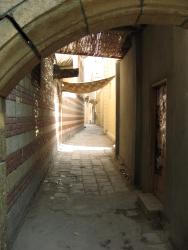 Very interesting old-school catholic-like church and area. The little alleyways and ancient doors were very much what one pictures when you think of Old Cairo. Went to a gift shop after this which was a bit trying since we weren't used to being followed by salespeople yet. In retrospect we should have done more shopping here since the selection was pretty good. Most items had price tags, which if you can read the Arabic numbers at least give you some idea. Unfortunately we hadn't gotten the numbers down yet. Took us another day (gotta love the bi-lingual license plates) before we could read it in any form. By the end we'd gotten pretty good at it, not that it did a lot of good. Almost no where else had anything tagged. Escaped without buying anything.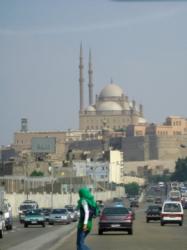 Traffic was unbelievable for someone not used to it. Lines are optional, and the one or two traffic lights in Cairo (a city of 19 million would have more lights you'd think) are purely for decoration. Absolute chaos. Imagine kicking over an anthill. Now imagine being one of those ants, only in cars that can kill, interspersed with donkeys and carts. Thats Cairo traffic in a nutshell. We saw a rather bad accident, and they were having a hard time getting the person into the back of the ambulance since there were so many bystanders crowded around it. And when it was able to depart, not one car got out of the way on the roads.. Do NOT get hit crossing the street is my advice. But somehow, it works. I saw traffic flow better there than somedays in San Francisco, even with the anarchy.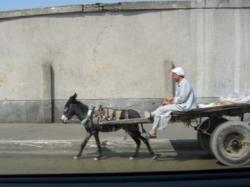 Went to the El Rifai Mosque from here. Had to take off our shoes, but again, no hair covering. Our guide didn't have to either. Weird. Inside it's quiet, still and dimly lit. Very peaceful. We saw the tombs of the King of Egypt and the Shah of Iran. The whole building has a lovely quality of peaceful sanctity.
For lunch we went to the Imperial, a floating restaurant on the banks of the Nile. Its lunch was buffet style (as we got used to eventually), but Maha introduced us to the dessert Uhm Ali or Om Ali there. It tastes like a bread pudding made with French Toast and cream. Yum. Otherwise the buffet was ok. After lunch was the obligatory stop at the Papyrus Museum, where we watched a demo of it being made. They actually had some pieces that were small and nice looking so we bought a few for us, and one that we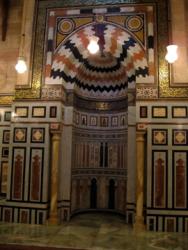 had personalized as a gift for Mikel. They ran from about LE50 ($10) on up to thousands for the big and antique pieces. Had some of the hibiscus tea while we shopped. From there it was a stop at a jewelry store. A bit pricey, but we were looking to find a nice scarab as a bday/xmas gift for Judi.
Finally got to the Egyptian Museum. The place was PACKED. By this time we were starting to get used to the black uniformed police with helmets standing around behind riot barricades. But only starting. Maha arranged the tickets while we stood over in the shade. In order to see even a fraction of it (much like the British Museum) one has to keep moving at a good clip, so its tough. Saw the Tut exhibit, and saw several items that Kel remembered seeing when the exhibit toured Seattle and SF in the late 70's.
Then the Royal Mummy exhibit. Its divided into 2 parts/rooms and requires a separate ticket from the main museum. you need the ticket to get into both, so Maha warned us not to lose it between the two rooms. So cool seeing mummies in person that I've seen only on TV or books, but many times on TV or in books. The animal mummy room was also cool, but even more crowded. Cows, crocs, cats and dogs were all in here. Just like the British Museum, you get overloaded quickly on one trip.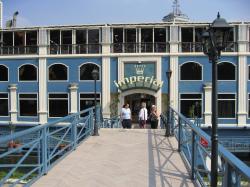 We also hit the Duty Free shop so we could pick up some wine and beer, since the hotel is so nearly dry. Maha gave us some great advice and tips. So we had a bottle of Pinot Grigio in the room, and she said on the Nile cruise we should order a bottle the first night, (Obelisk or Omar Kayyam were decent she advised) and then just have them haul it out each night at dinner for a glass. We bought a case of Grolsch and brought as many as we could fit down to the cruise as well. Bummer we couldn't fit hardly any. Also got a bottle of Marula that ended up leaking all over my luggage coming home. Maha explained we only had 24 hours from our arrival to shop there, after that we'd pay much more in town or in the hotel. Also found mint shisha tobacco and a LARGE bar of toblerone. (Didn't finish the chocolate until a week after we'd been back!)
Maha had a few things she wanted to get, some sort of hair product and creams and since we weren't using up our full $200/per passport allowance, she asked if we could put them on our passport, and she'd pay for them. No prob!
We ran out of time and missed Khan El Khalil Bazaar, alas. Dropped us off at the hotel about 5, and by then we were so exhausted we could hardly stand. Reminded us about the 1am wake up and 2 am pickup for the 4am flight to Abu Simbel. Ugh..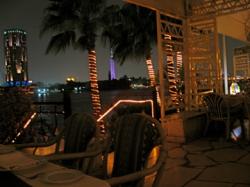 We needed to think about dinner. Too tired for the fancy place up top on the 40th floor. Maha had said the Hard Rock food was so-so and expensive, if we were interested in that, or we could hit the Nubian Village restaurant behind it and order one entree to split, and fill up on Mezze. Took a bit to find it, but it was out the lobby, and follow the path along the water past the Hard Rock and to the pretty patio. We were going to try what Maha had suggested but were so tired we couldn't work up any appetite. Knew we had to eat something so ordered a plate of the hot mezze, hoping the appetizers would help but just couldn't do more than that. The place was empty, so we didn't feel rushed, and the patio along the Nile was so nice, with views of lit party boats and the Cairo tower that we decided to ask about a shisha and kick back. They brought a big floor standing water pipe with flavoured tobacco. We had Apple. It was awesome and fears of wanting a cigarette were unwarranted. Nice way to unwind after a long day.
Stumbled back to our room about 9pm, and tried to get to sleep. We slept badly, worrying we'd miss the wakeup call and miss our flight, so woke up almost hourly to look at the clock.