Thursday Aug 19th, 2004
Check-Out Day
Had to be out of the Scala House Apt today by 10:00am. A truly sad day. After some coffee,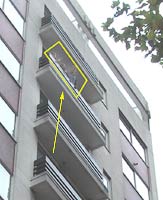 spent the morning packing up our stuff. Our 7-day travel card for the Tube expired the day before so we'd need a 1-day for today, so once dressed at about 7:00, I popped down to the Goodge Station and purchased 4 of them at £4.30 each. They are good after 9:30. I also went to an ATM and pulled cash for the first time on this trip. We did a big exchange with Matt and Dave when they came to our place and that money lasted a week. Back up to the flat to finish packing etc. Got everything back into the bags with little trouble. Had very little dirty laundry as we'd done several loads the day before. At quarter to 10 I went down with my bags and my camera. Wanted to finally get the shot of the group up on our balcony. Had a little trouble with the lift. Took forever to come up and then when it arrived there was a guy in it with a ton of baggage. He wanted to go to 4, which was weird... why was he going DOWN to 4 with all the bags? Anyway, we stopped at 4 and I held the door for him while he tossed bags out to his family. Got to the ground floor, took the pics, then chatted with the desk guy (from Casablanca) and waited for the rest of the family to come down. After another 15 minutes they FINALLY arrived. They had to take the stairs as they never could get the lift. The desk guy checked and it looked like it was stuck on the 4th floor. Surprise surprise. He sent a maintenance dude up to unstick it (i.e. tell the family on 4 to knock it off). Check out was a breeze. We owed £2.83 for phone usage, everything else was paid for. I paid cash. Thanked the staff for a wonderful time then headed out to the tube with all our bags.
Took the Northern line to Tottenham Court Rd, then Central Line to Liverpool St. Went up to the rail station and found the "Left Luggage" place near platform 10. £5.50 per bag per 24 hour period. Not bad.. Bit of a queue but we got it all sorted within 20 minutes. We had 7 bags. Because we were going to a show later in the afternoon, we dressed a bit nicer than usual. Not that big a deal 'cept we were not wearing our more comfortable walking shoes. One thing I'd missed seeing on our last 2 trips was St. Paul's Cathedral and as it was between Liverpool St and Piccadilly Circus (where the show was) it was ideal to see it at this time.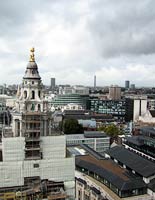 Took the Central line to St. Paul's. The Cathedral is right outside the station. Went in. It was £6.50 each to get in. We looked around. Pretty impressive, especially the dome at the crossroads. Of all the cathedrals we saw I sorta think Westminster Abbey was the best. Much of St. Paul's was hidden by scaffolding. I wanted to go up to the 'Whisper Gallery' which is up at about 50 feet below the base of the dome, 259 steps up. So I made everyone walk up with me in their nice shoes. The whisper effect, where you can talk to someone on the opposite side, didn't quite work due to all the scaffolding.. Didn't really try it but figured it out cuz we could not hear folks across the way at all. I decided I wanted to go up one more level and 119 steps higher up to the Stone Gallery. Up the spiral staircase we went. The Stone Gallery is at the very base of the Dome but outside. Some great views and the only place yer allowed to take photos. Took photos. It rained a bit and was windy. Decided NOT to take the next 150 or so steps up to the Golden Gallery at the very top. Mostly scaffolding anyway. Back down we went, then when we reached the floor, took a little sit-down break to rest. Went down one more level then down to the crypt. Checked out the shop. Not much worth buying. Sat down and did some math on our timing.
Our plans were pretty flexible except for the afternoon show that began at 3:00. It was about 11:30 at this time and we had wanted to see the British Museum, but by now realised that we'd only have a half-hour or so... Ridiculous even to try. Decided to have lunch then check out Harrods, which could be done in a half hour or so. At this point I discovered I still had the room safe key in my pocket and we'd put a £25 deposit on it. I needed to get that back to Scala House. D'oh. We were also hungry, so the plan was, we'd go back to Tottenham Ct. Rd. Stop at the Rising Sun pub for lunch. While waiting for food, I'd pop up the 2 blocks and drop off the key. Worked great and I got back so fast, Kel was still ordering when I arrived. The desk guy at the Scala House was very pleased to see me :-) Adri and I had Sausage and Mash, Matt a Guinness Pie and Kel had a Ham, Brie and Mango Chutney sandwich. By the time we finished lunch it was apparent we'd not even have time for Harrods. I wanted to be at the Criterion Theater box office by 2:15 to pick up our will-call tix and it was 1:30. Harrods' stop was 5 stations past Piccadilly Circus.
Took the Northern line to Leicester Sqr, then got on the Piccadilly Line for Piccadilly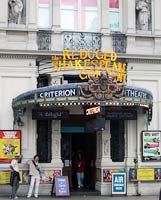 Circus. Arrived at about 2:00. No line at the box office and our tix were there waiting for us. We got a 2 for 1 deal thru Thetube.com so only spent about £71 for 4 tickets. Doors opened at 2:30, so we hung out on the street and people watched for a bit. Walked around the block looking for a place to get a beverage and ended up at Pret A Manger. These places are all over. Back to the theater and down to our seats. Third row center. Score! The show, The Complete Works of Shakespeare (abridged) was awesome. Hilarious. All 37 of his works were done in 97 minutes. Adri got to be a prop. They took her program and used it in a bit that ended up mangling it. Neat souvenir :-) Show let out a bit before 5:00.
Now that we had some time we decided to hit Harrods for a quick look around. Took the Piccadilly line down to the Knightsbridge station. Walked around the first floor. Saw the food gallerys and the Egyptian room. Harrods is so big it has it's own gift shop. Kel got her 2004 Christmas bear. Got bored after a half hour so headed out. Left by a different door than we'd entered and then turned the wrong way. Ended up walking all the way around the building to get to the tube. Piccadilly line to Leicester Sq, Central up to Liverpool St. Got our bags from the Left Luggage office, then stood by the big board and waited to see a convenient train out to Ipswich. The 6:18 looked pretty good. They finally gave the platform # and we lugged all our stuff over to platform 13. Got on the train and found no luggage racks!! Sheesh. Train was filling up so we scrambled to some seats and did our best to get our bags out of the way. Newish train. We left pretty much ontime at 6:20. We were on our way to Ipswich!!!
5 minutes later the train rolled to a stop. Due to flooding there were signal problems and delays expected all the way to Manningtree. For the next hour we crawled, then picked up speed, then stopped our way towards Ipswich. One scheduled problem was the closure of the Ipswich Tunnel. They are lowering the floor 18 inches so freight can use it. We would take the train to Manningtree where we would catch a special bus to take us around the tunnel to Ipswich station. That part worked pretty well actually. Sure it took longer but way less annoying than the train delays. Very helpful staff were posted to help folks with bags and everything. Got on a double-decker bus (kids rode upstairs) and it took about a half hour to reach Ipswich from there. Arrived at about 8:30. Pretty sucky when it should have taken 1 and a half hours.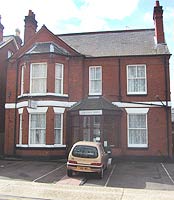 Took a cab (£3.60) to the Cliffden Hotel on London St. Zoe met us there and showed us to our ground floor room! Maybe the kids are good luck?? More likely Matt Staples scored us the primo room. His mom is the proprietress. Got settled in and then Matt and I went to find some take-out. Found Chinese food and brought it back. Got lost, but finally made it back by 9:00. Thought of utensils but not platewear.. Matt and I used saucers, Kel and Adri their teacups :-) Matt S. arrived at 9:30. We chatted with him, then headed over the block and a half over to his house. He wanted to go to a club to meet up with co-workers so he took Adri and Matt with him. Kel and I are old and were tired so we opted out. Heard we would have hated it. :-) We went back to the Cliffden and went to bed.