Monday Aug 16th, 2004
Tower of London
Today we'll hit the Tower of London for sure! Got up at a reasonable hour and took care of morning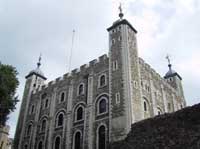 stuff like drinking coffee, dumping the camera etc. Left the flat around 9:15 and got on the tube at Goodge St. Took the Northern Line to Bank, then hoofed it to Monument Station where we snagged a District Line train one stop over to Tower Hill Station. There was quite a crowd waiting to buy tickets to the Tower, but then we realised they had not opened yet. They open at 10:00am on Mondays. We got there a bit before 10 so not too bad a wait, about 20 mins. Note if we do this one again: buy the tix online then snag them from the self-service ticket pick-up thingy.
With ticket in hand we went down to the main gate and entered the Tower. There was a tour just beginning, with quite a large crowd. We followed the Yeoman Warder around for awhile, listening to his stories of murder, executions and royalty. They are pretty fun but the crowd was so big it got a little annoying. Plus it was just impossible to hear. The last stop is supposed to be in the chapel where they have us all go in and sit down, and the Warder tells us stories about Ann Boleyn etc. Kel and I had heard these before and we decided that our time would be better spent heading over to see the crown jewels before the huge crowd. They'd be all tied up in the chapel for the next 20 minutes or so. We did that and got to see all the jewels and gold, in relatively uncrowded splendor.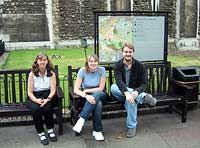 After seeing the crown jewels we walked down the the cafe (this was about noon) for a bite to
eat. We beat the crowd again. The place was starting to fill up as we left. I had a brie and tomato sandwich, as did Adri. Kel had a fairy cake. After lunch we checked out the Torture at the Tower exhibit, meh. We then went up into the Bloody Tower to see where a well-to-do prisoner spent his days. Took a little break to sit then went into the White Tower. Saw all the exhibits on all 3 floors (4 floors?), mostly armor and weapons. The crowds were tiring us out and by the end nerves were a bit frayed. It was about 2:30 when we all made our way back to the flat for a little R&R.
Adri and Matt took a nap while Kel and I puttered around with the laptop for a couple hours, dumping pics and uploading pages to Kel's website. Adri got ahold of both Claire and Matt D. and we were all set to meet them later for drinks and dinner. Went down to The Hope to meet Matt D. at 6:00pm. Had a round and at about 6:20 he arrived. He hasn't changed much in the year and a half since we saw him, tho he has perfected his Homestar impression, as we learned later at the restaurant. Had a great time chatting with him for several rounds. The Hope got pretty crowded, but not Friday night crowded. Had a hard time parting the masses to get to the loo. Kel and Adri didn't even try. Instead they popped up to the flat to make room for more libations. Quicker :-). At 8:00 Adri and Kel went down the street to the Tube station to meet Claire. They came back 5 minutes later with Claire and her friend Ann Marie, and we had another round. I hadn't seen Claire, another Netopia lay-off victim, in about 2 and a half years. She used to work from here (London) and our only day-to-day contact with her was via email and conference call. Also known for her fascination with ketchup. She came out to Alameda about once a year. Ann Marie, originally from Ireland, worked nearby so was tagging along.
Claire knew of a great Italian place nearby, The Original Spaghetti House (we have the Factory.. guess the industrial revolution of Spaghetti hit the US first). I was dubious but was pleasantly surprised at how good the food was. Nice little place. Claire, Anne Marie, Adri and I had gnocchi, Matt and Kel had chicken, Matt D had a pizza. The prices were about TRs. Great garlic bread and decent wine. Still not used to being able to smoke in a restaurant. Had a marvelous time eating and chatting. We even had dessert. There were profiteroles on the menu but they were all out :(. I had ice cream with chocolate sauce and Kel had Zabaglione that was like whipped egg yolk with marsala in it. It was a dessert for two so she shared the other one with all of us. I got most of it. We were all pretty full. The bill for 7 of us came to £118. I decided to save myself and the group from having to do math on a full stomach and paid for it on the Amex. Blue Bayou usually costs more for a group this size. It was now about 11:00pm and we said our good byes to Claire and Ann Marie. They headed off to the tube and Matt D hung around a little longer, trying to convince us to walk around town. We decided that since we'd be gone all day the next day in Salisbury, we'd prolly better get some food for the next night. Hit Tescos and purchased microwaveables. Had a D'oh moment. They not only close the bars at 11:00 but also stop selling beer in the supermarkets at the same time. So no beer for the flat.. Oh well. Kel and I went back to the flat and straight to bed while Adri and Matt hung around with Matt D for a little while longer.