Tues/Weds. Aug 10-11th,2004
Flight to London and our first night.
Everything went according to plan as far as getting our butts over to the other side of the world. Aran arrived at 10:15 to pick us up, the kids arrived at about 11:05. With some creative packing, were able to fit us and our luggage into Aran's clown car for the 2 minute trip over to the Concord BART station. Aran decided to tag along for half the BART ride. Train arrived at 12:15 and we were off to SFO. Aran got off at Macarther to transfer to a Richmond train and work, we continued on for the SFO station. Arrived there at about 1:15. Check-in was a breeze. We were a little worried about my carry-on being too heavy. Virgin has a 13lb limit and my bag, as weighed at home was about 14. They never weighed it or even glanced at it. After check-in we had a bit of lunch then a smoke or 2 before heading through security and a 12 hour no-smoking area. Flight was set to start boarding at 3:40 and actually started pre-boarding at 3:45. We got on the 747 at about 4:05. Interestingly even though we'd been thru security, Virgin was doing "random" security checks on a few passengers.... oddly enough they all seemed to be brown... we sailed right through. Virgin's service level is a bit lower than it was in 2000.
The flight overall was fine. No turbulence, left on-time, arrived on-time. Food was fine.
Complaints: Older 747 which meant the entertainment system had not been upgraded since 2000. No movies on demand, had to go by their timing. The controllers barely worked. Adri and Matt were not able to get the games to work after the first hour. We ordered special kosher meals, but were never given them, even though our boarding passes said we should. Too much hassle to complain as the whole point is to get fed first and to complain would have delayed our meals. United has a much better system for this. Meal service was inconsistent in what was included. Kel got no water, Adri no wipes. I got 2 salads. Little stuff like that. Wine was pretty much antifreeze (not unexpected). The goodie bag was pretty skimpy compared to last time. A pencil case sized bag as opposed to the totes given out in 2000. Staff was friendly enough. No hot towels at the end of the flight. Seemed like they phoned it in. Tried to get some sleep but only managed about 2 hours cumulatively, with one 1 hour stretch the longest. I think Adri got more.
Upon touch-down at Heathrow it was announced that, surprise surprise, no room at the inn. Gotta be bussed in from an alt parking space. This is exactly what happened in 2000 and I'm convinced it happens every flight. Immigration was a breeze. Got through in 10 minutes tho it felt like 45... wanted a smoke pretty bad by then. Bags took awhile to arrive but finally did and we strolled right through the "nothing to declare" gauntlet without being pulled aside for inspection. High tailed it through the terminal following the "Smoking Area" signs, which led us to the bus depot. Sat and had our head-rush smoke for 10 minutes.
At about noon we got over to the Heathrow Express ticket agent and activated our BritRail passes, which include a ride on the Heathrow Express into Paddington Station. Takes half the time of the tube and has comfy chairs. Reached Paddington at about 12:30. Got our bearings, then down to the tube. Bought 4 £2 tix and took the Bakerloo line to Charing Cross, hiked thru the rabbit warren there over to the Northern Line and a train going North up to Goodge St, our home station. It's an elevator station but had 4 of them so no big deal. Popped out of the station, hung a left, then another left and we were on Tottenham St. Half a block down was our hotel, the Scala House.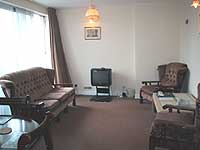 The Scala House is actually an apartment building and we rented a flat for a week at about $2000. The staff is fantastic. We arrived about 1:30 they snatched our bags from us and took us right up to the flat. No paperwork yay!. This was good cuz we were pretty loopy from the flight. We were in Apartment 28 on the 8th floor. It has a full kitchen with washer/dryer and all the standard appliances. A dining room/living room with a couch, 2 comfy chairs and a relatively big TV (for England) that had front AV inputs. It had 2 bedrooms, one big (ours) with a "king-sized" bed and 2 closets, and a small bedroom with a "double". Beds are a little short but not too bad. One and a half bathrooms with decent plumbing. The towel warmer is always on but we found out where the on/off switch is finally. It's a bit close to the toilet and gets really warm. There's a mini-balcony off the living room providing an excellent smoking area and a pretty nice view of the city. The big BT tower is right outside and it's lit up really neatly at night with multi-coloured lights. About 5 minutes after the Scala guy left I brought out the laptop to check for an open wireless connection to the net. Nothin... until I went out on the balcony, then BINGO. About 4 networks and 1 was open. We had internet!. Shot off gloat-mail to tkost and the family. This Scala place was a fantastic choice. Internet booking works again. (we'll not discuss yourstay.com (now known as "WooGo" or Woo Go <shudder>at this point :-) Woogo now has its own fan/scam site as well WooGo Sucks I see they are still a scam).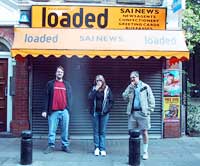 After kicking back for abit we headed out to Tesco to get some supplies. Beer, wine, milk, Shandys and soda. Brought it back to the flat, then back down to find a pub where we could do some postcards and get a pint. Just downstairs from the flat is "The Hope" pub. Adri, Matt and I popped in and got a table and drinks while Kel went in search of some postcards. Didn't find too many postcards and no stamps, but the pub was great. I found I had no energy to write so we just sat and enjoyed the ambiance. It seems to be a nice neighbourhood pub. Not too touristy with lots of locals. No food at night unfortunately. After spending a hour or so there we decided to go out in search of food. The first couple of likely places stopped serving food at 3. Walked a few blocks around the area before finally deciding we were too tired for a big meal and just went into the Fish-kebab take-out place. Got meat pies and chips (way too many chips) and brought it all back to the flat. Unbeknownst to us, Adri left her passport there.. D'oh! Food was decent enough but couldn't finish the fries. We finally gave in to our sleepiness at 6:30pm. It was still light out but that didn't matter. Went comatose in 2 minutes.
Note - I ran across the old charge, and thought I'd note our round trip tickets for SFO-LHR purchased March 2004 ran $868.40 each. That's all taxes, fees, everything. (Just for future reference)