August 23rd, 2004
Heathrow Bound
Time to get serious about going home. This was our last full day in England, as we'd be flying home the next morning. No time specific plans really, the only scheduled activity was checking into the Holiday Inn Heathrow Ariel after 3pm. So we had tea in our room and then got ready for breakfast about 8. We finally got a chance to meet Matt's Mum as they'd returned home the night before. The puppy dog looked much happier at breakfast as well. Len lives for the Full English Brekkie, and the 'shrooms are his favorite part. In our typical luck, the mushrooms were the one thing they'd run out of that morning. Poor Len. We chatted with Matts Mum on and off thru breakfast and then went back to our room to repack for the trip to Heathrow. About 10 am we pulled everything into the hall and bid a fond farewell to the only ground floor hotel room we'd ever seen in Great Britain. Matts Mum checked us out and we said goodbyes. With that we hauled the bags up the street to fetch the kids. I was smart and had jotted down the numbers of several taxi places from the hotel, as I've no idea if Matt has a phone book, or where he'd keep it.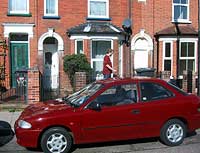 Kids were already up and Cliff was puttering around as well. He'd already been out doing errands. He was kind enough to make tea for us while did all the last minute checks. He asked how we were getting to the rail station and I said I was hoping to borrow the phone and call a taxi. At which point he graciously offered to drive us over. That sure made things tons easier. As we couldn't check into the hotel until after 3, there was no rush so I ran back into town to do some last minute shopping. We all sat around watched a bit more of the Olympics and chatted with Cliff. I said I felt badly about him having us all under foot while he was off work on holiday , but he assured us he didn't mind. At last it was time to go. While our bags are on the smallish side Cliff found out they weren't as light as they look. I was afraid we wouldn't all fit in his car with the bags but we managed fine. A quick hop to the Ipswich Rail Station and it was time for more goodbyes. He dropped us off at the front and we loaded the bags on the bus, took seats on the upper deck and after a bit we were on our way to the Manningtree Station. Had to carry our own bags up the stairs to the platform this time there were many people with luggage on this trip.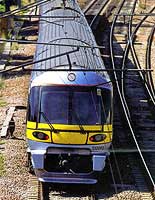 An uneventful train ride to London Liverpool Street Sta., Tube to Paddington and Heathrow Express to LHR and there we were. We weren't quite certain where the Hotel Hoppa buses pick up so we had to ask directions. We were in Terminal 3, and apparently ours picks up at terminal 2. Though from the fact it took 45 mins to get out of the airport, I think we could have gotten it at Terminal 3 as well. We need to come up with a better way to get to/from the hotel. They had a ticket machine at the pickup spot. It claimed you could use a credit card, and purchase return trip tickets. Wrong on both accounts. To purchase a return trip you press the black button. Well, there were two greens, a red and a white, No black.
We tried those and still no luck. Refused to accept any of our credit cards as well. We scrambled for enough change to purchase singles, but it was close. We'd been dumping change as we were going home and could exchange it, so didn't have much left. They were £3 each so it wasn't too bad (There's a small discount if you buy return tickets) but we cleared out almost all the small change we had.
Our bus wasn't due for about 15 mins and while we were waiting we watched a mini-van pull up across the road and unload a bunch of people. The driver then starts motion someone to come over. No one did so he crossed over, direct to us and asked if we need rides to hotels. We were a little suspicious as we were 1/2 way down the line of people waiting and he bypassed all of them. As it was we explained we'd already purchased bus tickets, and he went on trying other people further down, and our bus pulled up. The bus hits every terminal, some it seemed like it hit twice, before finally leaving the airport and pulling across the street to our hotel.
Check-in was easy enough. We arrived about 4:30, pulled out my pre-paid paperwork, signed the forms, gave them a credit card to cover any additional charges we might rack up and they handed me they keys to our rooms. Hmm, room 148 and room 176. Not very close together. Oh well. Get up there and one was a non-smoking, the other a smoking, and I'd asked specifically for smoking rooms. Only for a few hours though, and not worth the hassle to change it. Kids just decided they'd hang in our room or go downstairs if they wanted a smoke. Mostly they wanted a nap before dinner. Watch out for these new mini-bars in the room. They have can-sized holes that everything sits in, and the small stuff like the alcohol is under plastic domes. I couldn't read the label on a can of something in the back, and in trying to twist it round I tapped one of those domes. It popped up and the force bumped the one next to it, causing it to pop up. You can't pop them back into place, and it sends a signal to the desk to charge you for the items right away. So now I had to gather them up and return them to the front desk _immediately_ as it states inside the bar. These had no spots for food and snacks either, which is what I was actually hoping to find.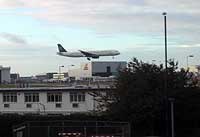 I think I actually preferred the Ibis over the Holiday Inn Heathrow Ariel, but that was 4 years ago, and it didn't look like it was in a very good state from the outside. But they certainly were quieter rooms. No double pane glass here, and this close to the runway it was quite obvious. I also never could get hot water out of the bathroom sink faucet, just warm. The toilet paper was less than comfortable as well, and there was no iron in the room, I'd have had to send it to be pressed, which was impossible in the short time we had. The Travel Inn Heathrow looked pretty nice on the way out as well (After I got home I found a nice map of the local hotels)
At check-in I'd been given coupons for 20% off at the hotel restaurant "The Junction", which was nice as we'd already figured that's where we'd eat. Food was alright. Not great, but not bad. A little pricey, but when you have a captive client base, you can charge what you like. The service was quite good however. Something we have noticed this trip is tipping. It used to be something not done much, and I know its something Matt S. hates about visiting us, as he's never sure who and how much. I never worried about it in England before as it was so voluntary one left about what one would at home, but didn't feel as though you had to leave something. Now its automatically been added to almost all of our food bills, and once we unfortunately ran a bit short and got a rather dirty look from a taxi driver. I have the feeling that by the next time we go tipping there will be no different from home, unless it becomes more mandatory than here, and the amount is tagged to your bill without question.
Since it was our last night we celebrated a little and had dessert with lattes or cocoa. We were slow enough eating that by by the time we were all finished it was late enough to go back to the room and think about doing the real final packing. The one that keeps all the fragile souvenirs from coming home in bits after going through the airport baggage handling. And as we were heading home there was no need to make certain the carry on contained spare socks and undies, so we packed all the dirty laundry and the Harrods Bear in the bigger one and checked it. That left Len with his computer, and me with my tote bag. Much easier than having to carry the laptop inside the carry-on. Once we were set it was time for bed.