Thursday Aug 12th, 2004
Trafalgar And Sherlock Holmes
Woke up at midnight. Wide awake. It was still warm out so I popped out for a smoke then read for a couple hours. Kel came out at 2:00am. We chatted then went back to bed. I finally got back to sleep at about 3:00 but then slept straight thru till 6:30! The kids beat us by about 10 minutes... it's a first and prolly a last :-) Made coffee then just relaxed for a bit. Finished putting stuff away then Kel took pics of the flat. At about 11:00 Adri noticed her passport missing.. Tore the place apart looking for it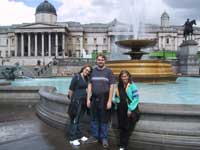 and began to panic.
Adri popped down to the front desk then to the Fish-Kebab place hoping it was there. It was, Yay. She handed it over to Mom for safe keeping. Crisis averted, we packed up our stuff and walked over to Euston Rail Station to activate our 1 week tube passes. Gotta remember we do this at the London Transportation Info kiosk, not the BritRail ticket counter. Tube passes in hand we hopped onto a Northern line train and took it south to the Embankment station, where we would be meeting for our first London Walk "In the Footsteps of Sherlock Holmes". This was scheduled for 2:30 so we had some time to kill. We did so by walking around the area. Went up to Strand then down to Trafalgar Square. Snapped some pics and did some tchotcke shopping. Got an ashtray for the flat and a whole mess'o postcards. Had lunch in a little sandwich place. They really don't deal with heat here very well. No AC. The service was a little slow but the food was good. I had a pesto-chicken baguette. Mmmm. Kel had a BLT, Matt a mushroom sandwich and Adri a steak and pepper.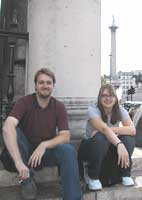 The weather was warm and muggy with big poofy clouds. It rained a couple times but not too bad. We walked down to the Thames and across the Golden Jubilee bridges. Got some nice shots of the Westminster area from the bridge. Walked by the London Eye Ferris Wheel but didn't ride it yet. No time. Had to make our way back to the Embankment station for the Sherlock Holmes Walk. Headed back over the Thames on the other Jubilee bridge then down to Victoria Gardens to sit a bit. Made it back to the station and gathered with a dozen or so other folks doing the walk. We had a choice of sides to the station and picked the wrong one. Our guide, Sue, was waiting on the river side with one other tourist. Kel noticed and we all moved en masse to the other side. Sue was a little snippy when we mentioned everyone was on the other side.. oh well. The walk was OK. Sue was OK. The subject matter was cool but it's very difficult to tie together the adventures of a fictional character with real live places. Not the best walk we've taken but certainly not the worst ( see UK2000 Jack the Ripper ).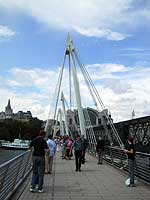 Got done about 4:30 and took the tube back to Goodge St. Had a pint in The Hope then up to our flat to relax. We planned on eating at a local Indian restaurant but were so tired and achy from the walk we just sorta blew that off. Matt and Kel went down to Tesco and picked up wine and microwavable dinners. We ate in, then watched Firefly:Out of Gas. Chatted a bit then hit the hay around 11:00.