Friday Aug 13th, 2004
Not a true Friday the thirteenth. Had a blast.
Woke up around 6:30, put on the coffee and finally started the daily diaries. Everyone else was up by 8:00ish. Today our plan was to do the Inside Westminster Explorer Day London Walk. It's an all day thingy and one of the possible guides was Tom. Tom is the very first London Walks Guide Kel and I met and we thought he was fabu. We took the Northern Line tube from Goodge down to Leicester Square then transfered to a Piccadilly line train over to Hyde Park Square. The Piccadilly line was closed between Hounslow West and Heathrow due to a "Police Action" which we later found out was a mortal stabbing, uncommon on the tube until recently. Didn't affect us. Got to the station just in time and there was Tom, right outside. Yay!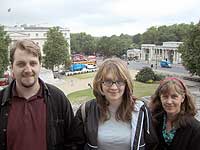 We had a small group of 13 (hmmm synchronicity?). We started out at the Wellington Arch where we got to go up to the top and out onto a viewing platform. Our timing was impeccable as the changing of the Horse Guard began just as we got out there. They trotted right under us through the arch. Got cool pics. There's a big assed statue of the bunch of horses on top and apparently, when the arch was a police station, new coppers were initiated by having to climb up and touch their genitals. Cool. We weren't allowed to try. Had some great views into the gardens of Buckingham Palace from up there.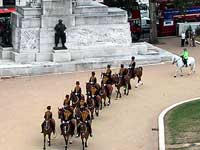 Back down and we headed over to Buckingham Palace to watch some sorta guard change thingy. Tom got us up close to several regiments marching by in full regalia with bands and everything. Got cool pics. From there we entered St. James Park, home of lots of birds. Black Swans, pelicans (never saw them) mudhens, ducks, geese and pigeons. Tom told us that they imported some Czech Pelicans who promptly began eating pigeons (cool). At the other end we arrived at the parade ground where you can see the back of #10 Downing, the Admiralty building and the headquarters for the Horse Guard. The real Horse Guard are on holiday this month at a beach somewhere but the alternates were in. Went thru their building and headed over to the Banqueting House where Charles the first was beheaded (then had his head reattached by his buds for burial). Gorgeous room with really nice paintings on the ceiling by Reubens.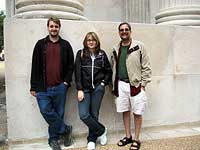 After that we got a lunch break of an hour. We had lunch at the Cafe in the Crypt at St. Martin's church. OK sandwiches but a little cramped seating-wise. After lunch we met Tom back at the Banqueting House. We made our way over to Westminster Abbey where we spent the rest of the afternoon. Very neat place. Gorgeous building and lots of great memorials. Tom got some hitch-hikers on our tour and it took some heavy hinting to get them to push-off. Saw the death figure of The Virgin(ha) Queen Elizabeth I. There was a very moving memorial for the unknown soldier. On a nearby column was a US Congressional Medal of Honor and on another the Victoria Cross, the highest honor the British give to heros. Tom told us that at Arlington there is another identical monument with both medals of honor as well. The grave is filled with French soil and has a Belgian marble cover. Very nice. We finished our tour at about 3:30.
Got on the tube at the Westminster station. Took a Circle line train one stop up to Embankment, then a Northern line up to Goodge.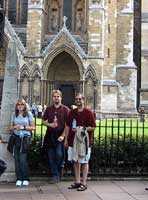 Kicked back for a bit and tried to start a little laundry going. Ahh, what is it about English laundry? The unit in our flat is a washer dryer combo. You put in clothes, shut the door, add soap to the drawer, click the lock and hit the button. It's supposed to be really swank and have a ton of pre-programmed settings. But the letters for the programme are on a plastic disk that has come free of the knob so you never quite know what programme you have. "C" is for wash and dry, "F" is for dry only. So far I've found 16 wash, 8 spin and no dry. Thank goodness its been warm so the clothes eventually dry, but with the humidity its not fast.
For dinner we went to the Indian place that was handing out the dinner special flyer the night before - Lal Qila. We got a nice table in the window so we could watch Tottenham Court Rd. doings while we ate. Someone was apparently filming a music video from the back of a dolly truck or something.
This was actually the first time we'd eaten Indian food in England. We don't have it often at home since everyone I know says its hard to find really good Indian food where we are, in comparison to over here. So I can't say if it was the best food in the world, but we enjoyed it quite a bit. There was an ashtray on the table, which still looks so very foreign since its been so many years since California allowed smoking. We ordered the lamb dishes for the most part since its an arm and a leg to buy it at home.
The special was £9.95 each, plus we ordered a bottle of wine with dinner. I couldn't finish half of it, but everyone else managed. The 'light a smoke to get the check' apparently isn't an international symbol, so we didn't get out of there until 21:30 or 22:00.
With full tummies we came back and put up the aching feet and tossed a DVD in the laptop, hooked it up to the AV inputs on the TV, and watched Firefly:War Stories.