Tuesday August 17th, 2004
Salisbury and Stonehenge
Today was one of the less walking walking tours. Our meeting time was a leisurely 10am at Waterloo Rail Station. Our guide was Richard again, who is so much fun. We all gathered in front of the main ticket office a few minutes early to sign in and figure out the fares, tariffs and other costs. This is one of the more expensive Explorer Days we've done, £27 per person. As we had our rail passes we weren't even paying the rail fare.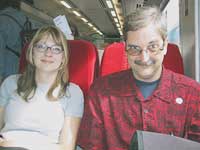 This time there were enough reserved seats so no scrambling about, and the 4 of us were even able to get one of the 4-seat-with-table arrangements. The train ride was about 1 hour, 20 mins out of Waterloo station. We arrived in Salisbury Station a bit before noon and walked from the station along the river and to the park. The blackberries are starting to come ripe so I couldn't resist grabbing a few from the bushes creeping onto the path. Some were riper than others however.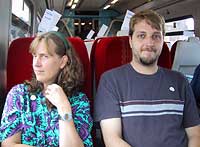 Our first stop in the park was under a tree out of the sun. It was some sort of tree that was a big hit with the bees, as they were all over and under it buzzing about, and there were more yellow jackets all over. Adri had a bee and yellowjacket fighting it out on her shoe during the talk. Richard discussed Sarum and what it was like, and the building of the cathedral in Salisbury to get it a bit further from the soldiers. Much of the land there is quite marshy, but the site chosen for the church has a bed of gravel chip and is quite stable as long as it doesn't get too dried out. Being England, thats rarely a problem. Salisbury also has the tallest spire in England, though it is later than the main part of the church.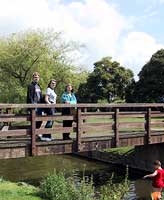 It was such a pretty day people were out enjoying the weather and there were some children playing in the stream thru the park. Since we'd gotten many good shots of the cathedral last time we were here Len didn't take as many. We were going to be certain we didn't end up pictureless at Stonehenge. We toured the cathedral and then had our lunch break. We all elected to have lunch in the cafeteria there, and see the Magna Carte while we had our hour break.
After lunch it was thru the town to where we grabbed a bus to go out to Stonehenge. Richard has a much prettier way of getting there via the back roads and country lanes now, so we passed lots of pretty thatched cottages and hedgerows.
Stonehenge was about as windy as last time, but the weather was so much warmer it wasn't bad at all. And we got several pictures this time. *Finally*! So we wandered up there, oohing and aahhing (thought Adris oohs and ahhs were all for the cute little sheep) and enjoying the view instead of trying to get out of the bitter aching cold for once. We had to take a few pics of the sheepies for the child, and pics of all of us in front of the henge, and then it was down the the gift shop to get a few things for the folks back home (and a Tshirt for me). A really nice employee showed us a corner and told us it was quite all right to smoke there, and then pointed out that the brambles behind us were raspberries. A bit tarter than the ones I'm used to, but I got a good dozen down before it was time to go.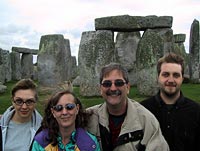 Back on the bus, and via the less-scenic route into town and it was time for a last lecture or two before our hour free time. The little tea shop was still there so we went in for a nice cream tea. The tea shop isn't quite how I remember it, as many of the letters out front have fallen off and its now Elly Earoom. The service was terribly slow considering when we arrived there weren't that many people in it yet. The cream part of the tea was actually just butter and jam, not clotted cream, so we were a little disappointed. We barely made the train, and there were one or two people from our group still eating when we left. When Richard says meet at the station at a specific time, he means it, as the train usually leaves 3 mins after the meeting time, and it goes with or without you.
On the way home we couldn't quite sit at the same table, but close. Our fourth seat-mate was a nice kid who was currently living in London, and hearing our accents couldn't resist asking if we were from Washington D.C. His family is being transferred there early next year and he was wondering what to expect. The biggest disappointment was when we told him the drinking age was most likely 21 there as most of the country has that limit. So we talked about areas of England he's lived in, and areas in the states we've been to until he got off a short while later.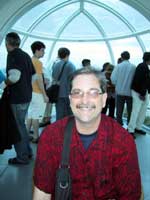 We got back into Waterloo Sta. about 18:50 and noticed that we were quite close to the London Eye which most of us had been dying to ride. And Claire has mentioned that the best time to ride it was just about dusk to see both day and night views. This walk had been the easiest on the poor feet so we weren't in quite as big a rush to get home and remove the shoes. It was starting to get dark so the 3 of us who wanted to ride went off towards the ticket booth, and Adri decided just to explore the area while we were up there. Len said he'd heard you have to be careful to get in the line selling tickets first, not the line to get on the ride, so we went off to the ticket hall. The line there was rather long, and they only allow one member from each party to wait in the queue. 30 mins and £11.50 each got us into the line for the Eye, which was only about 10 mins long. We went up in the bubble and snapped pics left and right.
(I should throw in the usual Eye factiods too. It's 135 meters high, 30 meters higher than the Yokohama Bay one. There are 32 of the pods, and each pod can hold a max of 25 people. On a good day you can see about 25 miles and a full trip around takes about 30 mins.)
While we were doing that Adri walked over across the Jubilee Bridges, up along the Embankment Gardens (I just can't hear that phrase without hearing Pet Shop Boys Survivors), back across Westminster Bridge and back around to the London Eye. We weren't down yet so she played in the park and met us as we came off.
Embankment Tube to home, with a quick stop at Tescos for food stuffs. We were all still too full from the huge scones so ended up not eating it. With the washer/dryer problem all fixed we could also do laundry a bit easier so popped a load of that in, and watched 2 more episodes of Firefly (The Message & Heart of Gold) before bed.