Fri. Jul 8th, 2005
Day 2: Road Town -> Norman Island (Benures Bay)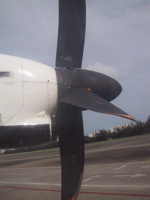 The AC in the hotel room didn't appear to actually have any connection to the thermostat in there, so we shivered all night. The windows weren't openable so we were just kinda stuck. In the morning we went back and got checked in for the new flight. We were expecting big delays as they would probably tighten security after the London bombings, but I guess it hadn't trickled down this far yet as we had no problems at all.
Our 9am flight to EIS was on time and actually going to leave. As its a prop plane we flew low enough to be able to get some great aerial shots of the islands as we came in. Its a quick flight only 30-45 mins. You land at the Terrence B. Lettsome airport and rather make your own way across the tarmac to the terminal building. Inside you're lined up to clear customs and immigration. The people were very friendly there (as they were everywhere this trip), and it wasn't too bad. They still stamp the passports so now I have a nice bright blue BVI stamp. We were originally told to put S/V <boatname> on our forms for where we were staying, but the woman doing to precheck said they need the name of the charter company. It could change depending on who is doing the check maybe, I don't know.
We went thru to customs and answered the usual question about declaring anything, and the customs agent grabbed us a taxi driver and told him where we were going. The driver grabbed our bags and whisked us into the taxi and away before we had a chance to say a word. We were in a mini van and following another taxi that almost looked like something you'd see in an amusement park on the Safari ride or something. I think it had everyone else that had been on our flight crammed in there. The price into town was $20 plus tip.
Our driver dropped us at the Footloose dock in Road Town, between Moorings and Village Cay marina, and we had our first look at The Golden Crown. We had arranged to meet our captain, Jim Palmer, at noon, but with the flight changes we'd arrived at 10:30. We decided to kill some time and walk into town for a bit. A guy on roller skates shot up behind us and skated along trying to panhandle money off us. That was our first and only time that happened. We needn't have walked if we hadn't wanted to. It sometimes seems as if everything other car is a taxi. They all honked and asked if we wanted rides.
We got to the edge of town and saw a place selling fruit slushies and decided this would be a good place to sit a spell. The humidity was quite high and I was still in my jeans, not having had time to change yet. So Len ran over and crossed the streets. Coming back was trickier, as he had to be careful not to step on the chickens strutting about.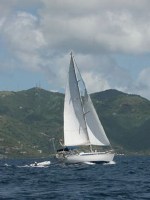 There are very few traffic signals (compared to California, anyway) but as driving is so different there its probably just as well. At the roundabout where we sat we noted that it appears to be perfectly acceptable to stop in the middle of the road to drop off people, pick up people, or just shoot the breeze should you see someone you know. Its a wonder you can ever drive from one place to another at all.
We walked back on up to the dock to be there when it was time. At noon a dinghy appears from the other side of the boat and shoots up to the Footloose dock. Jim had just gotten the new dinghy and was quite proud of it. We dropped our things off on the Golden Crown and then he rain us over to the RiteWay market so we could do some provision shopping. He wasn't certain about our food prefs so we all went together. I had a hard time not wanting to buy up all the cans of Sticky Toffee since its not as easy to find at home.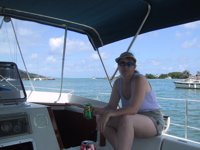 We somehow managed to get it all on board the boat. Jim started by showing us how to raise the mainsail when reefed and unfurl the jib and away we went. Our first jaunt was across the Sir Francis Drake channel towards Peter Island. Jim explained how to remember the order of the smaller islands - From east to west its Ginger Cooper (gave) Salt Peter (to) Norman. I just couldn't get over the colours of the water. It really is those blues and greens you see on all the postcards. All these years I figured that was enhanced colour, but nope, all real.
Jim started us out with Len on the sails and me on the wheel and as we rounded the end of Peter and headed for Benures Bay on Norman he had us swap. The trip took about 2 hours I've been told, but probably because it was our first time and it was all so new it felt like 30 mins. We had a good bit of heeling over going for awhile, but then we came into the bay and it was time to drop sail. I just didn't have the muscle to furl that last bit of the jib and had to surrender it to Jim's care. I hoped that by the end of the week I'd build up enough brawn.
There was one cat here already, and about an hour or two after we anchored the "Winnebago" of all catamarans pulled in for the night. It was this triple decker Moorings 6200 behemoth with loads of air conditioning*. By the end of the week I was wondering if there were any monohulls available to charter as it seemed as if they were all catamarans of various sizes.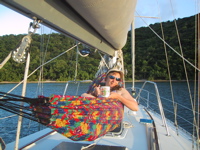 Jim showed us how to set the anchor and check it for drag vibration. Once the anchor was set we were ready for swimming and a late lunch and more swimming in those clear turquoise waters. I saw these cute reddish black urchins, turban snails as big as baseballs, yellow & brown striped wrasse things and some blue and yellow green "blueheads". Swam back to the boat and discovered the joys of sipping mint tea from a hammock slung under the boom. Sipped some ginger wine until dinner (this eventually was referred to as cocktail hour). As below could be very very hot and stuffy we tended to spend as little time there as possible. The beverages were stored in an ice chest on the aft deck and meals were eaten in the cockpit.
As we're closer to the equator here the summer doesn't give the late nights we're used to at home and the sun sets around 7 every night. After a dinner of grilled tuna steaks we spent a little time looking at the stars and milky way and finally went down to the aft cabin. We had the breeze booster us, and while there was a top sheet an several blankets available, we rarely needed even the sheet. The cabin was a bit stuffy so we latched the cabin door open for the breeze. With all the hatches open that made it tolerable. We later discovered if we treaded the straps of my hat thru the drawer hole we could use it to secure the head door open and get the breeze thru that porthole so we could shut the main cabin door. And while this night we were anchored far enough from shore, other nights we found it was a prudent idea to pop on some bug juice to keep the mosquitos off. They have a voracious appetite and sleeping without a sheet makes it too easy for them.
*(A note about A/C here. I know it seems there's no end to hot and sticky, but don't do it. Really. AC only makes it worse. There are going to be times where there's no AC and you're going to be 4 times more miserable. Our first day we were wishing for AC. Our next morning we remarked on how much cooler it seemed, and by the second morning were amazed at the change in the weather. Then we went into a shop that was air conditioned. The instant we walked out it was all hot and sticky again. Took us another hour to re-acclimatize. So remember, Just Say NO.)