Thu. Jul 7th, 2005
Day 1: SFO -> DFW -> SJU
Our trip got off to a "fun" start when my brand new dive watch died the instant we got onto BART for our trip to the airport. We just took a taxi to the station as we were trying to travel with just small carry on. Ran about $7 for the ride.
The trip to SFO was pretty average. Having BART go directly there has made it easier to get to than Oakland even.
The flight to Dallas went fine, until we actually landed at DFW. The airport had had a big thunderstorm and has been closed for two hours. When our flight arrived (10 mins. early) the supposedly had brought the backup down to 45 mins. In actually fact it was more like 90 mins that we were forced to sit on the ground waiting for a gate. They had so many planes stacking up waiting that they had to break the line of 20 up and move us all around so we wouldn't block the runway. Had there been a hurricane or tornado AA would likely have lost 80% if its fleet right there creeping along in line.
Finally gate C24 opened up and while we had many assurances from Captain, Crew and gate agent that no one had departed yet, we had no need to worry about our connecting flight, we ran as fast as we could to A16. (The little tram rail Skyline was great. It looks just like the one at SFO). We ran up just as the flight was closing the doors. The plane was half empty when we got on and there was talk of being allowed to choose seats and move around, but I cautioned there were probably 20 people behind us coming along. And sure enough, the plane was fairly full when it took off.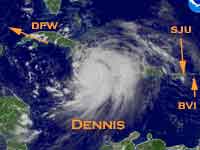 Our flight route had changed a bit as Hurricane Dennis was right where the flight would normally go. Instead we flew out past Florida to the Bahamas and and made a right turn. The outer fringe of Dennis was really quite impressive. Just walls of thunderheads in enormous clusters marching along as far as you can see. As we got further away you could see the smaller little cotton ball clouds all aligned up looking a bit like a freshly raked zen garden. Then everything clouded over and I took a nap. I woke as we started our descent into SJU and it was dark and there was a "Dueling Banjos" sort of lightning show going on between these two distant thunderheads on the horizon. A Huge flash from one and then an answering flash from the other. You could tell they were thunderheads as the light would reflect off the clouds in an eerie glow.
Landed at SJU at 19:50 and checked our flight to EIS. On time, good. Got down to the gate and I waited with the bags while Len went to see if we could get something to eat. A few minutes after he'd left my phone went off and in popped an alert letting me know my flight to Tortola had been canceled. Luckily Len saw it had changed on the status board and hurried back so we could get the scoop on what was going to happen now. We're guessing it was because the flight was only half full. It was a good thing all our luggage was carry on. One poor woman had her bags misplaced as well. (Which is *why* we did it all carry on. And as we found out when we checked coming home, electronics and battery chargers can't be stolen from carry on luggage as easily).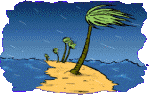 The airline put us up in the Airport Best Western Hotel and gave us a $20 food voucher. The hotel clerk let us know that MacDonalds and Subway in the terminal were open 24 hours so we were able to use them there.
We went to Subway but not everyone there spoke English well, and we have very little Spanish. So what you order and what you're served are two very different things. But the girl on the register spoke enough that when I said I wanted to spend every penny of that voucher in revenge, she was a big help in getting us within about 10 cents. 2 large & one small sandwich, 2 drinks and something like 8 cookies later we went back to the room. The only news station they had was Fox (shudder), but thats where we found out about the bombings on the Tube. It was terrible seeing the city we love so well in such a state and our hearts went out to them.