Mon. July 11th, 2005
Day 5: Brewers Bay -> Monkey Point-> MarinaCay-> Anegada ->Virgin Gorda
Left Brewers Bay to head to Marina Cay. Jim had noticed a lot of fishy activity so he rigged up two poles with some interesting lures. On our way out we saw birds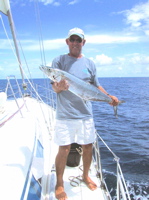 diving not far off the port bow so we headed that way to try our luck. We were able to snag a nice big King fish (which as we learned later is not always ok to eat. But since it was caught on the north side it should be free of Ciguatera.) We caught a second fish a bit further up. This time it was a little smaller and a SkipJack.
Since we suddenly had dinner and the wind was perfect we scrapped the idea of Monkey Point & Marina Cay and started a run for Anegada. Which before long with the wind being so good we'd laughingly turned into a run to the Bahamas. Our plans were foiled when we noticed we were a bit short on water (not all the islands will sell water apparently) so we cut short the idea of sailing off into the sunset and instead figured Leverick Bay would be the more prudent stop. Plus it looked like Storm Five was looking for trouble, and with Len and I in the area that could only mean Emily was about to form.
Jim, being Jim, thought to make it a fairly quick stop as it wasn't our final destination of the evening. So he took us through the "short cut". The white knuckled "Do NOT Try This At Home" shortcut.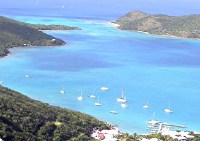 We picked up the Cruising Guide to read up on VG's North Sound Including the part where it states sailboats should not take the shortcut thru Mosquito Island and around Anguilla point as it only has a 6 foot clearance. Well, so does the Golden Crown, so in we went, watching the depth meter drop further and further. Just as we hit mid point in the channel a large ferry shot thru at a high rate leaving one hell of a wake. We were just waiting for the 'CRUNCH!' at the bottom of each bounce. As the meter dropped to 4.5, 4.4, 4.3 we'd glance back to see Jim with the evil 'cat that ate the canary' grin on his face, working his way on in. We made it thru just fine, thanks to Jim's expertise. And the smug look we saw once he'd cleared it all was really quite amusing.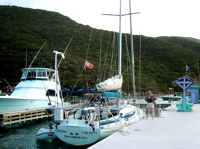 We pulled into the Leverick fuel dock and while Jim was filling the tanks we headed up to the market to grab extra provisions. And stop in the Pussers Store for a loud shirt for Len (black with multi-coloured cocktail glasses. A bad choice to wear for dinner as we later discovered.) Also picked up some hot sauce for Pat and a few small items. I'd brought a bunch of post cards and mailed the first few from the Hotel reception here as it was the first place I'd been able to buy stamps.
While we were getting supplies the boat had needed to be moved. Apparently a dock hand who didn't know what he was doing grabbed the bow and dragged the boat into the dock. Poor Jim grumbled about that on and off the rest of the week.
We went thru the sound and anchored up in Oil Nut Bay near "Birdshit Rock". Its not something you're going to find on a map, so don't even try. Jim filleted the skipjack and to demonstrate how barren the area was, we threw the carcass over and it just sat on the bottom untouched. I was amazed. I dove down to check it out when I went swimming later and it was still there, untouched.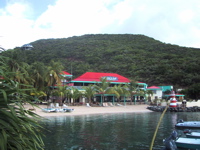 Jims an email junkie like me, and his cell modem doesn't have signal over here, so he'd downloaded on our way in, and now set about getting the answers ready to shoot back up when we came out. We had cocktail hour and then had lovely fresh caught fish for dinner. Liz had brought one of the For Sale flyers so we could see what house prices in the area were like. Pretty comparable to the Bay Area actually, but then all of the places were Ocean View and/or Waterfront, now aren't they.
We also ogled the giant house Branson built on Necker Island. Liz says he rents it out mostly now, and had built a smaller place for himself on Prickly Pear. After that it was off to bed. It seems so odd to have sunset so early during the summer.