Tues. Jul 12th, 2005
Day 6: Oil Nut Bay -> Great Dog -> Marina Cay
Today after breakfast we did more work towards our certificates. We practiced big scary docking maneuvers with a big scary dock, and more importantly someone else's big expensive boat. There's a big new dock built on the bay and since there's no one around it seemed ideal. It had slips and a T shape so we could come at it from several differing directions.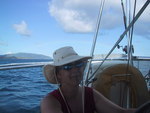 I didn't smash headlong into the corner of the dock first try, but I only missed it by about one RCH. And it wasn't from lack of trying that made me miss it on the next 3 times thru. We worked on docking in a slip and using spring-lines for awhile and then headed back out to North Sound. Made a quick stop at the market in Gun Creek and I had my first lesson in using the dinghy. Picked up an update on the approaching storm and away from Virgin Gorda we went, this time using the *proper* (chickens) way out around Mosquito Rock and going to The Dogs.
We picked up a mooring behind George Dog for lunch, and did a little snorkeling around the rocks while Jim pulled up the latest storm info now that he could get signal. We know how our weather luck works, and Emily had now been officially named and stood a good chance of making it our way. We managed to get a few more pics of fish however. After we got dried off it was time for more lessons. This afternoon was using a handheld compass to plot a fix. I'd always done this using a sextant, so trying it with a handheld compass was a new deal. We took our measurements carefully enough that once we had it all transferred to the chart the 3 sighting ended in a single point. None of this messy cocked-hat for the Vincis, no siree.
Bummer it put us 15 feet on shore...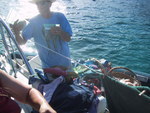 We then plotted a course to Camanoe and went over our route on the chart. We were actually going to head for Marina Cay for the night, but we were going to do it thru one of those fun little "adventuresome" routes. (read: shallow as hell) The wind was a bit tricksy behind Scrub Island once we got closer to Great Camanoe. We aimed for Cam Bay and then took the cut thru past Scrub into Marina Cay.
Marina Cay is really a darling little jewel, even if it is all owned by a big corporation. Its the ideal vision of a small island. We anchored and it again seemed as if Jim and Liz knew everyone coming and going. Aragorn came by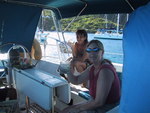 selling Tshirts and perishables and Liz traded more Kingfish steaks (after assuring him they weren't poisoned - we'd eaten them ourselves the night before, wish I'd known that *before* eating so much.) for limes and bread, and Len and I bought the obligatory shirts.
Our lesson that evening was using the VHF radio properly, and at the end was a demonstration using the "Making dinner reservations" technique.
Our reservations for 7 all set, it was time to see how those fresh limes went with the cold gin. Len wore his fancy new shirt he'd bought at Leverick Bay and we went over a little early to do some shopping and look at the old photos Liz had told us were hanging there. Pussers wasn't full yet so they were able to seat us a little early, but to Lens chagrin he discovered that the Pusser shirt he'd bought early was the official uniform for the restaurant staff. We figure every employee, including the bus boys, came by to say hello and rib Len over his choice of attire. I just sat snickering quietly into my napkin. They were all so good natured and friendly you had to smile and laugh.

As we had seen in San Juan, what is on the menu is only mildly associated with what food is available. They were out of anything Conch or Mahi-Mahi. So there went out first choices down the drain. We found that the nice enamel cups in the gift shop could be purchased for a discount if you ordered your drinks in them. So we did. We started with the jerk chicken & pineapple quesadilla. I had the island curried shrimp, and Len had the bajan herb grilled Tuna and then split an order of bananas boulingere. We were lucky they hadn't run out of the dessert, as it seemed many things were going fast. This is definitely the place to make certain you have bug juice on the legs. we came back scratching to beat the band.
We met Jim walking up the patch towards the restaurant, and motored back to yet another good shower. Thanks Emily. Ran around closing things up and shortly went to bed.