Sat. Jul. 16th, 2005
Day 10. Fat Hog -> Virgin Gorda (The Baths) -> Cam Bay (Great Camanoe)
We woke in East/Fat Hogs Bay and started out with some chart plotting and then went to quick turn drills. Len and I had already discussed the Anegada trip earlier, and since Ed couldn't get free to come along after all we opted out of what was looking to end up being a long boring sail (there seemed to be very little wind for once). So instead of getting burned to a crisp again, only to arrive at an overcrowd anchorage we went for Plan B- The Baths at Virgin Gorda.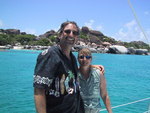 With Emily having messed up one of our travel days and diverted us from doing Anegada and the Treasure Caves at Norman Island earlier in the trip we didn't want to miss the Baths as well.
We were able to actually use a full main and jib for once, as the winds were so light. The Baths are an easy jaunt from Fat Hogs and we made it with plenty of time to spare for swimming and lunch. Jim dropped us off in the dinghy to walk the trail down to Devils Bay. I was really glad I'd heeded the warning about wrapping the camera in a ziplock bag as thats not a good place to count on making a graceful exit from the dinghy. My pride was severely wounded when I did a butt plant in the shallows. This beach is where there are tables and the like set up selling tshirts, souvenirs and a few hair braiding stands. I think next time I want to hit here first and have the front of my hair braided to keep it out of my face for a few days. I didn't have time to stop if we were going to make it to Devils Bay in time to get back for lunch.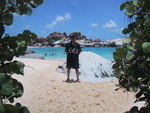 The Baths really are impressive, but very popular. There are a very similar grouping of rocks at Fallen Jerusalem which Jim said were nearly as impressive, and much less crowded. It looked as though it was pretty deserted, actually. But being it was our first trip I figured we should see the big attractions first.
The trail had one or two spots where it was less than "well marked" but it was a fun hike over boulders, thru shallow ponds and across little bridges. Because it went from sand to water to sand I just carried my shoes. Somehow wearing them with all that wet sand just didn't sound very fun.
Jim picked us up in the dinghy at Devils Bay about 45 mins later and we went back and had lunch and a bit of a snooze while Jim was out exploring the other end of the bay. Len snagged the hammock this time so I had a bit of a swim first and then a snooze. After our swim/siesta break we did the 'striking the laundry routine' and headed off for Camanoe and Scrub Island.
We took the same route we had the day we stopped at The Dogs, but this time instead of cutting between Scrub and Camanoe we anchoring in Cam Bay, another one of those spots that is too shallow for a full keel unless you know _exactly_ what you're doing. We swam under the boat that afternoon and we had about 18" between the bottom and us. The chart says 4ft surrounded by a reef, but Jim knew exactly the spot where its really 10 feet. But another scary one watching the depth meter. We anchored there for the night along with 2 other cats. (One of which had a rather shapely topless coed or two on deck the guys were sneaking peeks at.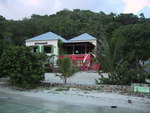 We had dinner at a place on Scrub Island called Donovans Reef. The African themed decor was really stunning. The menu was a bit pricey but the food was good. I had the special of the night, 2 boneless yam stuffed quail wrapped in bacon. The sticker shot hit when we got the bill. A glass of wine was $7, not too much more than we're used to, but a bottle of water was $8!! We had the identical bottle (size and brand) at Cooper Island and it was one $4.
So a warning about Donovans Reef, stick to a glass of wine and forget the water.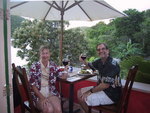 Part way thru dinner another squall came thru but the umbrella over our table was enough to keep us from being drenched, though the manager came by to make certain we were OK the minute it started. The entire staff were really friendly and helpful, even to checking we had a ride back to our boat after dinner. (I'm surprised when I read reports of rude wait staff, as we never saw that anywhere. Everyone was friendly and helpful, if not very fast.) This place would have been first or second on our list of favorites, if not for the water and the prices, so it ends up a #3 after Harbour View and Turtle at Lambert Beach.
We left to wait out on the dock for Jim and waited the lights reflecting from Tortola and Marina Cay. There was one spectacular light we couldn't identify. It was a bit greenish in hue, and sparkled, almost like a fire or a land-based firework. Bonfire? Light show? While we tried to place it it vanished... and so did every light everywhere. Aha! Transformer! Donovans reef had a generator they fired up quickly, so at least the restaurant was able to keep going, even if it didn't extend to the dock. Luckily I'd finally remembered to bring my flashlight so we had that as well as Jim's to get back.
I felt really bad for the people living in BVI who can't seem to keep power for even one 24 hour period. And when we got back to the boat we noted there were also no lights on Virgin Gorda either. So the 5 islands we could see were all dark, and we found it rather ironic that one small transformer could take down an entire country.
Sat out enjoying the evening for a bit planning what to do tomorrow and then headed below. There was quite a nice breeze so it was a fairly pleasant night.