Sun. Jul. 17th, 2005
Day 11 Cam Bay -> Trellis Bay -> Cooper Island (Hallovers Bay) -> Manchioneel Bay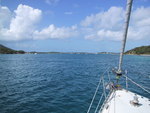 Woke up in Cam Bay and after breakfast went for the obligatory swim. Tried to find some conch that were of a decent size but only saw one small one. Len saw a good sized turtle swim by and spent a few minutes trying to catch it, but it was laughing at him I'm sure. Len ended up pretty winded and the turtle kept coming back trying to egg him into more games of chase.
We were running low ion ice (big surprise) and gas for the outboard. So our route out this morning went thru Marina Cay and into Trellis for a errands stop. This only took a few minutes so we waited on board.
We plotted a course to Cooper Island and headed over that direction to Hallover Bay. The passage between Cooper and Salt was a bit tricky. We almost gave up and started the engine but wanted to give it a good try to make it on thru. The breeze would go from zero to 20 and back to zero, just when it was least helpful.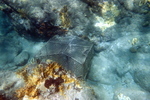 Jim took the helm about half way thru when we were about to give up and call it engine time,and was able to get us thru and over to where we wanted to anchor.
There's some really nice snorkeling in this area, and it seems fairly popular with some of the divers too. There's an old fishing boat that the dive shop sunk near here apparently. I think this was the only place I was actually able to spot a few nudibranchs. We used up the last pics from the single-use underwater camera here. Even took a nice shot of the abandoned fish trap laying on the bottom. I think the pics from here came out better than a lot of them as we had enough light getting thru, and enough stuff close to the surface where it was better lit. Though a little iPhoto tweak helped in one or two places as well.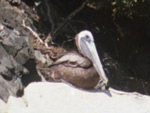 There was this pelican however, that somehow seemed to think I had something to do with food as it kept following me around trying to see if if I was edible or not. After our swim and lunch we went up to Manchioneel Bay to grab a mooring.
The wind where we moored was a bit erratic and was causing us to swing in differing directions than everyone else. Surprise, surprise, we moved back close to the point and went for an anchor instead. This is where we got our using two anchors lesson since we were back away from everyone else and had the room to try it.
The Cat anchored in front of us displayed a substantial speedo foul, and then went on to earn additional penalties by removing it. His butt was no better out of the speedo than in it. (He ended up having to get back into it and hour later after all when they went ashore to the beach club for drinks and dinner.)
This was also the first place I'd seen fences on the beach. There were big "no trespassing" and "private property" signs over the two properties on the end. Though it may just have been to keep the goats from wandering off.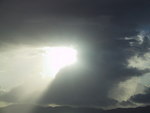 Len tried to reach the Cooper Island restaurant on VHF 16 but they were steadfastly ignoring all hails. (And from the sound of it, the woman trying to get thru the the Willy T wasn't having any better luck) and ended up giving in and taking the dinghy over to make them in person. Apparently it wasn't much easier to get their attention that way either. I think this was also the further spot we'd anchored from a dock.
After evening cocktail hour we cleaned up for dinner and Whee! Dad let us have the keys to the car. (Well, OK, Jim decided we were able to handle the dinghy on our own this time.) But I got to drive back and let Len do flashlight duty this time.
The Cooper Island Beach Club restaurant was very Caribbean. There were 3 groups with 6:30 reservations but the restaurant hadn't even set up when we all arrived. They started setting up tables once the 3rd group had been standing with us for about 10 mins. Set up appears to involve dragging the tables and chairs a few feet from one place to another and dragging chairs up the steps. I could see the dragging had they been heavy, but for green plastic deck chairs? Even I can carry 4 of them in one shot. Just before 7 they were able to seat all of us.
The table behind Len were complaining their spot was too hot and they wanted to be moved to the table behind me. Len & I looked at each other and whispered "Cat!". (A/C is evil, I really mean this. You'll never enjoy a minute outdoors if you keep getting in the air conditioning.) The table across from us was 3 couples. One that looked like boat people and the others we dubbed Muffy, Buffy, Biff and Geoff. 100% grade A preppie, looking down their noses at everything. (Whereas we only look down our noses at people who are looking down their noses.) We finally figured out it must have been Cap'n & mate plus charterers.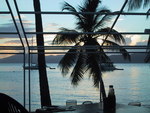 The food was quite good, and the identical water only $4. Plus a wide variety of cocktails. I had the special of the evening, - flank steak. We ended up having 4 different servers however. One who took our drink orders, one who took our food orders, the one who sat us and brought our food, and one to help us decide on dessert. While the service wasn't bad, it seemed the most distracted of all the places we ate. Not rude, but nowhere near as friendly as everywhere else.
For dessert I had the rum and custard which came flambe with the caveat that we could blow out the flame on the 151 rum, or we could let it keep burning which would burn off the alcohol and just leave the flavour. I blew it out.
We made the journey home no problem, and after the usual nightly roundup retired to bed to play hide and seek between the nightly squalls and the hatchcover over the pillow.