Sun. July 10th, 2005
Day 4: Jost Van Dyke/Diamond Cay -> JVD/White Bay -> Tortola/Brewers Bay
Awoke to another beautiful day and a big breakfast. While the crew cleaned up, we took our first ASA exam, 101. We passed with 95% and several wrong answers were due to typos on our part (scantron, blackened wrong circle d'oh). We went over the true wrongies with Jim. That accomplished it was time now to plot a course to our lunch destination, White Bay, on the southwest coast of Jost Van Dyke. It would entail sailing south past Sandy Cay then hanging a right and doing a 'run' due west. A run is when the wind is almost directly behind you and can be tricky... gotta watch out for accidental 'jibes' (that's where the big horizontal poley thingy attached to the boat's big stick goes boom from one side to the other without you telling it to :-). So we weighed anchor (about 65 pounds) and headed out around 10:30ish.. that would be 'morning' in BVI time. It didn't take too long to get over to White Bay. We dropped anchor behind the reef, avoiding the mooring balls (which can cost $20 - $25 to use!). The bay was filled with partiers.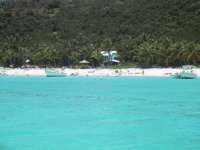 On the beach is the Soggy Dollar Bar, so-named because it has no dock and very few folks go there from overland... hence ya gotta swim which makes yer money wet :-). While Liz was baking up quiche for lunch, Kel and I swam over for a Painkiller. I only brought a 20, and the drinks were a fiver each so Kel was unable to buy a t-shirt or a sarong. The bar was filled with folks getting motivated before heading over to another bar to get drunk :-) It was a pretty loud group. We got our drinks (with souvenir plastic cup) and enjoyed them on the beach. Jim advised us to walk down to the other end of the beach before swimming back, as the current from that end would help to bring us right back to the Golden Crown. We followed his advice, strolling across the white sand and playing in the 85 degree waves. The other good thing about swiming in from this direction is being able to see if the large catamaran really was going to hit us, or just foul our anchorline. It moved far away before Jim made it up on deck. The Painkillers were nummy and I could see more than one being a little dangerous.. Got a little buzzed but the swim back + the huge lunch cleared our heads right up. (Adri, ignore this next bit) Liz made the best quiche I've ever had! After lunch we pulled up our anchor and began the scariest sail of the whole trip...(or so I thought)
Our destination was Brewers Bay on the north coast of Tortola, almost totally due east from where were. This meant we were going to be 'beating' upwind doing mostly a close haul (that is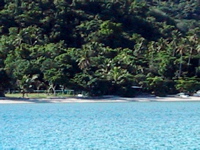 where you steer as close to the direction of the wind as you can without getting 'in irons'. If the boat is pointed directly into the wind the sails don't work and you stop. It's called getting 'in irons' because its like being locked up. A close haul is the fastest and most exciting way to sail and I was having a blast... until the wind started getting a bit more than I could handle. We started heeling (leaning) WAY over and I had no idea how to make it stop, or if I even should. I knew the heeling was OK but a bit inefficient. Kel and Liz screamed a couple times as it really felt like we were going over, while Jim just sort sat relaxed on the side. We would totally feel like we were capsizing, so I'd head a little more into the wind. This would stabilize us a bit but I had to be careful not to go too far or the sails would luff(flap) and we'd be close to going in irons. After an hour of this I was a nervous wreck! I have very few criticisms for Cap'n Jim but this is one: If *I* was the instructor I think I would have let the student know that it would take 70 knot winds to capsize his boat and that excessive heel can be fixed by reefing the sails... instead of letting me struggle and scare the bejeezus outta me for an hour. He did tell me all that afterwards...
The ordeal finally ended as we approached Brewers Bay. If you go on your own, with a local captain, I'd avoid this bay. It's TINY and is filled with a reef except for one very narrow cut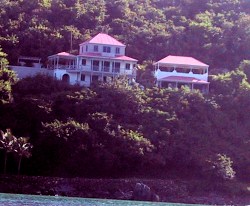 through the middle. Jim took the wheel (and we powered up the engines). The guide book says no anchorages in this bay but, according to Jim that's just to keep out the bareboat charters who don't know the islands. An amateur could do some real damage to the reef and their boat. Jim got us in and anchored in a nice sandy spot, just yards away from reef on both sides. This is mostly a 'residential' bay, i.e. there are a bunch of private houses up and down the hills surrounding it. Really cute million dollar houses. There is a camp ground on one end, frequented by land-lubbers with dirt bikes. They were playing with them till about an hour after sunset. Hmmmm sunset... more on that in a bit.
We had a little time before dinner so Kel and I snorkeled around the reef. This was our first snorkel area and WOW. I was having a little prob with my mustache letting water into the mask but not too bad. Saw lots of brightly colored fish, purple sea fans, sponges and a couple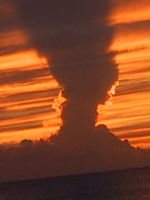 gold-spotted eels! Liz and Jim were making another feast while we swam. We were trying to swim enough to offset our calorie intake but we failed... For dinner that night they grilled up a pork tenderloin, salad, sides etc + Liz made a key lime pie. MMMMMM. Jim hung up my best friend too! He has a hammock that he suspends from under the boom. After dinner I was laying back in the hammock with a Guinness, when probably the most incredible sunset ever began to form at my feet. There was a cloud system on the horizon that had some wonderful vertical development and the sun was setting right behind it. The cloud was creating a multi-colored shadow across the rest of the sky. The colors kept getting more and more vivid. We all just watched it, mesmerized for like a half-hour (luckily Kel took pics). Even Liz and Jim were impressed. He'll prolly use our pics on his website. So here's the formula for the perfect moment: Hammock + Guinness + Incredible Sunset. Went to bed around 10:00 with a full belly.