Mon. Jul. 18th, 2005
Day 12 Manchioneel Bay -> Peter Island (Deadmans Bay) -> Road Town
Our last day on the Golden Crown. Several squalls thru the night as usual, but at least a breeze to keep us from dying in the cabin.
We had a big breakfast of eggs and toast and the like. In cleaning up some bits of melon went over the side. And again the Hitchcock-esque horde of gulls came round. I really wish our gulls were as cute.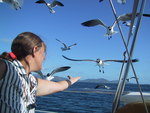 Jim untied the wind generator and Len asked if he ever worried about the birds flying into it. Jim said they were smart enough to avoid it so there had never been a problem. Of course you now suspect what happened next.
There was this loud THUMP and the only stupid (stupidest?) gull in the Caribbean had to make an example of itself. The main pack of gulls had pretty much left for better pickin's so we could see the broken one floating a bit off the stern. Now we felt terrible. It was bobbing along in the current trying to fly, and not able to.
We saw another gull swim over and then a passing boat startled all but our broken gull away. It was there, preening its wing. We were afraid it had been busted, but were able to get a better look when it extended it and it appears that it had only clipped the primary flights.
So, now if he could live long enough for a moult they'd hopefully grow back. However it was drifting further away and we began to to worry it would be carried out of the channel and in to the open sea where it likely wouldn't be able to survive flightless.
So the three of us began to plan Operation Rescue. We hoped if we could land it on the rocks near shore it would have at least a small chance or survival. We had to plan fast, before it had drifted past the point of no return.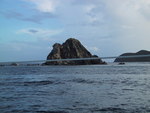 The best we could come up with in that small amount of time was to get close enough in the dinghy to try scooping it up on my big floppy bucket hat.(I was afraid to grab it outright the way I used to grab the parrot as I might hurt the injured wing further.) We could then carry it to the rocky point that it was attempting to swim towards. Best chance of avoiding predators and yet finding food and water that we could see.
Len and Jim lowered the dinghy and I went below to grab my big hat. We had just brought the dinghy round to where we could scrabble in when it was finally able to get enough power in the bad wing to clear the water and fly the short distance to the rocks. It wasn't flying well, only about 3 feet above the water but it made it over to the rocks just fine. We were much relieved to find it had been more stunned than crippled.
So that scare over, we set about getting ready to depart for our next stop.
A nice little sail past Salt Island and we swing up towards Peter and into Deadmans Bay. The last part of that voyage being filled with long and serious discussions over how feasible it was that that the distance between Deadmans Chest and the Bay was (or was not) a swimable distance. I think the theory we finally went with was that Blackbeard was likely nearby taking pot shots which would explain why no one made it.
The Cuan Law was also anchored in the bay. Wow. It is a BIG cat.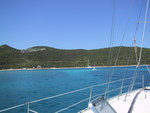 The resort swimming area is quite pretty and at that point we had it all to ourselves. We swam over to the beach and played for a little while and then swam back for lunch. Then it was time for the last of the written exams.
This was the toughest of the bunch, but we managed to do it with a 96% score. Guess we needn't have been so worried about blowing too many answers. We went over where we'd gone wrong and then it was time to head back to Road Town.
On our way to Road Town we did our final physical test, the man overboard drill. We rescued our life-saver 4 or 5 times just outside Road Harbor. After he was finished grading our tests Jim handed us our ASA Certification Log Books. Now all we had to do was wait for them to mail us our stamps and we'd be legal!
We had a little trouble mooring as they'd been working on Jim's and it wasn't quite ready to use yet. We borrowed his neighbors' for an hour or so.
Jim drove us up to Lambert Resort. I was really glad he'd offered to drive us since the resort's way out there away from most of civilization and a tricky drive to find the right twisty turning roads.
We had a bit of confusion as the office wasn't exactly marked as such. Len hopped out to knock on a door near what looked like where you'd find a registration office. Yup. Guessed right. Jim helped us to unload our bags and made sure we were all set before we said our goodbyes and thanked him for everything over the last many days.
Our first impression of Lambert Bay Resort was less than impressed. And for the most part it went downhill from there. A real shame as it had the potential to have been something spectacular.
Once we had the checkin taken care of we sat around in the teeny closet-sized reception/check in area while the girl called for someone to show us to our room. We waited there for about 30 mins while she kept calling for the guy with the Cushman to come take our bags and show us. We finally gave up, slung our bags over our shoulders and got her to show us where our room was. Good thing too, the rooms are arranged as little 4-plexes with patios in front and trees and winding paths. Very pretty, but there was no real order to the numbering system so it would have been tricky to have given us directions, and trickier for us to have followed them. And then when we found the room our guide had to check twice to be certain it was the correct one, since there was no number on it. We eventually noticed someone had drawn the number with a Sharpie on a rock that was nearby hidden in the bushes. Bummer that the key she'd brought was the wrong one. She scurried back and arrived with the correct one in a few minutes.
So after dumping our small carry-on sized duffel bags we changed into swimsuits and went in search of that cool looking pool and bar seen in the resort pics.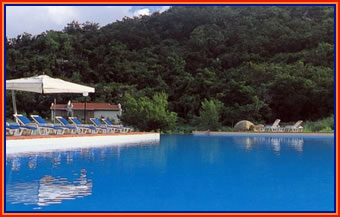 The pool once had had a spa section attached I think. It was currently being used to breed insect life or perhap algae. Dark black water on that end, but both sections of the pool had the water low enough that it wasn't spilling either way. The pool was a decent size, but I was a little squeamish about getting in since there was a bathtub ring about 6 inches high and dirty black all the way around. And a bunch of kids playing marco polo or some such convinced me it was probably just as well. The in-the-pool bar was small but crowded, and the water there looked dirtier than the rest of the pool so we opted for a shower back in our room instead. A cold shower. Wasn't what I'd planned but what water I was able to get wasn't warming up, even after 15 mins of showering. Its a good thing the weather was hot there so I could warm up.
As we had noticed on this trip, "inside" and "outside" are not clearly defined concepts in a place with a climate as gorgeous as this. So the fact that our room had a big screen area at the peak wasn't a problem. The rain blowing thru and onto to floor wasn't so great though. And since the screen didn't look like it was well attached I wasn't surprised by the large number of small beetle things that raced back and forth across the bath floor. It was a shame that the door frames had rotted so badly they were just paint covered shells. And that most of the paint really desperately needed repainting. So we sat on the front porch and had drinks and watched the rats eat the dates (or something) out of the tree overhead. The room had a mini fridge so we were glad we'd thought to bring sodas and the like with us.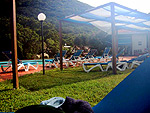 We called to make reservations for a cab to the airport for 5:45 in the morning and let the front desk know. There was some trouble about us checking out so early, but there was a mail slot in the reception door so we could drop the key in thru there.
We'd heard that this resort had one of the prettiest beaches on the island so we wandered that way to check it out. The resort is back from the beach a ways, but once you walk thru the trees and onto the beach itself it is quite stunning.
Throwing caution to the winds, it was our last night after all, we went nuts and finally turned on the AC unit in the room. After a small nap we went to have our dinner at the resort restaurant - The Turtle.
If it hadn't been for this restaurant I'd have been really upset our last night was so miserable. This place made up for it. The food was wonderful, the staff a delight, and the view breath taking. Plus we had our own little kitten begging for scraps under the table. She was a cutie and made us miss our pigs at home.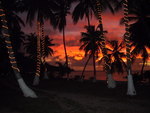 The place was pretty empty when we first got there, but filled up soon after. I imagine partly due to the fact there isn't anywhere else within a 30 mins drive, plus they had a big screen plasma TV. We never watched the TV since the sunset was so incredible from our table. Or as Len would say "pinkalicisious".
We were nearly finished with our dinner and the place was really crowding up when the inevitable nightly power outage occurred. Luckily they had a generator (for the restaurant only) and had everything back up in no time at all. Since we'd been thru so many of these power interruptions we'd wisely thought to bring a flashlight with us. Even with it we still took some time to find our room. Without it I think we'd have wandered all night.
Since we'd closed up the room to run the AC it was a bit stuffy by the time we made it back in. They had provided candles and matches in the rooms luckily so we did our final packing up by candlelight, set our travel alarm (good thing it runs off batteries) and went to bed.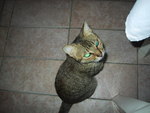 As I say, its a shame Lambert Beach Resort is falling to bits and rotting away. If it looked more like the pics on the website, (which must have been taken 15 years ago) it would have been such a cool place. But since it was dirty, rundown and most of the people there seemed as if they all wanted desperately to be somewhere else it was a bit depressing in its reality.