Saturday June 16th
Up at 6:00 and on the bus headed for the Animal Kingdom by 7:30. The Bus ride was annoying. It was empty when we got on but by the time we left the Beach Club it was full of noisy tourists.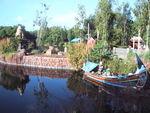 Got to the park and the main gates were already opened. Walked through the Oasis and got to where they'd stopped everyone for the Early Entry rope-drop, just before Discovery Island. Watched the silly little opening show with Mickey up on the Tree Of Life. As they opened the park the fairly good-sized crowd split into two; one heading to Africa and the Kilimanjaro Safari, the other towards Asia and Expedition Everest. We followed the latter.
The Asia section of the park is so wonderfully detailed and pretty it's hard to just walk through it without stopping every 5 seconds to snap a picture. Everest had a posted 10 minute wait and I wish it had been longer so I could have taken more pics in the queue. We rushed right through most of it. It's themed as a mountain-climbing-adventure base, with climbing equipment all over it. Warnings about the mythical yeti are found in every corner. As for the ride itself? It's a fun coaster and the detailing and views are spectacular. There's a section where you ride backwards, which is pretty cool, and the glimpse of the yeti that you get near the end is great. It's huge! Not really worth riding more than once on a time budget like we were.
We walked over to Africa and picked up FastPasses for the Kilimanjaro Safari. Did a little shopping. Picked up a really cool wind chime, a carved bird who's head bobs in the wind. Bought coffee and sticky buns at the Tusker House Bakery and grabbed a table at the as yet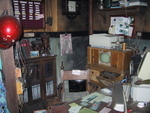 unopened bar. Relaxed with that for a bit then went over to the Pangani Forest Trail to see some critters. Saw tapirs and gorillas and some monkeys with skunk tails and some deer and birds. Very fun. By the time we were done it was time for our FastPass at the Kilimanjaro Safari.
There have been a couple of minor changes to this ride since 2001, mostly for the better. They got rid of most of the lame poacher story, though they still have you chase them at the end. Big Red, the dead elephant is gone as is the British Doctor on the radio. What this ride really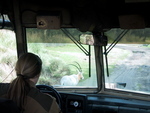 needs is better guides on the trucks. They should spend the money to have a dedicated driver do the driving and a person who actually can give you info without having to memorize it be your guide. Our's pointed out the "wilderbeasts". She was OK but she fell into the sing-song speech by rote so common with Storybook Land girls that it was sometimes laughable. In 2001 our guide was from South Africa, lending a little bit of authenticity. This guide was from South Kissimee. The animals were cool though. Got some good shots of the zebras. At one point a Scimitar-Horned Oryx blocked the road and had no intention of moving. Got some good pics of it. Our driver called in help because they aren't allowed to honk the horn or stress out the animals in any way. It finally got bored and left on its own before her supervisor showed up. Kel video-taped a bunch of the ride. I think in the case of this one ride, Disney should just abandon the notion of forcing a 'story' into it. They should pare it down to "we are showing you all the cool animals we've gathered and how nice the habitat we made for them is" instead of "We're taking you on a 2 week safari but uh oh, poachers! Gotta cut the safari down to 15 minutes, sorry".
We made our way slowly back to Asia just in time for the first showing of Flights Of Wonder. It's a bird show in a nicely shaded amphitheater. Great show and we taped some of that too. There were a couple of really nice fly-overs and we got a great view of some very interesting birds.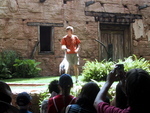 The banter wasn't too hokey. Don't get me wrong, is was WAY hokey, but tolerable and even a little humorous at times. It was mostly a show about the natural behaviors of various birds, rather than them doing tricks. There were still tricks aplenty however, despite what the host kept saying. Fun show.
We sauntered over to the Royal Anandapur Tea Company counter and got tea slushies. Mmmmmmm. Sat in the shade with those for a bit. I went over and got us FastPasses for the Kali River Rapids Ride and after I returned Kel and I went over to the Maharaja Jungle Trek nature trail. This is the "Dragons, Bats and Tigers" walk. It's a bit better than the one in Africa but only cuz the bats and tigers are sooooo cool. While looking at the bats a castmember came in and began talking about them. He was a very funny Chinese (Taiwanese actually) gentleman. It was weird because we saw him all over the park. He was at the front gates when we entered, then walking by us as we sat and drank our frozen teas earlier. I think he was stalking us. We spent quite a bit of time looking at the various critters on the Trek. Meerkats were fun as were the rodents in the elaborate mole-ba-trail. Got some good pics here too.
Our Kali FP came due at 12:30 so we popped over there and rode it with little or no line. Last ime we rode this we got soaked, so this time we came prepared. We brought ziplocs for our cameras and wallets and made sure all our water-sensitive items were protected in my bag. All set. Sheesh, we barely got misted. One girl in our boat got the brunt of the soaking on the first hill but otherwise just dribbles. Felt good enough though. Once we'd finished that, there was very little else we wanted to do here. The Dinosaur ride is "Indy-lite", been-there done-that. Not really interested in the Dinosaur land as a whole as it's mostly kiddie stuff.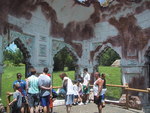 tWe've seen It's Tough To Be A Bug numerous times both here and in Anaheim so no need to wait in line for that. I was sorta interested in seeing the Nemo Live show but lost interest when I read in the guide that you should show up 45 minutes before show-time. Forget that. Maybe if we were gonna be here for more than a week.
So we began making our way back to the front of the park. Popped into a couple of shops looking for some specific items but we'd quickly realized that the shops this year, with few exceptions, all carried the same old "crud". We began calling them SOC shops. We hadn't seen a photographer all day so we kept our eye out as we walked through Discovery Island. Found one! But she was on her way somewhere. We stalked her until she arrived on the main bridge between the Oasis and Discovery Island. This is the best view of the Tree Of Life and there were a gaggle of photographers there to choose from. Got our picture taken then made our way into the Oasis. The Oasis has multiple paths through really very pretty landscapes. There are lots of small animal paddocks here. Saw loud parrots. Wandering these paths was on my must-see list so I'm glad I got the chance. Spent almost an hour wandering around here.
Exited the park at about 2:00 and then took the "bus ride from hell" back to our hotel. The line was long for our bus, and then 2 wheelchairs showed up at the same time as the bus. We'd already been waiting for 10 minutes. It took another 15 to get the wheelchairs all strapped in. You'd think they'd have this down by now, it's not like it's all that unusual for handicapped folks to be at the parks. Finally got on the bus which was by now totally packed. First stop was the Swan, at which point 5 or 6 people got off. However the driver was unable to get the back door to open and despite the fact that NOBODY wanted or needed that door to open at the moment, he proceeded to futz with it. And futz with it. And call for help on his radio and then futz some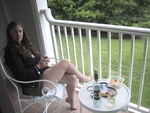 more. After 10 minutes of this we joined 3/4s of the rest of the people and just got off and walked home from there. Took us 5 minutes to walk from the Swan to the Yacht Club.
I dropped Kel off at the room to prepare our wine and cheese plate while I went down to the gift shop to pick up our loot from the day before. Bought another bottle of wine while I was there. I stopped off in the lobby and filled out a lost item report for my glasses. Maybe I'll get lucky. Trudged back the 2 miles to our room then kicked back on our balcony eating the cheese, salami and crackers I'd prepared for the flight but had never eaten. Washed it down with a nice Pinot Grigio. Took a short 1-hour nap, then looked at what video we'd already shot. Deleted the crap and kept the 20 good minutes. At about 6:00 we caught a boat over to the Studios.
We had 8:00 reservations for the Brown Derby. Once we got into the park we did a little shopping along Hollywood Blvd. Found a really cute princess dress for Mary. Walked over to the Big Board and saw that the Rock & Roller Coaster was still closed. Made our way back to the Muppet show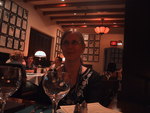 area but the line was out the door. We really didn't feel like waiting in any lines so blew it off. Wandered around taking pictures until right before our dinner reservation. Sat outside and people watched for a bit then checked in at 7:45 for dinner.
We got seated at 7:50. Tim, from Truro MA was our server and when he was paying attention to us, he was great fun. He seemed to go walk-about a lot though. He came right over when we were seated but we'd not had a chance to look at the cocktail menu yet. Said he'd be right back. D'oh! 30 seconds later we both knew what we wanted to drink but he was gone for the next 15 minutes. Finally placed our drink orders. I had a "Hollywood", vodka, chambord and pineapple juice, Kel a Watermelon Cosmo. For dinner we ordered the Cobb Salad for two as an appetizer, salmon for Kel's entree and a big pork chop for mine. Also ordered a half bottle of Steele Pinot Noir. I took a bunch of pictures without a flash and they came out OK but our camera is getting tired. Secondary server dropped our salad off with a couple of plates and an 'Enjoy'. WTF? Other folks were getting there's mixed and served to them. We had to do ours ourselves.

Sheesh. The salad was good but didn't live up to the great memories we have of it. The entrees came and they were good but nothing had the "WOW" like at Citricos or Le Cellier (see tomorrow's report for that meal). For dessert we shared a grapefruit cake which was really good, and splurged on a Grand Marnier Flight. This was fantastic. 3 shots of Grand Marnier from different times. Bill came to $156 plus tip. Same as Citricos but the meal just wasn't as good.
After dinner we strolled through the Studios taking night shots. Some came out quite good. Park closed at 10:00 so we headed out. Caught a boat back to the hotel. It was totally packed so we got off at the Dolphin & Swan and walked from there. It was a beautiful night and I got some nice pictures of Crescent Lake on the way over to our room. Had a last glass of wine then hit the hay at 11:00.