Thursday 6/14/2007
Got up at the normal time and took care of work stuff while Kel took care of the last minute house-sitter details. We were all packed and ready to go by the time Adri showed up at 10:00am. She was volunteered to drive us to BART but took it quite well, showing up early so as not to make us late chit-chatting with her Mom. Got us over to Concord BART at 11:00 for our 11:12 train to SFO. Well, really to Daly City with a transfer at Powell St. to the Milbrae/SFO line. Kel and I had 1 checked bag and one small carry-on each. Bart was on time. At the first stop, Pleasant Hill, Kel noticed her iPOD was locked up. So much for learning Welsh on the plane. When we took BART to SFO for our BVI trip her watch died at about the same spot. Freaky.
Got to SFO at about 12:30. We had a minor snafu at airline check-in. The package deal through Disney did not provide any paperwork for the flights. Just the flight numbers and times. I called them about this and they said they use e-tickets and all we'd need is a picture ID. Well the check-in for United is mostly self-serve. The machine asks for a confirmation number, the credit card used to purchase the tickets or to scan your passport. The United guy said to use the reservation number on the Disney Itinerary but the machine didn't recognize it. Panic was creeping up. He then suggested using my credit card, but I was dubious as I hadn't bought the ticket directly. I needn't have worried. It found us right away. Whew! It spit out our boarding passes and took my freqent flyer number no problem. Handed over our bags and then headed over to security.
Security was its normal pain in the ass for very little gain. Bought some bottled water for way too much but what are ya gonna do... can't bring your own through security anymore. It came in

handy though. I used the bootle for the whole trip just refilling it in the room and fridging it. Never ran out, never went thirsty in the parks. We popped by our gate to see that our flight was delayed 15 minutes (airlines suck). Went to the Buena Vista Cafe for lunch and a drink. Our flight would have food available for purchase (the hundreds of dollars we spent on the tickets don't cover food... you know, just like a bus!). I had a Reuben, Kel Eggs Benedict. She also had a Cosmo while I enjoyed a Guinness. The tab including tip? $40. Gotta love restaurants inside security! Oh well we're on vacation and should get used to Disney-like prices eh. Our check FINALLY came (they were having a problem with someone else's check which required every other employee to help), and we were able to walk back to our gate.
Surprise surprise, our flight was delayed even more. Went back for another round ($20 for a glass of wine and another cosmo!). Flight boarded about 45 minutes later than they said it would and then we sat as they tried to fuel the plane. They went through 3 fuel trucks before one worked. Our flight to Orlando, scheduled to depart at 2:51 actually pushed away from the gate at 3:55. Uneventful flight otherwise. I had about 6 hours worth of podcasts to keep me suitably distracted for the whole 5-ish hour trip. They showed a movie I'd never heard of, Wild Hogs. Something with Tim Allen and John Travolta. It loooked horrible and get this: they showed it on SD-TV sets right in the middle of the plane. Everyone had to watch the same thing. We didn't get our own! Don't they know this is the century of the fruit-bat? Get with it United.
Landed in Orlando (MCO) at about midnight or so. We signed up for Disney's free Magical Express which provides transportation between the airport and the hotel. It will also take care of your baggage. They sent us luggage tags to put on, which specified who we were and what hotel we were staying at. The theory is, the Disney folks snag your bags from the airline and they show up a few hours after you get to the hotel. Pretty sweet deal unless your flight arrives after 11:00 at night. They state in the paperwork that their desk closes at 11:00 but that it would be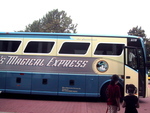 staffed after that if a flight is due to come in later. This made me nervous. Do I need to explicitly tell them to wait for me or, since I bought the tickets through them, they would magically know (pun intended).? This was especially important to know as the flight time had changed 1 month before our trip.. Originally it was to land at 6:30pm but they changed the schedule on us to land at 11:10. I called to check on this and here's what they told me, and what they SHOULD tell everyone: If your flight is scheduled to come in after 10:00 don't put the luggage tags on. Go to luggage claim and get your bags yourself. Otherwise they'll be grabbed and delivered by Disney the NEXT MORNING. We did this but the family ahead of us in line didn't and were a little put out that they'd have no luggage until 'sometime' in the morning.
Got our bags and easily found the Disney Magical Express desk down on the 1st level near other ground transportation. Check-in took 30 seconds. Just long enough to look at our voucher, confirm we were using the service to get back to the airport on the 19th, and to confirm which flight we'd be on. Then we were off to the red carpet and another friendly greeter who directed us to the Yacht Club/Beach Club queue. Id' say 'line' but we were pretty much the only folks around and there was NOBODY in our line. Another greeter met us at the front of the queue and led us right out to one of the 10 or so motor coaches awaiting passengers. Each one was going to a different set of resorts, plus 2 going to the Cruise Line Port. They are painted up like old Greyhound Buses. Very nice. Sat in the bus all by ourselves for 10 or 15 minutes before a 2nd family joined us. Then a couple more groups. At 1:00am we pulled out of the airport for the 30 minute drive to our resort. They put a half-hour Disney commercial on for us to get us jacked for our vacation. 10 minutes of which was telling us about the "best kept Disney Secret" around: the Disney Vacation Club. Wow it's good they told us about it.. otherwise we'd have no idea what all those kiosks, booths, signs and billboard were talking about. Just goes to show, timeshare = hard-sell. Otherwise nobody'd fall for it I guess.
We were firmly ensconced in the Disney Bubble by now but seeing the big sign over the road saying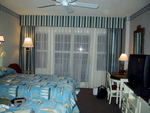 "Welcome To Walt Disney World" really made it sink in. We arrived at the Yacht Club Resort at about 1:30am. The two of us moved much faster than the family dragging 2 kids so we were first in line to check-in. Lobby was a ghost town. Very nice clerk checked us in in about 5 minutes. Gave us all our fun paperwork, plus our Keys To The Kingdom cards. Those operate as room keys, theme park entrance tickets and charge cards in the shops and restaurants (if you let them scan your credit card). We had a Standard Room (as opposed to a Water View Room). The absolute bottom of the price range for this place. Afterall, location, location, location. Couldn't see paying extra to possibly be put over the swimming pool and its noise. They gave us room 2014 which has a 'Garden View'. For concierge rooms, Garden View costs more but not for normal rooms. We were on the second floor and as we walked and walked and walked to our room, we began to have a bad feeling. It was at the extreme end of the hotel from the lobby! It was gonna take 15 minutes to trek back and forth. Well once we got there and saw it and the view, we forgave the distance. It overlooked a small lawn and pine tree lined pond full of fish and water-birds. There was even a bunny! If you craned your head out you could see Crescent Lake and part of the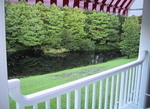 Boardwalk Resort to the left. It was very quiet (until the loud woman moved in next door on our last night). It had a nice big balcony with two chairs and a table. There were two Queen sized beds, a fridge and a safe. The fridge was quite nice as we could shove water bottles in there at night and they'd be all nice and almost frozen in the morning. Stored Pinot Grigio and leftovers quite well too. Lots of drawers and a double closet meant we could spread out all of our junk without making the place a mess. Decor, as you can imagine, was nautical and full of not-so hidden Mickeys. Also included were a small 2-cup coffee maker (yay) and a small 27" SD-TV (I'm such a snob). The mattresses were especially awesome compared to other hotels we've stayed at. A review mentioned the lighting being bad and we noticed it. If we'd had to do any real work it would be tough. There was a set of stairs nearby which led to an exit right out to the Marina along Crescent Lake. Yes it was a hike to the lobby but was really close to the Boardwalk and not too bad a walk to the boat dock.
It was really late by the time we'd unpacked and decompressed from the flight. Got to bed by 2:30 but I couldn't get to sleep until about 3:30. I wanted to be at the Studios for Early Entry by 8:00 the next morning so I set the alarm for 6am...