Friday June 15th
Sluggishly got up when the alarm sounded at 6:00. Felt like I'd only gotten 2 and a half hours sleep... oh hey that's about exactly how much sleep I got!. Made coffee and then coaxed Kel outta bed with a cup under her nose. Next time we need to either plan to arrive earlier (actually we did but United conspired against us) or we need to not plan on going to an Early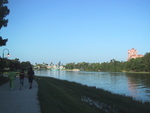 Entry park on the first day. Early Entry allows resort guests to enter a selected park one hour before everyone else. On this day, the park was the Disney/MGM Studios. Got dressed and were out the door at about 7:30. Took the stairs next to our room right down to the exit near the walkway toward the Boardwalk Resort. The path to the Studios goes from Crescent Lake, past the Dolphin & Swan Resorts, and along the backside of the Boardwalk Resort for about 1 mile, following a little canal. Friendship boats, carrying about 100 or so folks and going back and forth between the resorts and the Studios, pass by every 20 minutes or so. At this time of morning it was pleasantly warm, slightly humid and perfect for a stroll to a theme park. It took us about 20 minutes to get to the Studios and to see our first line of the trip.
There were a ton of people waiting to get in, but most were there to take part in the special Star Wars Weekend festivities. Something Kel and I had no interest in. There was a bit of confusion with the lines and I picked the wrong one... and then made it worse when I saw a
bunch of people quickly start to line up in what we all thought was a new gate opening. Once we'd all left our long lines to get into the short one a castmember finally told us that it was the line for making dinner reservations and not to get into the park. Better signage is needed and they need more folks out there telling people where to stand. I blame lack of sleep. No worries, we got into the park at about 10 after 8 and headed right down Hollywood Blvd. Hung a right onto Sunset and saw our first PhotoPass Photographer. Yay. Got a PhotoPass from him and he took our picture with the Tower Of Terror in the background.
This is a brilliant re-thinking of a truly annoying thing they used to do. They've had photographers in front of the main landmarks for years and they used to pounce upon you as you were on your way to an E-Ticket. Once they took your pic they'd give you a slip of paper. You then had to take that slip to a shop 4 hours later and turn it in for a $20 5x7. It sucked. Now you get a plastic PhotoPass with a number on it. The photographer takes 2 or 3 pics then scans your card. Keep the card with you and have any photographer you see take your pic. When you get home, go to the PhotoPass website where, for up to 1 month, all your pictures will be available for editing, purchasing prints of (still expensive) or even better, buying on a CD. The CD is one-size/price fits all so if you are like us and had over 40 pics taken and subsequent editing resulted in bumping that number up to 53 or so, then the $125 is a bargain. You get the original pics plus the edited versions (with little '2007's on them or cartoony additions) in hi-res jpg format.
Anyway, after pausing for our picture, we made our way over to the Rock & Roller Coaster to get a FastPass. Uh oh... R&R was down with technical difficulties but should be open by 11:00. Got our FPs for 11:30 to 12:30 and scooted over to the Twilight Zone Tower Of Terror. The short, quick-moving line got us into the drawing room within 5 minutes. Hardly enough time to enjoy to ambiance. Frankly I enjoy the ambiance more than the ride. Drop rides scare the crap out of me and it's not really an adrenaline rush that feels good to me (unlike Mission:Space more on that later). Kel loves it though so we couldn't skip it. It does give a spectacular view of the park, albeit one that you get to see for about 2 seconds. Kel recorded the drop with our little Flip Video Camera. Came out about as you'd expect.. lots of darkness punctuated by girly-screaming from the guy next to her.
I was determined, on this trip, to allow Kel all the time she wanted for shopping and sitting around. I tend to like to put off shopping until the lines at the rides are all long but this time I'd relent and let her shop whenever she wanted. If we missed some rides, oh well. Most we'd seen already. Anyway, what I'm trying to say is that after riding Tower Of Terror, we spent the rest of our Early Entry in the Hollywood Tower Hotel Shop and then down the street at Starring Rolls having coffee and a muffin.
Once the rest of the park opened at 9:00 we walked over to the Great Movie Ride. There was actually a line and we had to wait in it for 30 minutes. Once we got close to the boarding

area they called for a party of two and we got to skip ahead of a couple of families, who then had to wait for the next set of trams (about 10 mins). Hee. The ride has not changed at all since it opened 18 or so years ago, with the exception of throwing some newer movie clips into the montage at the end. Got some video of the Wicked Witch of the West. After that and a visit to the water ride, we got into line to check out the Narnia exhibit. I'd been led to believe this was cool but was misinformed. We waited in line for 20 minutes then were ushered into a room dressed like a movie set with fake snow and trees and a lamp post. It looked great. There was a movie screen at one end and we were instructed to watch it. It was a short making-of of the Lion, The Witch and The Wardrobe. Like you can see on the DVD. And then a trailer for Prince Caspian. Then an actress dressed up as the Witch came out and threatened us blah blah. Then we were shown to the other room with the 4 display cases holding some props and costumes. That's it. Sheesh, what a rip.
Made our way toward the Sci-Fi Dine-In Restaurant where we had 11:30 reservations. This park is really difficult to navigate if you are not that familiar with it. I had a map, have studied the place for months, and have been here numerous times since it opened in '89, but we still had a hard time finding our way around. The New York street area was especially confusing and was blocked off sorta with a Cars meet-n-greet. Finally found the Sci-Fi but were a little early so went into the adjacent shop. Bought a bunch of cool plates shaped like Mickey parts and they are plastic, so outdoor-able. Sent them back to our resort. The deal now (which actually began on the last day of our last trip in 2001) is that they will get your packages to either the front of the park within 3 hours, or your resort's gift shop by 1 or 2:00 the next day. Not too bad but nowhere near as nice as our honeymoon trip when we'd find our packages on our bed that night. The biggest pain was having to fill out the bloody form every time. They need to link that in with the magic Key To The Kingdom card somehow.
Checked in for lunch and had sat in the lobby for only 2 or 3 minutes before they called our name. We were led by a waiter on roller skates down a long hallway ending with a right turn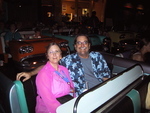 into an old drive-in theater. Got into the back-seat of our car and began watching old trailers for cheesy 50s sci-fi movies. The place is gorgeous and nowhere near as noisy as we were led to believe. Ordered a couple of drinks once we figured out how to hold the menus (in order to focus the scant light on them). I got the "Year Of A Million Dreams Inspired Glowtini" which was featured in just about every restaurant we visited. A bit sweet but it came with a blinking blue 'ice' cube. Kel's drink ,The Comet, had a red one. Together it made our car look like a cop car. For lunch I had the Smoked Turkey Sandwich (bland but edible) and Kel had the chili appetizer which she also thought was OK. A little pricey but the atmosphere and the service were great. Our waiter took our picture and I got a few good shots using my tripod. Skipped dessert. We were having an early dinner at Citricos so didn't really want to fill up too much.
After lunch we did a bit more shopping. Opted to head back to the hotel for a swim and a nap. We took a Friendship Boat this time. Takes about the same amount of time as walking but saves yer feet. It stops at the Dolphin/Swan first, then the Yacht/Beach Club's dock, then across the lake to the Boardwalk. It was about 2:00 when we got our swim suits on and headed down to what is THE premier resort pool, Stormalong Bay. Literature states that they are very strict about only letting in guests of the Yacht or Beach Club but nobody asked to see our key. It was pretty crowded too. The pools are sand bottomed and have jets that provide a fun current. There's a better-than-we-thought water slide too. We played in the pools for a bit then headed over to try the slide. I then made a really bad mistake. I didn't hold onto my glasses. The slide was rougher than it looked and they were pulled right off my face when I got to the bottom. Worse, the lifeguard wouldn't let me search for them because other people were coming down the slide right behind me. The sandy bottom and the constant outflow of water and sliders made seeing them damned near impossible. Lucky for me a woman with her 10 year old son came to the rescue. He had goggles. Kel and the mother ran interference with the lifeguard and the sliders while this kid swam into the forbidden zone. He found my main glasses! Not a scratch on them. Unfortunately didn't find my magnetic clip-on sunglasses. I didn't have the heart to ask him to keep trying. I was too happy just to have my real glasses back. I packed a spare so it would have just been an expensive replacement once I got home. As it is, these were my second pair of sunglasses at $70. I broke the last pair while in Cornwall last summer. I don't think I'll replace them this time. Anyway, that pretty much sapped our enthusiasm for anymore swimming that day.
Went back to the room and changed back into shorts. Walked over to the general store at the Boardwalk to pick up some half-and-half for Kel. While there we picked up some wine, an opener and a few other things. The water bottles were lonely in the fridge. Had a glass of wine on the veranda and watched the fish and the duck. Got dressed for dinner. Dressed up a little more nicely than tshirts for this place but not as nicely as if we were eating at Vic & Al's. I wore khaki shorts and a short-sleeved button down shirt with a collar. Kel a skort and nice top. At 4:30ish the bellman outside our hotel flagged us down a cab for the Grand Floridian. We *could* have taken a bus to the Magic Kingdom then the Monorail to the GF, or walked to the front of Epcot and caught a Monorail to the TTC and transferred to another for the GF but both of those would have taken an hour or so. Cab got us there in 20 minutes for about $15. We were early so we bopped around the lobby and reminisced about our honeymoon. The place looked great. We'd love to stay here again but it really is too far from our favorite park, Epcot. If we liked the Magic Kingdom more it would be ideal. Went up to the second floor entrance to Citricos, which is right next to Victoria & Alberts. That's where we had our honeymoon dinner in '89 when spending $200 for dinner was WAY out of our experience... We spent that twice on this trip.
We were seated right at 5:30 and our waiter, Nadim (from Orlando: all cast-members have their hometown on their name badge and it was fun seeing where they were all from. We think Nadim fudged his) was fantastic. He made excellent suggestions and was just SO HAPPY. He was a kick. We followed many of his suggestions and even paid for the special wine-pairing feature. This pairs up to 3 food items with a glass of wine. We went with appetizer, entree and

dessert. Started off with a cocktail. Kel had a Citropolitan but I can't remember which I had. For the appetizer, I had a delicious Arancini while Kel had the recommended Gateau of Crab. OMG that was good! (We split both between us). Kel had Crispy Baked Breast Of Chicken for her entree and I had the Citricos Filet Sicilian. Both were incredible and came close to ruining all our other meals on this trip. For dessert I had the Tropical Fruit Creme Brulee which used mango creme yum! Kel had Seasonal Berry Gratin. We were stuffed by the end. The restaurant overlooks the grounds of the Grand Floridian and from there we watched as the rain began, drenching all the folks outside. At one point a group all wearing the same style shirt trooped by. Might have been a family reunion. Service was fantastic, food was incredible, bill came to $157 + tip. While enjoying our meal we decided that going over to the Magic Kingdom afterwards for the Extra Magic Hours (open to resort guests until 2:00am) was not really something we felt like doing after all. We were a bit tired, full and not really in the mood for crowds and kids. Instead we'd take the Monorail to Epcot and walk through it to our hotel and hit the hay early.
Moseyed over to the Monorail station and caught a train for the TTC. There, we waited for almost a half an hour for a train to Epcot. These would be our only Monorail rides this trip. Waltzed in to Epcot at about 7:30 and immediately got out picture taken in front of Spaceship Earth. Ooo no line. So we rode Spaceship Earth. It was scheduled for a major rehab the next month when they'll be making a lot of changes to it. Updating some technology and some of the end content to better reflect the Century Of The Fruit-Bat, rather than 1995. It was nice to see it one last time, but yes it needs some TLC. The exit area has already been updated and we played with

a driving game in there for a bit. Headed out and continued on toward our hotel, but a bright shiny sign told us that there was only a 10 minute wait for Mission: Space. Hmmmm tempting. Rumor and other reports stated that there was a chance for motion sickness on it so riding it last thing before heading back to the hotel, rather than in the morning where it could screw up your whole day, seemed like a good idea. Plus we'd had cocktails, wine etc so were feeling no pain.. Let's do it!
We charged over to that end of the park and jumped right into the "spinning" line or 'Orange Team' line if you prefer. Kel thought he said 'spitting'. They have a pussy.. er.. 'Green Team' line that lets you ride without the spinning high-G effect. Like sitting in a roller coaster train in the station for 2 minutes and not going anywhere. We have NO idea how lame the Green Team version is as we only rode the Orange Team side (4 times this trip, but I get ahead of myself). Walked right through the queue area which has lots of astronaut stuff. No time to look at it though as we were hustled right into the briefing room. There we saw some space suits below some video screens. Gary Sinise greeted us and explained our mission.. We were being trained for a Mission to Mars! Each training capsule had 4 stations, Navigator, Pilot, Commander and Engineer. Each of these had a task to complete during the mission; basically press the blinking buttons at the right time. Then they warned us about motion sickness and to NOT close our eyes or look left or right. Watch the screen directly in front of you and you'll be fine. We were a bit nervous on this first flight.
There were only 3 of us in our team.. no Navigator. I was Engineer, and had to put everyone into 'Hyper-Sleep' and then extend the wings for landing. Kel was Commander and had to do stuff too but I forget what (forgot when *I* was Commander next time too..). Stranger was our Pilot. So from the briefing room we all moved into the hallway surrounding the main centrifuge room and stand on our team numbers. Gary's back to explain what each of us has to do, then the doors open and in we go!. There's a large container for your bags that closes securely. Then you pull down roller-coaster type over-the-shoulder restraints. Once settled they close the door and the control panel comes down in front of you. Good thing too cuz otherwise you can't reach your buttons! This ride is still pretty new so all the buttons still work. You can flip toggles, press buttons that light up or beep and stuff. A couple are labeled rather punnily. There's a hole or jack marked 'Hole' and then 'Fire' next to it. And you have a control joystick "in case something goes wrong and you need to steer". What are the odds? 100% my friend. Anyhoo Gary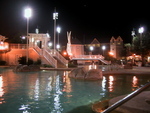 wishes us well and then we tilt back onto our backs and see the gantry (with birds and clouds going by) above us through our view port. The count-down goes and the whole thing shakes as smoke billows out around us (through the window not in the capsule.. this ain't Apollo 1). Then we felt it. We began pulling G's and you could tell it was achieved by spinning us in a centrifuge. Stare straight ahead and go with it and your fine. Better than fine. It's KICK ASS. You are blasting off! And that is the trick. Do not think about HOW it's done, just go with the flow. If you dwell on spinning then you may get disoriented.
After a brief bit of almost Zero-G you swing by a space station then hit your jets and slingshot around the moon. As engineer I then put everyone into hyper-sleep. All the lights go out and your window freezes over. Gary wakes you up with an alarm when you reach Mars and of course there's a problem. Meteors! They get you through that and then you charge down to the surface under rocket power. I extended the wings but then we lost autopilot! We had to steer ourselves over to the landing runway. My co-pilots were lame and we overshot the runway a bit but whew we made it down OK!
Mission: Space is an incredible ride and it's too bad some folks get sick, but I don't, so I hope they don't change it a bit. It was the only ride Kel and I did more than

once on this trip. We did it 4 times. By the time we finished it on this night the park was pretty much closed. Illuminations was finishing up in World Showcase. It was about 9:15 as we made our way over there and to the back-door of Epcot. Had to wade through the teeming masses all heading for the main entrance after the fireworks. Got to the International Gateway and exited the park. Walked by the Beach Club and then popped into the closed Stormalong Bay. We hoped to see if now we could see my sun glasses in the pool. The water was pretty clear and YES! I see them! I ran interference as Kel jumped in fully clothed, to snag them. T'was not to be though. They were some other idiot's glasses, and jumping in had stirred up the water too much to see any others. People were beginning to stare too so she got out and dried off as best she could. Luckily it was still like 86 degrees out. Walked back to our room (leaving a trail of water) and crashed for the night at about 10:00.