Day 9 Sun. Nov. 1
50 F, some sun, some clouds
(Len)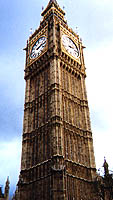 Woke up, got out of bed, dragged a comb across my head. Saw blue skies and cheered! Had a full breakfast in the hotel. "Served" (and we use that term loosely) by the French... make your own conclusions. Food was ok though. We wanted to get some laundry done so we popped over to the "Washerteria" for a couple of hours.

We then went out to our first walking tour. (London Walks was great!) It was with Tom, who is a barrister when he's not playing tour guide. He showed us around Westminster including: Not Big Ben, but St Stephen's Clock Tower in which Big Ben resides. Big Ben is the large bell.

Other trivia:
The Great Westminster Clock was operational by 1859
The clock tower is 315ft (96 metres) tall and there are 334 steps to the top
The clock weighs about five tonnes
Each clock face is 23ft (seven metres) in diameter
Each hour hand is 8ft (2.7 metres) long, weighs 300kg
Each numeral is 2ft (60cm) long
Each minute hand is 14 feet long and weighs just under 224 lbs
Edward Dent was paid £1,800 to build the clock in 1853, but died the same year - his son finished the job a year later
Big Ben is 8ft (2.7 metres) wide, 7ft (2.2 metres) high and weighs 13.5 tonnes
The bell was named after the first commissioner of works, Sir Benjamin Hall.
A 148ft (45m) replica of Big Ben stands in Buenos Aires
We also saw the Houses of Parliment,Scotland Yard, Westminster Bridge and Abbey, etc. etc.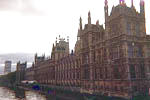 You even know when parliament is in session, because a light shines above the clock face of Big Ben.

Heard some very funny gory stories about Henry VIII. (Yes Anne Boelyn did have 6 fingers, and they think 3 tits) Tour ended at the War Cabinet Room. The bunker Churchill used during WWII. Very Cool.

It was incredibly cold so we went out to dinner at The Globe pub across from the Baker St. tube station. (I had chicken and mushroom pie, kel had fish n chips), then back to the hotel. Got to bed about 11pm.


Lens London index has more pics and info.


Day 8
Day 10