Day 10 Mon. Nov. 2
55 F,overcast but dry in the morning, Pouring all afternoon.
(Kel)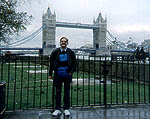 Woke up this morning and popped down for breakfast. Got our toast and coffee in under 20 mins. this time! Today was Tower and Museum day. Took the tube to Tower Hill (God! I *LOVE* the tube!!) and got to the Tower shortly after opening. There are 20 ( or 24, depending on who is counting) towers in all, the moat is 120 feet wide and it took 5 chops to cut off the head of James Scott (Duke of Monmouth), and everything our guide told us "was absolutely true". After the tour we went thru the Crown Jewel exhibit and saw the Ravens and chopping block, and the Armoury in the White Tower. We've finally seen Traitors gate now. Wanted to do the Wall walk, but ran out of time. Got a shot of the Tower MacDonalds, and back on the tube to Holburn Sta. to catch the British Museum walking tour.

Our guide, Richard Tames, took us thru the Sutton Hoo, Lindow Man, Mummy and Egypt exhibits. We got a look at the Portland Vase and the story of the breaking and several repairs. It's so pretty Wedgewood borrowed it to make copies. Then along while with the Elgin marbles from the Parthenon (and some snide comments as to who they belong to). The Frieze was enormous! The tour finished with the Rosetta Stone, which is so close you can touch it.

It was pouring like mad when we left the museum (We emerged in London Rain) and made the mad dash back to Holburn Sta. This time we avoided the flower seller who was raised in Chaplin territory and wanted to start his own tour. He was a real character. All the while he was asking us questions about how these tour things work in a low aside sort of voice, he was wearing a big sign on his chest that said "Stone Deaf". Seemed to have no trouble hearing any murmured answers..;) Very much the "nudge nudge, wink wink" type.

Back to Baker street in the deluge to drop our loot and figure out a place to eat. We made the big mistake of "just sitting down to rest the feet for a few seconds" and started to doze off. So we figure if we didn't hop up now we'd be going hungry. Hit a place close by and had a ham & cheese omelet (kel) and some sort of pesto pizza (len). Did a few turns around the block, hit the market for sodas, munchies, and some Cadburys cocoa mix for Nichole. Wandered the back streets to our hotel and caught a program "Holidays from Hell" on TV, of which one segment was about a Cruise Ship that caught fire..;) Went to sleep hoping we'd have enough time to hit Harrods and the Internet Cafe in the morning before leaving for Southampton.

Sidenote: The Brits have a lot more food for veggies, but they can't do a green salad to save a life. If you're a vegetarian that wont eat green salad, you'd likely be quite happy.


Day 9
Day 11