Day 8 Sat. Oct. 31
50 F, Cold! Raining! Nonstop.
(Len)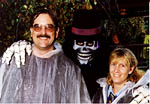 Got up early again, but not as early. About 7:30. We packed everything up last night and took pix of the room. Popped over to the "free" continental breakfast in the hotel. Pretty standard. Then went over to Disney Village for stamps but the post office wasn't open yet. So we went to the park. Got in about 9am and got coffee.

Then a second trip on Phantom Mansion. Walked over to Space Mountain but the line was horrendous. Went to the Auberge du Cendrillion and made reservations for lunch. Retried Space Mountain and it was better this time. Noticed it only had one corkscrew, as it felt like 2 yesterday. Before lunch we also trekked around Adventure Isle (like Tom Sawyer without the rafts) and Storybookland which had no guides on the boats and loaded faster (it loads from a central spinning turntable). Also had some different stories, like Peter and The Wolf and Chernabog.

Then hit the Mark Twain. It goes counterclockwise in DP. Had an ok lunch at 2:30, I had steak, Kel had a country salad (oh, for a real salad! With dressing! The smoked goose and quail eggs were good but the rest....) Then back to the post office and sent off all the remaining postcards we could with our few remaining francs. Checked out where to pickup our luggage at Eurostar then decided it was too cold to hang out at the station.

Walked back to the park and got a bench in one of the malls(arcades). Relaxed and people watched until; about 6:15 then trudged back to the depot in the pouring rain. Got our luggage, checked in and got on our train (where I'm writing this now).

-Stuff we forgot yesterday: It is Hella dark at night in DP. Saving energy or something on lighting I guess. A lawsuit just waiting to happen. Same thing in the caves on Adv. Isle (even in the day).

All the rides moves faster, except the Mark Twain. The arcades had real gas lighting and the lamp in the bazaar was really cool with blue and red hanging glass cups and beaten tin hanging from chains. (Kel)

Got into London Waterloo on time (21:39) and cleared immigration no prob. We now have 2 UK entry stamps, but no exits..;) At the exit to Waterloo Station we found the TIC open and booked a room at the Hotel La Place (just off Baker Street) for 3 nights. (at a whopping £95/night). A 4 star hotel. Got our underground travel vouchers validated and directions to the locals taxi stand (so we wouldn't get stuck with tourist prices).

While we were there we grabbed the train schedule for Southampton. A 15 min ride and £8 later we arrived at our hotel. Check in was a breeze. The guy said it was the last double he had, but could give us a bigger room the next night. Room is a bit cozy, but fine, so we'll keep it. Coffee service, hair dryer, trouser press, the usual.. ;) Watched the Fugitive, had tea and then off to bed.


Day 7
Day 9