Up at 7am and time to start seriously thinking about going home. We rolled up the futons to clear some space and emptied everything out of the bags so we could repack for the plane trip.

After several false starts we eventually got it all into the 2 small bags and the two carry on. Our airport bus was schedule for 1pm at the Crown Metro Hotel. We'd hoped to find lockers at Ikebukuro big enough for the Healys bags, as we had at Tokyo Stn. but no luck. They only had the smaller ones.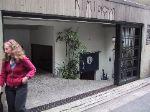 We checked out of Kimi about 10:30 and of course it started raining again as we schlepped our stuff in the general direction of the pickup point. We figured the best thing to do would be to find a dry spot where we could perch one person to bag-sit and then rotate that job. Pat took the first shift, Melissa went to go check out Tobu and we hit the AM-PM market to pick up munchies for on the plane. United was much stingier on munchies and flight goodies than Virgin and British Air.
On the way back to the perch spot we popped into Cafe Du Monde for capuccinos and an order of beignet to share. The coffee was brought to our table first, and then the beignets, and WOW! were they hot and nummy. Feeling better now that we had coffee, we we headed over to the spot and took the next shift to let Pat go check out Tobu. Melissa came back shortly and was telling us about the sake, wine and beer selections on the ground floor at Tobu. So she took over and we went to go have a quick peek. On our way in we met Pat on his way out. He'd even found a can of Guinness Bitters, which we'd only seen one place in Ipswich.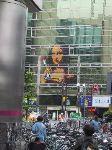 We oohed and ahhhed at all the goodies and the enormous selection which nearly out did Harrods food court. It may well have done had we had time to explore more than one corner. Bought 2 bottles of sake, which pretty well maxed out all free space in my duffle and had to call quits to further shopping.
Wandered back out to the plaza where we'd been perched and decided it was about time to start working our way towards the Crown Metro to meet the bus. I turned the last of the postcards over to the Bell Captain to be sent off, and it was time to go board the bus.
I was able to catch about an hours nap on the drive to Narita as we were the only ones on the bus. Hence didn't see much scenery, but I did see a Costco that must have the worlds largest parking lot..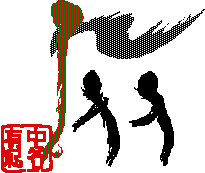 Narita doesn't mess around with security. They checked our passports and searched the bus, inside and out before they even let us enter the outer parking lot. We unloaded the bags at the curb, and after a last check to be sure we all had everything we headed on in to the ticket counters. The checked bags are all x-rayed before you go to the counter, and a sticker is put across all the zippers and openings to seal it. The carry ons get the usual treatment as you go thru immigration. Poor Melissa got pulled for a random hand search. She figures it was all those cookie tins, I think it was because she was the most respectable looking of the four of us, and my dirty laundry was probably obvious without even opening the bag. My cookie tins were let thru, and good thing as my socks would have killed anyone opening the bag.
We got checked in just fine, and the guy at the ticket counter saw our destination and mentioned we had a long 8 hours ahead of us. My thought was 'No, we have a long 9.5 hours ahead of us', but it turned out he was closer. They also had moved our departure up 20 mins. With the big luggage all safely out of our hands the 4 of us went off to kill some time before getting stuck at the gate. Pat and Melissa had lunch at a noodle place and Len and I hit a few stores for some last minute things. We cruised the toy shop and found several must-have Totoro things. We browsed a bit more while trying to cram items into overfull carry ons before it was time to board. Our gate was about 30 miles away, and by the time we got there the plane still hadn't arrived from Beijing. Once it did arrive loading was really quick and we were able to take off at the time our ticket had said. Several of the flight attendants were wearing face masks, some were wearing two, and none of them were the kind that do any good. Several passengers were wearing them, but one or two actually had the N95 type. Our special low sodium and kosher meals arrived pretty early, and in most cases were quite good. The second meal on the way home was pretty inedible though, so it was a good thing I'd brought snacks. While the flight was quite bumpy a good way we did make great time.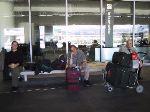 I'd charged up the iPod before leaving Disney, but forgot to set the HOLD button, and it had turned on in my pack, killing the battery. So much for good tunes all the way home. So I just spent my time watching a movie, reading or "sleeping". A few people in the center section had it made, they had a whole 5 seat row to themselves and could stretch out. At least on this plane we didn't have a 3rd seatmate to worry about jostling. Clouds parted just as we reached California, and we had a wonderful view of the coast and the Golden Gate. We actually landed 30 mins early AND they had a gate available for us. CDC was handing out info flyers on SARS to everyone getting off the plane. Cleared customs and immigration with no problems and ran outside to see sunshine at last!. And have a smoke at last. Pat and Melissa had one bag that got delayed coming off the carousel so they were a few minutes behind us. We exchanged the last of the Yen back to dollars and called the limo. He was there in 5 mins and we had a pleasant if sleepy ride home. Home is where the cats are, and they were a little peeved at our having been gone so long but eventually gave in.
We did have a tad bit of trouble getting in the house, as I'd forgotten to leave instructions on what gets locked when. With a bit of work I was able to break in and get the alarm off before the cops showed up, so no harm done.