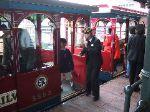 We awoke to more rain on this morning. All the rushing around was catching up on us and we were still tired. Getting old sucks. As there was nothing really to run for at opening, we opted instead to avoid the early morning entrance line at DisneySea and show up at 9:30. Worked great. We walked right into the park. We headed to the left this time, toward the American Waterfront. Our plan for the day was to go there and catch the Electric Trolly to Port Discovery in order to hit the only E-ticket we'd missed the day before, Stormrider. We paused in the American Waterfront just long enough to snap some pics, including some of an area of construction within the land. Not much to see yet unfortunately, just an empty walled off area they are grading, but I bet it is a much needed E-Ticket. The land itself is gorgeous and reminds me of the New York Backlot at Disney/MGM, but expanded. We climbed the steps up to the Trolly station and as there was no line, only had to wait a few short minutes, for the next trolly to arrive, beofre boarding. These are really neat little trains that work well, theme-wise, in both the American Waterfront and Port Discovery. They also were a damned convenient way to get off our feet for 10 minutes. As they are elevated, you get some really nice views of the park. We pulled into the Port Discovery station at about 10:00.

The theming in Port Discovery is a lot like Mysterious Island's. A 19th century view of the future with lots of brass and copper. It's gorgeous. As you leave the Electric Trolly station you are facing Mt. Prometheus, which from this angle is more green and friendly than on other sides. You can either go left down a meandering path into Port Discovery, or right, down a set of steps into the heart of the land. We went the slow way first. Go this way if you are heading to the Lost River Delta but hang a sharp left to get to Port Discovery proper. There is one big structure in this land, the Stormrider hangar/lab. Beyond that is the waterway and a big seawall with a disturbing leak in it. Beyond that is Tokyo Bay which, from most views looks to be just on the other side of the wall. If you ride the Monorail to the park however, you know that there are 2 roads, a Monorail track and a pier beyond the park before you actually hit the ocean. From inside the illusion is perfect. You never see a Monorail. We walked over to the FastPass distribution area but the CMs there waved us away. The standby line was at 5 minutes so they didn't want us snagging FastPasses. Side note: the FastPasses at both parks are really pretty and we ended up grabbing a bunch just for souvenirs. We rarely ever needed them. We got in line for Stormrider and walked right into the building. I'll just say that this is another "don't miss" e-ticket. It's Star Tours but plussed up quite a bit.

We left the Stormrider building on an adrenaline high (sorry not as high as leaving the Tower of Terror, but close). The other attraction in Port Discovery in Aquatopia, which as its name suggests, is related to the Autopia but in water. As we approached it to get in line, it went into an e-stop. There was some sort of mechanical problem and it was closed to new riders. We watch as the lagoon was quickly drained (its only about 5 inches deep) and the current riders were given galoshes and escorted off the little boats. That was pretty trippy. So we just wandered around taking pictures, hoping they'd re-open soon. After watching for a few minutes it looked like it could be a long wait, so instead we made our way out of Port Discovery. The path out near Aquatopia forks right, onto a path into the Cape Cod area of the American Waterfront or left, up the hill, to the Fortress Explorations area of the Mediterranean Harbor. As always, we took the high road (HAH).

Fortress Explorations is a citadel allegedly established by S.E.A. or the Society of Explorers and Adventurers. It sits on a slope where Mt. Prometheus meets the Mediterranean Harbor. It is the big structure with the golden domes that you see at the base of the volcano directly in front of you as you enter the park. It's basically a big playground, like WDW is an amusement park.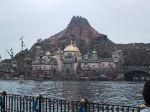 If you are a kid, it's a fantastic area to run around, shooting off cannons, playing in dancing waters and getting lost. As an adult, it's a really cool place to explore and yes, play with stuff. There is a big wooden ship moored at the dock, with cannons pointed out into the lagoon that really fire... if your definition of fire is a lot of smoke and sound effects. On 4 attempts I was unable to sink any of the passing Steamer boats. There are several rooms to explore with various renaissance era science exhibits. All of these are set up beautifully and with great attention to detail. Most are pretty fun as well. In the Chamber of Planets there is a very large model of the solar system with individual cranks for each planet. Turn the crank and your planet moves along it's orbit. In another room, the Navigation Centre, for 100 yen you can play with RC sailing ships, moving them around a cool island filled ocean. Watch out for the whirlpools! There is a fantastic Pendulum, a Camera Obscura beaming images of the Harbor into it's tower, and other neat exhibits. The Sundial Tower was broken though, we couldn't tell the time from it and got soaked walking up there in the rain :-). They passed out maps of the place (bilingual yay), and looking back at it now, it appears we missed some stuff. Even though the place was fairly deserted, we spent about an hour and a half playing around here. It would have been a drag if it had been crowded.

There is a pretty nice restaurant within the Fortress called Magellen's. We made priority seating arrangements for 2:00 even though we were fairly certain we wouldn't need them. It was now about noon. After a quick little snack we made our way down towards the American Waterfront for a ride around the park on a Steamer Boat. It was unfortunately closed while the noon lagoon show was going on so we continued on to the Cape Cod area of the American Waterfront. Yet another very picturesque place in the park. Lot's of little New Englandy buildings, with a lighthouse and everything. No attractions other than the architecture. We popped into a couple shops and got some souvenir shopping done for the folks back home. Still no shot glasses or clothing. Tons of candy and cookie tins. We took some neat pictures including one of a building with the sign "D.B. Cooperage", and one of the old-fashioned church steeple... with a bloody huge volcano behind it. We walked along the shore towards the New York section, pausing to take more pics of things like the big ocean liner Columbia, and of a few of the "Big City Vehicles". The Columbia is a restaurant and bar, and while it's a big hot dog in this land, there's really not much you can explore on it unless you plan to eat. The Big City Vehicles are a collection of period cars and trucks that give one-way and round trip rides from Cape Cod and back to New York. They are all open-top and due to the rain, we opted to skip them. Think of the fire engine and horseless carriages on Main Street and you get the idea. Plus they move really slow... like slower than we were walking, so don't use them for actual transport :-) Fun to take pictures of though! While hanging around the dock near the Columbia we spied the first Americans we'd seen since arriving in Tokyo. We knew they were Americans because they'd been on our flight out of SFO! I wonder if there's a business opportunity here... ya know, grab a flag on a stick and lead packs of Americans on guided tours of the Tokyo Disney Parks....hmmmmmm.

We spent more time in some well-themed, uncrowded and best of all, dry shops. Mostly gawking at some of the weird stuff they sell, but also at the very cool decor they've set up. We took another ride on the Electric Trolley in order to get back over to Port Discovery.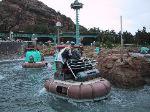 Aquatopia was back online so we jumped into the 1 minute line. This is a very interesting ride and much more fun than it looks on paper. On the surface it will remind you a little of the old Motorboat Cruise at Disneyland. Little boats, that actually look like bumpercars, moving about in a lagoon filled with big rocks and waterfalls and other obstacles. Despite the bumpercar resemblance, you really have no control over the boat and don't crash into other boats. However it's not on a visible track. The boats are really little cars that roll around along the bottom of the 6 inch deep water, probably guided in much the same way as the Pooh vehicles in Tokyo Disneyland. Each vehicle follows it's own rather eccentric path, back and forth, spinning around, coming to a halt right before a "water feature" then seemingly backing up to almost crash into another boat. It has a random feel to it but repeat rides reveal some patterns. Yes we rode it twice :-) There are 2 sides, the Mt. Prometheus side and the Seawall side. The ride is the same but the view is different, not that you notice much during the ride itself. It moves faster than it looks. Very fun.

We still had some time before our lunch appointment so we wandered over to the Lost River Delta and hopped onto Indy again.. sheesh we had to wait 10 minutes this time. :-) Afterwards we did more shopping and picture taking, then went down to the Steamer landing. They were running again and we still had yet to ride one through Mysterious Island. As I mentioned before, the Steamers boarded in the Mediterranean Harbor and the Lost River Delta are one way transport between the two areas. The ones you board in the American Waterfront are round trip excursions. They both follow the same basic route around the park. We waited in line long enough for the next boat to pull up to the dock and got right on. We sailed past the Arabian Coast and the several small rides on the outside of the Mermaid Lagoon, then through a tunnel into the Mysterious Island. This provides a really impressive water-level view of this very picturesque land. We pop out the other tunnel into the hustle and bustle of the Mediterranean Harbor at the base of the hill with all the grape vines. Still had about 20 minutes until lunch so we took our time walking up the hill towards the Fortress and Magellen's. I let the other three go along to the restaurant and I made a side trip into Mysterious Island for 20,000 Leagues FastPasses for after lunch. Perfect time too, they were currently set for 2:30 - 3:30.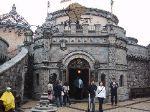 10 minutes before our Priority Seating time, we entered Magellen's and we were promptly led to a table downstairs in the main dining room. The room is round, with a balcony all the way around the upper floor which is where the lounge is. In the middle of the room is a huge pedestal with an enormous renaissance-style globe. Tables surround it. From our table we could see a private dining room where a birthday party was going on... when the "door" was open. It was usually closed and looked like a bookcase! The doors were otherwise fairly Star Trek, opening for the server staff as needed. Very cool. They had a respectable, if a bit pricey, wine list, no surprise there, but also an excellent beer selection. First Guinness of the trip! The service was quick and courteous. The lunch menu consisted of 4 or 5 "sets". The one Pat and I chose had lobster ravioli in consume and beef filet with mushrooms. A small dinner salad came with the meal. Kel had lamb. The food was delicious and the meal really didn't break the bank too much. Excellent atmosphere (very Adventurer's Club without the annoying show).

After lunch we went up to Mysterious Island to use our 20,000 Leagues FastPasses. This time I got to sit up front and we had a sub to ourselves. We snagged more FastPasses on our way out, just for souvenirs, they're very pretty :-). It was now 3:00 and time for us to head out of DisneySea for the last time. Pat and Melissa wanted to shop a bit longer but Kel and I were too bushed so we left them at it and just the two of us went back to the hotel. We planned to meet up at the Hilton around 6:00. Once 6:00 rolled around we were still pretty bone-tired. We almost blew it of, but it was our last night at the Disney Resort so we HAD to go back to a park. We went to Tokyo Disneyland in order to catch the couple of things we'd missed and to hopefully see the fireworks.

This evening was the most crowded we'd seen the parks all 3 days. It being a Friday night we assume it must have been 'date-night'. The parks have an after-6:00 passport sold at a discount and I bet many of them were sold this night. One of the missed attractions we wanted to hit was the Rocket Jets. We really miss the ones at Disneyland that were 2 stories up in the air. The current ride in Anaheim is pretty but not really all that special anymore... no view! Well we made our way over to Tomorrowland and saw the very first line that we felt was too long to get into. A notorious slow loader, the line stretched out about a hundred people long and getting longer. We watched the Jets for a bit and saw they were giving 90 second rides and decided to skip them after all. Oh well, next time. We opted instead to walk over and get into the 20 minute Pooh line. We lucked out and got the 3rd Hunny Pot so we'd seen all 3 permutations of the ride now. I'm sure we haven't really seen all there is to see on it! Another missed attraction was the Country Bear Jamboree. It's never been one of my favorites, except for the Christmas version, but we just HAD to see it in Japanese for the kitsch value. Our timing stunk. As we made our way across the park the Electrical Parade began. Because of where we were and where we wanted to be, we actually had to cross the parade route twice! We made it across the first point with little trouble but once we got to Westernland the parade was in full swing with no gaps for about 6 floats. Very heavy crowds, most of which had been saving places along the curbs for hours. We hung around waiting for a gap and watched. They have a bunch of newer floats than the Anaheim version. They have a Buzz Lightyear float, a Bug's Life float, etc. It all looked great and it's too bad we skipped it two nights before. We were too bushed to stand around that long on this night. We got our chance to cross about 15 minutes later and followed the surge of like minded crossers to Westernland proper.

At this point something happened that has NEVER happened to me at a Disney Park.... we got lost. It was dark and we were tired, and things are a bit differently laid out here, but really that's just no excuse. After wandering around looking for landmarks and trying to read the guide map in the dark we finally found the Country Bear Playhouse. We went in and were the only people in the lobby for quite awhile. A show must have just begun and only one theater in use because we waited for about 15 minutes before a CM came out to give the pre-show spiel.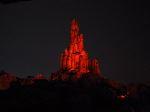 Once the doors opened there were about 20 of us in the lobby. Once the doors closed another 10 had entered the theater. The show was fine. It wasn't as funny as I thought it would be in Japanese, but it was kinda neat seeing the old original show after so long. I was amazed at how much I actually remembered. Unfortunately, the combination of lack of sleep, and not being able to understand the dialog began to make me drowsy. Many of the songs were in English, but not all. We staggered out and popped over to Pecos Bills Cafe for a light dinner of wrap sandwiches. It was very cold out and they were out of hot chocolate which was a bummer. We sat at an outdoor table, and ate. Our view was of Big Thunder Mountain and the rest of Westernland, with the Castle behind us and hidden by big umbrellas. We knew the fireworks would be starting soon but none of us really had the energy to move to a better vantage point of the castle. As we finished eating the announcement was made to look up in the sky for Fantasy In The Sky. Then just above Big Thunder a shell exploded in fiery magnificence. Whoa, we had PERFECT seats. We had a completely unobstructed view and we could sit in for-real chairs. Dang can you believe the luck! Well it was a pretty good show when compared to Disneyland's old pre-Believe Fantasy in the Sky, but nowhere near as good as what we're used to in Anaheim now. The show was all of 5 minutes long and the finale was sort of weak. It was a nice flashback to my teen Disneyland experiences though.

After the show we slowly made our way out to the Hub and took some night shots of the castle. We decided to call it a night at about 9:00 so headed down World Bazaar one last time. Pat and Melissa did some last minute shopping but Kel and I were pretty much done so we left them there and went back to the hotel. There were lots of people outside the park but very few on the Monorail. Got back to our room and pealed off our shoes and socks. We were all done at the Disney Resort. Now had to pack up our stuff for the trip the next morning into downtown Tokyo where we would be spending the remainder of our trip.