Due to time-shift and lag, we all woke up around 3:00am. We puttered about the hotel room writing postcards and stuff until meeting up with Pat and Melissa at 7:00. Following the advice of another trip report we went down to the very excellent bakery at the Hilton and bought some sweet rolls, a couple sausage rolls and coffee. The rooms have tea machines with green tea, but no coffee. Here's a tip for javaholics: at the supermarket you can buy single serving coffee bags, just like tea bags. It's not instant, you let them steep. Melissa bought a box and they worked great. Not too hard to find at home either so bring some along. Japanese coffee is great, especially compared to the Nescafe you get in England or Ireland typically, but they serve it in small cups, like the Italians. Yes there are Starbucks everywhere and they are standard the world over. We'd been warned that the Hilton breakfast buffet was pricey and not a great value so we skipped it until our last day. The advice was correct.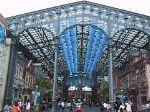 Now on to the Park! There is a counter in the Hilton lobby where you can purchase park tickets. Except when needed, it's left unmanned. It is directly to the left of the Bell Service counter. Ask a bellhop and they'll rush over to the counter for you. We bought 3-Day Magic Passports for Y13,700 each ($120.00). It's not a true park-hopper pass. You pick a park for day 1 and day 2, then day 3 is a park-hopper. This would suck at WDW and Anaheim but here it worked out just fine. We picked Tokyo Disneyland (TDL) for day 1, Tokyo DisneySea (TDS) for day 2. Our reasoning was that TDS would likely make TDL look shabby. Plus we were still a little laggy. We figured TDL would be a lot like Magic Kingdoms the world over so we should visit that on the day we were not at our best. Worked out great. The Parks were open 9am - 10pm during our stay, with no soft-openings/rope-drops. We'd already been warned of this. We took the Cruiser and Monorail over to TDL, arriving about 8:55. The lines to get in were pretty long, and a little pushy, surprisingly. Once the gates opened we sped right through them. We saw lots of people running to Pooh's Hunny Hunt, currently THE ride at TDL. We are much to old and dignified [har har] to run however so we strolled with determination in that direction. It was difficult not to stop and gawk at their Main Street, called World Bazaar. It is covered with a very Victorian-styled canopy. Lots of wrought ironwork and glass. It was TDLs 20th Anniversary so the place was festooned with banners and decor celebrating the milestone. We were also fighting the urge to go into "commando-mode"... at least Pat and I. Kelleye and Melissa have been trying to break us of that habit for years, and only lately have they been successful.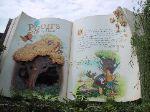 We made it to Fantasyland and got right in line for a FastPass for Pooh. It was at this point that we began to see evidence that we had picked a great time of year to come. All the reports we've read said that Pooh Fast Passes run out before noon, and that the standby line would be in the hour+ wait-time all day. It took about 10 minutes to get FastPasses with a return time of 10:50. The standby line was posted at 45 minutes. We jumped in. 20 minutes later we were on the ride! A LOT has been posted about TDL's Pooh's Hunny Hunt attraction elsewhere so I'll not go into too many details. Let's just say I agree with all the positive reviews and add that it's the best new ride since Indy as far as I'm concerned. One really neat thing is that your vehicle is not on a track, and it is dispatched into the ride along with two other Hunny Pots, which all take slightly different routes. You get a different ride experience depending on which Pot you ride in. It gave us the same open-jaw effect that Star Tours did back in '87, the TZ:Tower of Terror did in '96 and Indy did in '95. It is a true E-ticket, while WDW's is a kiddie ride in comparison. Not for the first time, there was much cursing at Eisner and Pressler for their penny-pinching ways.
We had an hour until our FastPass return time so we headed into nearby ToonTown. We'd noticed that almost everyone was wearing a lanyard with a pocket for their TDS passport in it. It gave you a convenient place to keep FastPasses etc. We each bought one at a cart and they worked out great. I opted for the slightly fancier one that, once I remove the cord, can become my wallet. It has a zippered change pocket and bill area. Very nice, and it says Tokyo Disneyland 20th Anniversary all over it. Only a few short comments about ToonTown. It's a mirror-image of Anaheim's. Roger Rabbit's Cartoon Spin was down for rehab. The place looks brand new, paint and effects-wise. Otherwise it's a direct clone. We caught a ride on Gadget's Go-Coaster (no wait) which was fun and spent some time taking pictures. At 11:00 we headed back to Pooh for our FastPass appointment and walked right on. We got a different ride this time and saw all sorts of new things.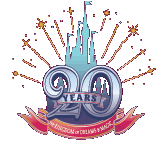 Tomorrowland was our next destination. It's a Tomorrowland very much like Disneyland's circa 1988, though not quite as picturesque. I had a hard time finding a spot to take an overview photo of the entire land. With the exception of the Star Tours building, it has the clean white antiseptic look of 1967's New Tomorrowland. No PeopleMover or Carousel Theater, but the Rocket Jets are where they should be, a hundred feet above the ground. The line for Space Mountain was a little long as far as we could tell. It had a posted 45 minute standby line, but Fast Passes were going for 11:45, so we picked up 4 of those. We continued on over to Star Tours, walking by some construction walls. They are ripping out their CircleVision Theater in order to build the new Buzz Lightyear ride. Star Tours was weird. The queue area started out much differently than Anaheim's and Florida's. Bigger and with much more to look at. Then you turn a corner and it's like stepping into Anaheim's, except C3P0 is speaking in Japanese. Turn another corner and it's completely different again. One big noticeable difference (besides the size) is how dark the line area is. Dangerously dark. This was so at many of the indoor queue areas. At certain points we had to carefully follow handrails to keep from tripping. We're pretty sure the stateside Disney lawyers would never allow that in the US parks. Kel and I noticed this in Disneyland Paris as well. The line went very quickly. Despite the light attendance due to rain etc, they had all 6 of their Star Speeders running. The ride itself is identical to Star Tour the world over except for the Japanese dialog. I translated it in my head from memory :-) The prints were remarkably clean. Without asking we got the cherry back seats!.
To kill 20 minutes we did some shopping before making our way back to Space Mountain for our 11:45 FastPass. Walked right in to the Twilight Zone. This was the all-time weirdest experience I had on the entire trip. To walk through the queue area and ride Space Mountain in Tokyo was like stepping back in time to 1979 when I first rode Anaheim's. It looks brand new, and doesn't have any of the Disneyland's later additions, like the FedEx robot or the higher-backed seating and music. All of the blinky lights worked. The railings were spotless and freshly painted and the stainless steel doorways had no scratches. The reflective globes above the loading area were still mirror clear and not all fogged up and faded like in Anaheim. They have the same track layout, but the projections on the ceiling were a bit nicer. The lack of music was a slight bummer, but then again the music was fragged the last 2 times we rode at Disneyland so no real diff. It was overall a great blast from the past for me.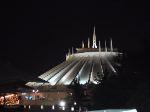 We went from Space Mountain back over to World Bazaar through the Hub. There was a line to take a picture of the Partners Statue! Only in Japan. We did some shopping, walking all the way down one side of the street. We were not very impressed with the merchandise selection. Virtually no t-shirts and only fairly generic plush. What was in abundance were tins of cookies, candy and crackers. We had read that this was the most popular item for the Japanese to bring back for their friends back home. The other item we saw a lot was cell phone accessories. They had cool light-up Mickey antennas, belt clips etc. I found and bought a Hot Wheels sized version of the Resort Cruiser. We had a pretty good lunch at the Center Street CoffeeHouse. I had a Tuna, Ham and Turkey sandwich and a salad, as well as what became my soft drink of choice during the trip, a Kirin Lemon. Tasted like a virgin Zima. Prices were typical Disney Park and the portions, despite what we'd been told, were just fine.
At 2:30 we decided to return to the hotel for a little break, mostly to rest our Disney feet. So far our biggest fears had yet to surface. The crowds were a manageable size and very polite. All the rides we'd been on were either walk-ons or very short waits and there was no wait for food at 1:30 in the afternoon. The weather had so far cooperated, and the Resort transportation made taking Hotel breaks a breeze. Things were going ducky.
At 5:00, after dumping the photos onto the laptop and a nap, we headed back to the Park. Discovered a nice shortcut to Adventureland using one of the side streets off of World Bazaar, bypassing the Hub. Adventureland looked like Florida's rather than Anaheim's. There was plenty of room to walk around. It features a mini New Orleans Square that could easily be confused for parts of Anaheim's. Walked onto Pirates.. It was pretty much a clone of Disneyland's, especially the queue area. You float by the diners at the Blue Bayou, listening to the banjo player in the shack. Minor differences include Japanese narration from the skull (keep your ruddy hands in the boat!) and down in the caverns, otherwise it uses the original soundtrack. There is only one down waterfall and no up waterfall. One skeleton scene is on the opposite bank from Anaheim, the bar scene (whose special effects were ALL working I might add). There was no Captain's Quarters and no shadow sword fight. They have yet to PC it and the burning basement scene is a bit shorter (no berm to get under). At the end you ride a speed ramp to the exit while your boat continues on empty to the loading area. We wandered around Adventureland taking pictures for a bit.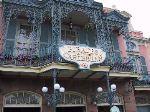 The Jungle Cruise was next, and it was more than a walk on, we had to rush through the queue area, as they were holding a boat for us. It has been upgraded to the new color scheme introduced in Disneyland when Indy opened. The river runs clockwise here, and features an indoor section like in Florida. The spiel was in Japanese and the guide was quite acrobatic, one time flipping himself almost over the side when an elephant threatened to douse him. I told all my own jokes in my head :-). While they still shoot at the hippos, the gun was fake and used sound effects rather than blanks. From there we hopped onto the Western River Railroad. It only does a circle tour around Adventureland and Westernland, not around the whole park, and only has the one station, in Adventureland. Not much to see at first, being mostly jungle, but once you get to Westernland the view improves. Lots of AA animals. There is a trip through Primeval World but no Grand Canyon. Continuing through Adventureland we took in the Enchanted Tiki Room. They've updated the music and the place looks just great. We had a fairly empty house and despite the efforts of the cast member, the clapping during the songs was a little half-hearted. Fun show though.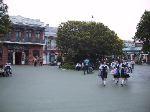 At about 7:00 we entered Westernland and went straight for the Hungry Bear Restaurant, not for burgers and fries though. It's a curry restaurant. Big portions of delicious beef or chicken curry at a really reasonable price. To top it off, there was no line. Once more, good advice from a MousePlanet Trip report! As we left, the Electrical parade was beginning. We paused for a bit to watch then decided that it was the same old parade we'd seen 50 times (we were wrong, but didn't know this until 2 nights later). Instead we got in the 10 minute line for Big Thunder. There really is very little difference between TDL's and the other 3 versions of this ride worldwide. It did not disappoint. We asked for and got back-row seats with no trouble at all. At this point in our adventure, it began to sprinkle and the temperature dropped about 10 degrees. We reluctantly decided to bypass Splash Mountain because of this, and we never did get the chance to ride it again. Never walked around Critter Country either. We were planning on coming back on our third day so didn't really worry about it. Instead we walked back to Fantasyland for a trip through the Haunted Mansion. It was very WDW, with some additional creepy staring busts and paintings with eyes. There was also a neat effect with a face pushing through a door in the hallway. The on-board narration was in Japanese but the song, Madam Leota, etc were all original soundtrack. Unlike Disneyland Paris, the ride only has minor differences to its US cousins.
We bopped around Fantasyland for a bit, snapping pics and looking in the shops. As expected, the line for Peter Pan was a bit long, and the lines for Snow White and Pinocchio were non-existent. We rode Snow White... er you know what I mean. Same ride, different language except that it was sped up a bit. We then headed over to the Castle and into line for the Cinderella Castle Mystery Tour. A friend of ours could not stop gushing about this tour so we HAD to check it out. It's a guided tour through the castle. It's in Japanese, so I can't give any details of the "plot", but suffice to say, something goes terribly wrong.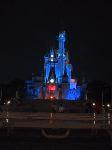 This one attraction really made me wish I could understand the Japanese language. While the visuals and everything were really outstanding, I felt kinda lost most of the time, until replaying it again in my mind later. This is a true "Do Not Miss", especially as it is totally unique to the Tokyo Park. The rest of the evening went by fairly quickly. We walked onto Pinocchio, then a third ride on Pooh's Hunny Hunt, with only a 10 minute wait. The fireworks were canceled due to the weather, which was still a little drizzly. We went to Tomorrowland for one last ride on Space Mountain and had to wait for 5 minutes. After that we headed out of the park. It was about 9:45 and we were tired, cold and slightly damp. We were anticipating Epcot Monorail Line sized crowds to get home, but the Monorail was surprisingly empty. Must have been a mostly local crowd. Got back to the Hilton around 10:30 and stocked up on breakfast items at the bakery. The Bakery is open from 7:00am to 11:30pm.